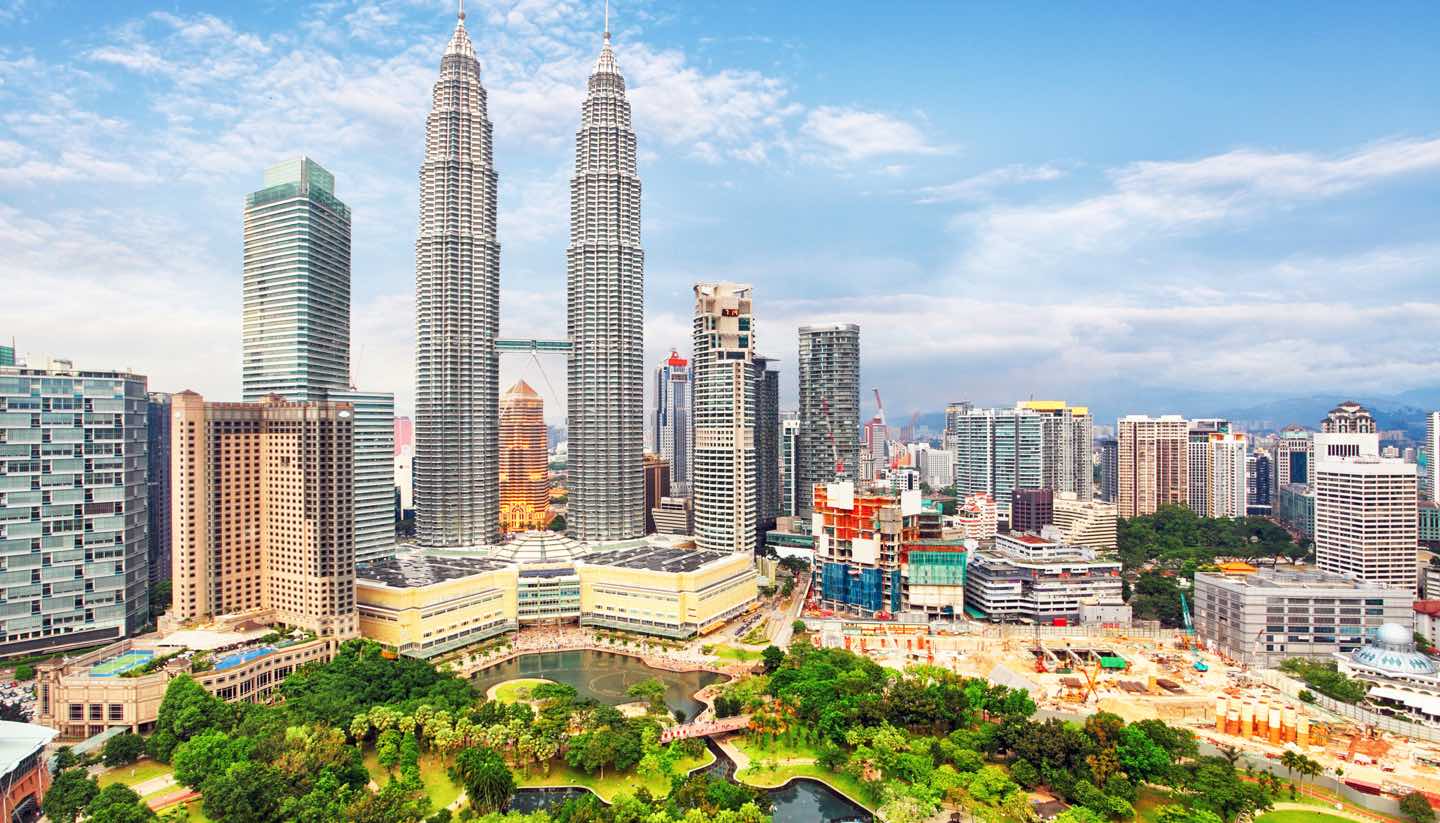 Weather in Kuala Lumpur coming soon
Local time in Kuala Lumpur
Currency in Kuala Lumpur
RM
Kuala Lumpur tours and excursions
Kuala Lumpur tours
Cultural tours
Led by passionate and knowledgeable guides, Malaysia Heritage's informative tours bring KL alive with anecdotes and insights as they visit the city's best temples, markets, street stalls and historic enclaves. For a chauffeur-driven view of the sights, try Kuala Lumpur Tours who also offer evening tours to the city's night markets and lit-up landmarks and finishing with a cultural show and buffet dinner.
Malaysia Heritage
Telephone
+60 3 203 21031.
Website
Kuala Lumpur Tours
Telephone
+60 1 3208 4862.
Website
Tel:
Website:
Food Tours
For anyone wanting a real taste of city life, Food Tour Malaysia runs a popular culinary expedition for groups to taste-test a whole range of eclectic cuisines, from hidden-gem restaurants and speciality shops to backstreet cafes. Another option is Simply Enak, who organises heritage food trails through Chinatown's Petaling Street as well as a trip to the city's famous wet market, Chow Kit.
Food Tour Malaysia
Telephone
+60 1 3227 1505
Website
Simply Enak Food Experiences
Telephone
+60 1 7287 8929
Website
Tel:
Website:
Cultural tours
Terengganu-based Ping Anchorage Travel and Tours offers some interesting tours in and around Kuala Lumpur, many with a nature and culture theme. The popular 'Cultural Night Tour' visits the rainbow-coloured Sri Mahamariamman Temple and the joss-houses and markets of China Town before finishing with a Malay buffet dinner and cultural show.
Tel:
(09) 626 2020.
Website:
http://www.pinganchorage.com.my
Excursions from Kuala Lumpur
Melaka
Less than two hours south of Kuala Lumpur lies the coastal city of Melaka (or Malacca) recognised by UNESCO for its historic riches. The city's unique architecture bears the mark of Dutch, Portuguese and British empires while the characterful Chinatown district, on north bank of Melaka River, is a good starting point to explore the atmospheric backstreets.
Tel:
+60 3 8891 8000
Website:
http://www.tourism.gov.my
Batu Caves
Take the train 13km north of the centre to the Batu Caves, a vast labyrinth of limestone chambers that are home to a spattering of Hindu shrines. A 43m-high statue of Lord Murugan guards the entrance to the main Temple Cave and 272 steps lead to the top. Time a visit during the annual Thaipusam Festival, when thousands of worshippers gather at the holy site.
Tel:
+60 3 618 962 84
Website:
http://www.batucaves.org
Resorts World Genting
For a break from the tropical heat, take the express coach from KL Sentral to Resorts World Genting, tucked away in the Titiwangsa Mountains north of Kuala Lumpur. A surreal blend of calm nature and Las Vegas-style glamour, the complex offers theme park rides, lavish stage shows, hotels, restaurants and nightspots, artificial snow, a cable ride over the jungle, and Malaysia's only licensed casino. The climate at 1,750m (5,770ft) above sea level is a breath of fresh air after the heat of the lowlands and the journey time from central Kuala Lumpur is just 45 minutes.
Tel:
(03) 2718 1118.
Website:
http://www.rwgenting.com
Melaka
Less than two hours south of Kuala Lumpur on the coast, historic Melaka (or Malacca) offers a vivid journey back into Malaysian history. The British, Dutch and Portuguese, and the Indian and Chinese workers who migrated here during the colonial period, have all left their indelible mark on this city of colonial churches, historic mosques, Chinese joss-houses and ruined colonial fortifications. The city has been UNESCO listed since 2008. Start your explorations in the city's atmospheric Chinatown, on the north bank of the Melaka River, and set off into the backstreets to explore.
Tel:
(06) 232 8402.
Website:
http://www.melakatourism.gov.my