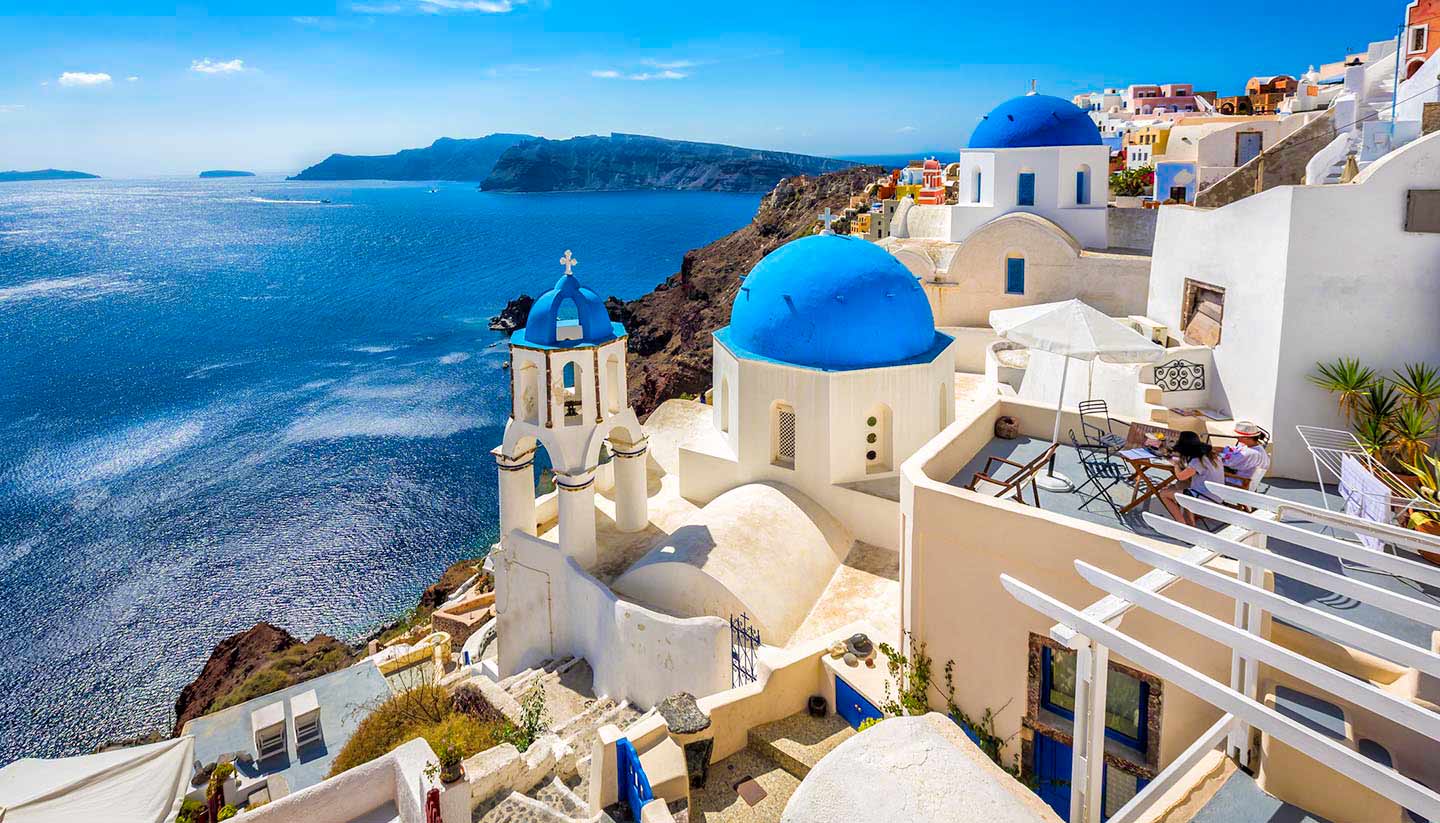 Greece Visa and Passport Requirements
| | Passport required | Return ticket required | Visa Required |
| --- | --- | --- | --- |
| Other EU | 1 | No | No |
| USA | Yes | No | Yes |
| Canadian | Yes | No | Yes |
| Australian | Yes | No | Yes |
| British | Yes | No | No |
| | | | |
| | | | |
| | | | |
| | | | |
| | | | |
| | | | |
| | | | |
| | | | |
| | | | |
| | | | |
| | | | |
| | | | |
| | | | |
| | | | |
| | | | |
| | | | |
| | | | |
Passports
A passport valid for three months beyond the length of stay and issued within the past 10 years is required by all nationals listed in the chart above except (1) EU nationals holding a passport or national ID card which is valid for the duration of stay.
If travelling from one border-free Schengen country to another however, EU nationals are not required to show a passport or national ID card. It is still recommended that you travel with your passport or ID card to prove your identity if necessary though. Note that Bulgaria, Croatia, Cyprus, Ireland, Romania and the UK are not part of the Schengen area, so a passport or ID card is required if travelling to/from these countries.
EU nationals are not required to possess a return ticket or show sufficient funds.
Visas
A visa is not required by all nationals referred to in the chart above for the following durations:
• Nationals of most EU countries for stays of up to 90 days (EU/EEA citizens may stay a further three months if seeking work).
• Nationals of Australia, Canada and the USA for stays of up to 90 days.
Nationals not referred to in the chart above are advised to contact the embassy to check visa requirements.
Visa Note
Greece refuses admission and transit to holders of travel documents issued by the area of Cyprus not controlled by the Government of Cyprus, and holders of UN laissez-passers.
Types and Cost
Transit/short-stay Schengen visa: €60 (£50.40).
Validity
Schengen visa: 90 days within a six-month period.
Transit
Australian, Canadian, US and EU passport holders do not require transit visas. Other nationals should check with the consulate.
Application to
In person at the consular section of their nearest Greek Embassy. In the UK, nationals requiring a visa can apply via the Greece Visa Application Centre (www.vfsglobal.com/greece/unitedkingdom); an additional service charge of £16.80 applies. All visa applicants aged 12 and over must submit biometric data at their visa appointment.
Temporary residence
If you're an EU national and are staying more than 90 days, you have to apply in person to the Aliens Department office (in Athens) or at your nearest police station (in districts outside Athens) for a Registration Certificate (Veveoisi Engrafis), which is valid indefinitely. To obtain this, you need to show the passport you used when entering the country and provide a statement from your employer (if you're here for work), or a marriage or birth certificate (if you're here because of family ties).
If you're from the USA, you can apply for a temporary residence permit, valid from three to six months. These are issued by your local Aliens police office, but only if you can show evidence that you have a compelling reason to prolong your stay in Greece.
Working days
Visa processing time is usually five to 14 days.
Extension of stay
Schengen visa holders can only extend their visas in exceptional circumstances, such as force majeure or for humanitarian reasons.
Entry with pets
Pets travelling to Greece from other EU countries need a microchip for identification, an EU pet passport, and stamp to prove they have been vaccinated against rabies (within between four weeks and one year of date of entry into Greece). Pets arriving from outside the EU need a health certificate completed by a vet in either Greek or English.
Embassies and tourist offices
Embassy of Greece in the UK
Telephone:
(020) 7229 3850 (visa section) or 09065 540 744 (24-hour visa information line)
Website:
http://www.greekembassy.org.uk
Address:
Embassy of Greece in the USA
Telephone:
(202) 939 1300/6 (consular section).
Website:
http://www.mfa.gr/washington
Address:
British Embassy in Greece
Telephone:
(210) 7272 600.
Website:
http://www.ukingreece.fco.gov.uk
Address: