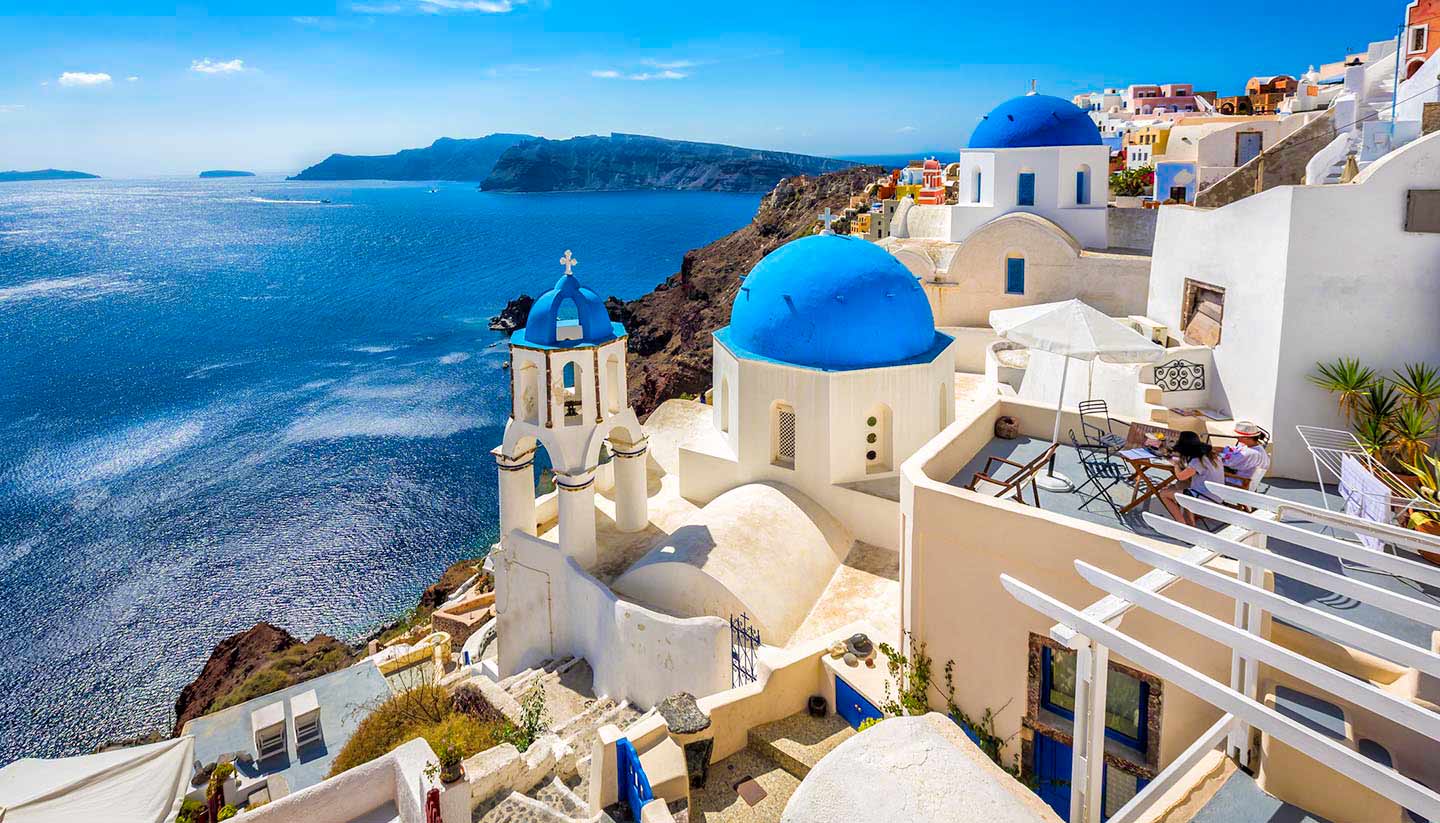 Greece Weather, climate and geography
Weather & climate
Best time to visit
Greece has a warm Mediterranean climate. In summer, dry hot days are often relieved by stiff evening breezes, especially in the north, on the islands and in coastal areas. Athens can be stiflingly hot, with temperatures occasionally exceeding 40°C (104°F) in July. Winters are mild in the south but much colder in the mountainous north, where it is not uncommon to see snow and temperatures plummeting to well below zero. November to March is the rainy season, most notably on the Ionian islands.
If you are planning a beach holiday, the sea is warm enough to swim from June through September, and hardier types will also manage in May and October. Seaside hotels are generally open from Easter through to late-October, as are water sports facilities.
Spring and autumn are the ideal seasons for hiking and mountain biking, when the days are sunny but not unreasonably hot. Spring sees the Greek countryside dappled with wild flowers, while in autumn the trees take on russet hues.
Although few people think of Greece as a winter destination, it is in fact possible to ski and snowboard here. Two of the most popular mountain ski resorts are Arahova (near Delphi) and Kalavrita (on the Peloponnese), both much loved by wealthy Athenians, and therefore also well provided with cosy hotels and authentic rustic eateries with blazing log fires.
Geography
Greece is situated in southeast Europe, bordering Albania, Macedonia and Bulgaria to the north, Turkey to the east and the Mediterranean Sea to the south and west.
The mainland consists of the following regions: Central Greece, Peloponnese, Thessaly, Epirus, Macedonia (which, incidentally, borders the country of Macedonia) and Thrace. High mountains, fertile plains, pine forest and scrub-covered foothills are all found on the Greek mainland.
The largest mountain range is the Pindus, which runs north-south through central mainland Greece, and separates the regions of Thessaly and Epirus. The highest mountain is Olympus, which soars 2,917m (9,570ft) – according to Ancient Greek mythology, this is where the 12 Olympian Gods resided.
The islands account for one-fifth of the country's land area. The majority are thickly clustered in the Aegean between the Greek and Turkish coasts. The Ionian Islands are the exception; they are scattered along the west coast in the Ionian Sea, looking (both geographically and culturally) towards Italy.
The Aegean archipelago includes the Dodecanese, lying off the Turkish coast, of which Rhodes is the best known; the northeast Aegean group, including Chios, Ikaria, Lemnos, Lesvos and Samos; the Sporades, off the central mainland; and the Cyclades, comprising 39 islands (of which only 24 are inhabited). Crete, the largest island (with an astounding 1,000km/621miles of coastline and a population of some 650,000), is not included in any formal grouping.