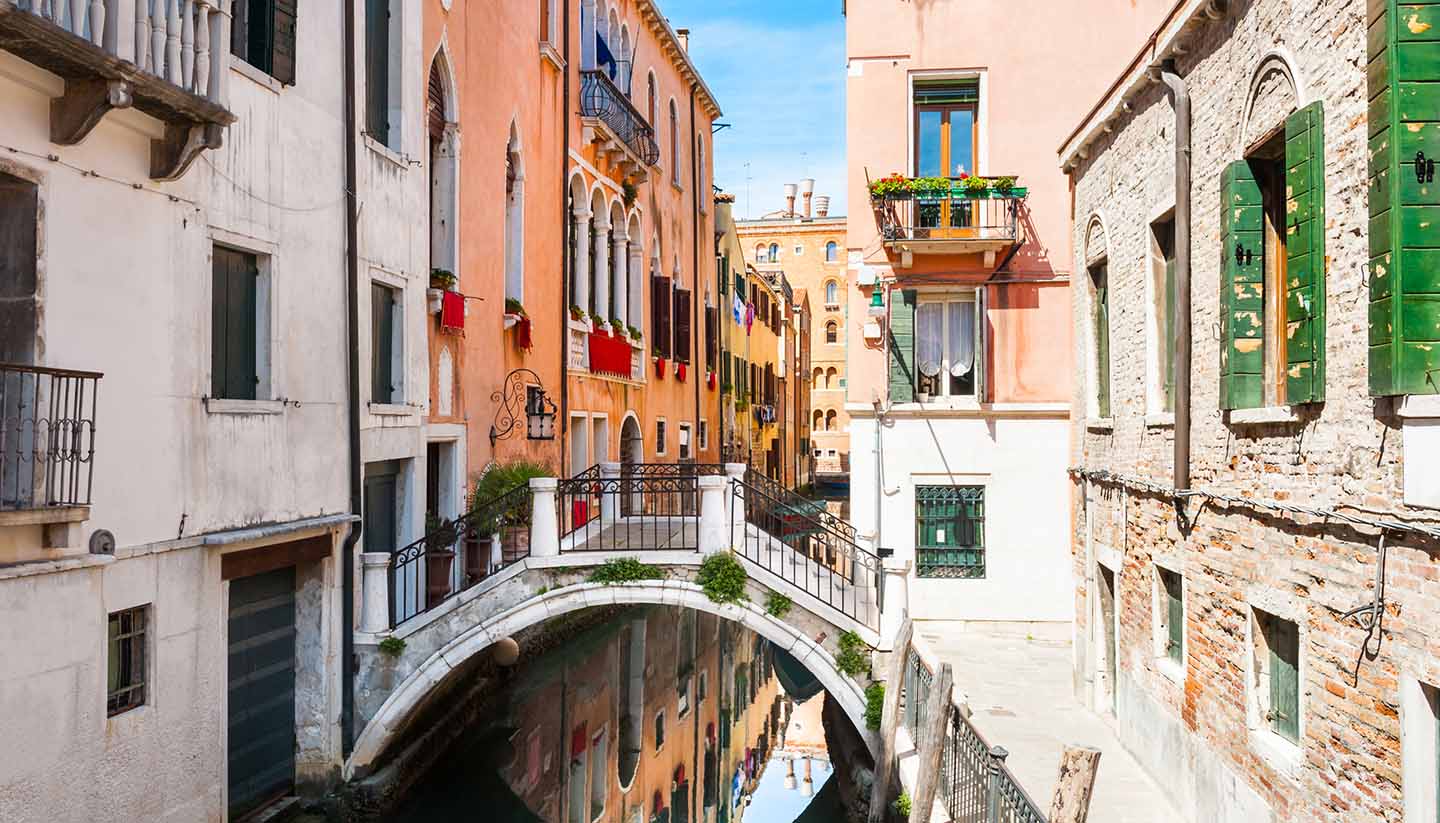 Venice Nightlife
Venice is not renowned for its nightlife, but it is possible to enjoy some late night entertainment in the Lido area where nightclubs and bars are more commonplace. If you prefer to stay within Venice, do as the locals do – enjoy a late meal followed by a glass or two of local wine. For bars and cichetterie (snack bars), try the areas around Rialto and Erbaria, Campo Santa Margherita and the Fontamenta della Misericorida.
For listings and information relating to events, see A Guest in Venice (www.aguestinvenice.com), which also offers a printed publication throughout the year available in most good hotels. For large-scale cultural events with a national interest, Vivaticket (tel: +39 892 234; www.vivaticket.it) offers an information and ticket booking service online.
An excellent website for finding and booking concerts is Music in Venice (www.musicinvenice.com)., which includes links for buying tickets online at the same price as at the venue.
Bars in Venice
Bacaro Jazz
This lively, upbeat cocktail bar, conveniently attached to a restaurant, is located just a couple of minutes walk from the Rialto Bridge. This bar is the haunt of the young and trendy thanks to its exciting cocktail list. It also has a strange custom of women leaving their bras hanging on display.
Address:
Tel:
+39 41 528 5249.
Website:
http://www.bacarojazz.com
MQ10
The chic minimalist décor of this tiny bar in the Cannaregio district contrasts with its ancient wooden beams. It stays open well after midnight, serving the classic Spritz, martinis and fruit mojitos. Snacks are also on offer, ranging from salads, panini and plates of local cheese and salami.
Address:
Tel:
+39 41 713 241.
Website:
El Refolo
Sprucing up the traditional idea of an osterie, this lively wine bar in the Castello area has an extensive list of bottles and is handy if you're attending the Biennale. It fills quickly in the evening with people coming for a tipple and cicchetti – small snacks that accompany the drinks such as salami and cheese.
Address:
Tel:
Website:
http://www.elrefolo.it
Clubs in Venice
Molocinque
For most Venetians, clubbing means catching the train to the mainland and heading out in Mestre. Molocinque, a restaurant/nightclub with an impressive art deco columned facade and an equally impressive collection of sounds, is where you'll find everything from hip hop to merengue.
Address:
Tel:
+39 333 295 1536.
Website:
http://www.molocinque.it
Piccolo Mondo
Although not strictly speaking a nightclub, Piccolo Mondo is where many locals head for a boogie. More a bar that plays disco music (think: ABBA, Bee Gees and other cheesy classics), they shift the tables to create a makeshift dance floor. Stays open till 0400, but don't expect to leave much earlier.
Address:
Tel:
+39 41 520 0371.
Website:
http://www.piccolomondo.biz
Beast Club
Compared to Venice's other 'nightclubs' (think: restaurants with sound systems), the Beast lives up to its name. This after-hours spot in Mestre is all about pumping house music, swaying lasers and sweaty dance floors. And if they all becomes too much, there are cubby holes to hide out in as well.
Address:
Tel:
+39 32 9948 1959.
Website:
http://www.beastclub.it
Live music in Venice
Venice Jazz Club
Located between Santa Margherita and Santa Barnaba, what Venice's only jazz club lacks in appearance it makes up in atmosphere. This lively joint offers gigs by local and international musicians five days a week (not Thursday and Sunday). Closed during August. Booking advisable.
Address:
Tel:
+39 41 523 2056.
Website:
http://venicejazzclub.weebly.com
Al Vapore
Expect anything from big-name jazz bands to solo pianists at Al Vapore, a popular live music joint located a short train journey away in Mestre. It's not just stonking musicians here, you can herald in a hangover with some refreshing cocktails too.
Address:
Tel:
+39 41 930 796.
Website:
http://www.alvapore.it
Ancora
This wine and cocktail bar overlooking the Grand Canal is the place to come if you want an evening listening to a pianist tinkling the ivories, whilst soaking up Venice's wonderful cityscape. From the windows you can see the boats gliding up and down the canal. Arrive early for cicchetti or late for dinner.
Address:
Tel:
+39 41 520 7066.
Website:
http://www.ancoravenezia.it