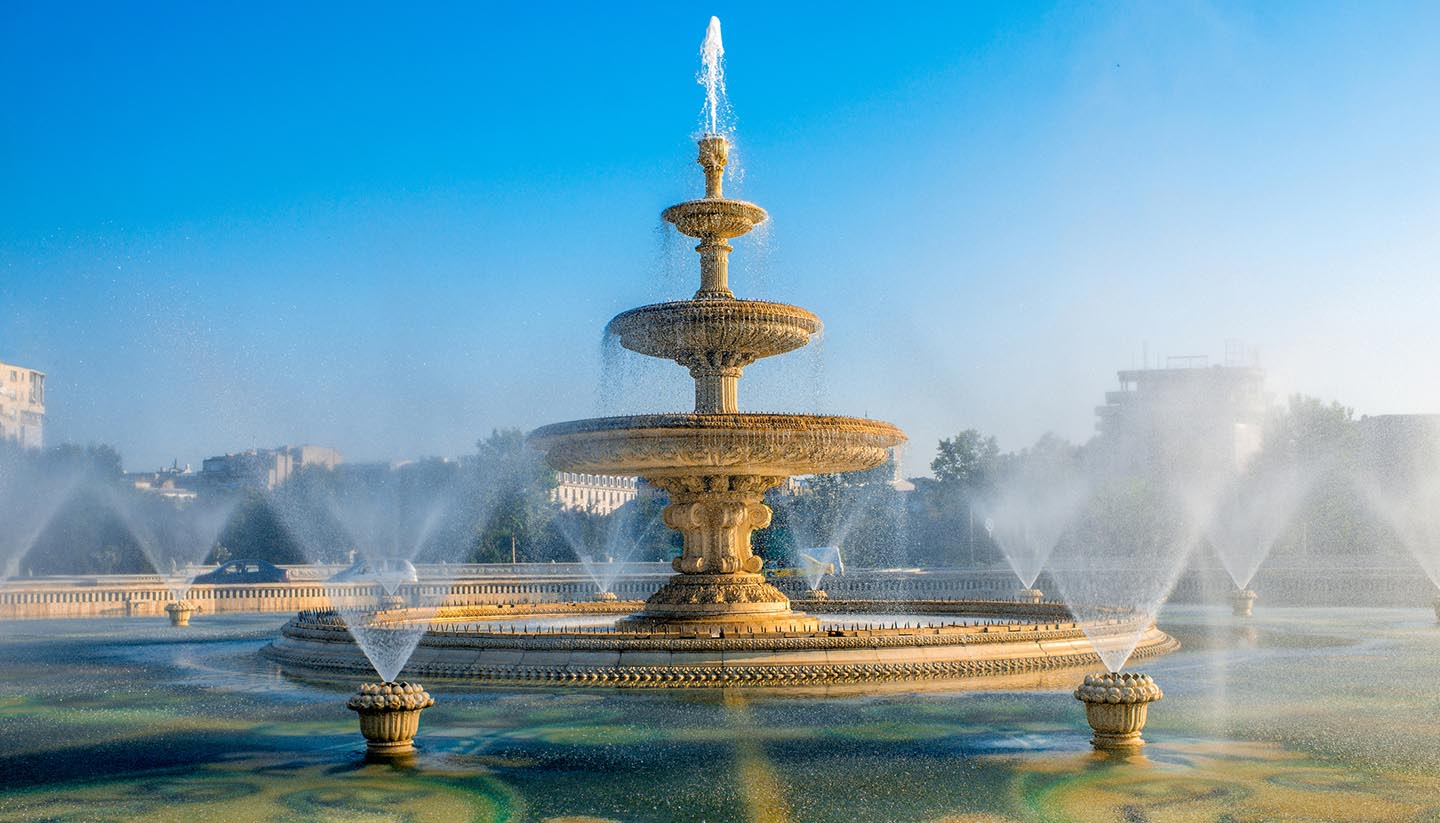 Currency in Bucharest
Lei
Things to see in Bucharest
Tourist offices
National Authority for Tourism
Address:
Tel:
Opening Hours:
Mon-Thurs 0830-1700, Fri 0830-1430.
Website:
http://www.romania.travel
Attractions
Historic Centre
The cobblestone streets between Calea Victoriei, Bulevardul Bratianu, Bulevardul Regina Elisabeta and the River Dimbovita still comprise Bucharest's most atmospheric area and are home to an alternative culture of clubs, bars, trendy coffee houses and restaurants – most lively when they spill onto the cobbled streets (or overtake empty lots) during summer. At its heart is the 15th-century Curtea Veche (Old Court), attributed to Vlad Tepes, which contains a few walls, arches, tombstones and one restored Corinthian column.
Opening Hours:
Admission Fees:
Yes
Disabled Access:
No
UNESCO:
Yes
Address:
Website:
Palatul Primaverii (Spring Palace)
Down an unassuming boulevard in the wealthy Dorobanti district of Bucharest, Palatul Primaverii (Spring Palace) is the former home of communist dictator Nicolae Ceausescu and his wife Elena, who lived there for the last 25 years of their lives, before their execution in 1989. Opened to the public in March 2016, the house shows the opulent surroundings the couple lived in while much of the country subsisted on rations. Carpets given by the last Shah of Iran, paintings taken from the country's former royal palaces, and rooms done up in the style of Versailles hardly attest to a couple in touch with the lives of the common man. The palace remains largely untouched since the 1989 revolution, even down to the couple's wardrobes and pyjamas lying on their bed, enabling visitors to get a real glimpse into the lives of the former first couple.
Opening Hours:
Wed-Sun 1000-1800 (by appointment)
Admission Fees:
Yes
Disabled Access:
No
UNESCO:
No
Address:
Website:
http://palatulprimaverii.ro/
Muzeul Satului (Village Museum)
Over a hundred peasant homes, barns, churches and mills, representing vernacular rural architecture, were transported from all over Romania to a park on the west side of Herastrau Lake in north Bucharest. Built to show the pride of Romanian peasants in their work and homes, the open-air museum is recovering from past fires, with relocated homes and pieces – many from the 19th century – replacing fire-damaged ones. Among them are rustic wooden churches and tall-roofed Transylvanian houses with beautifully crafted shingles containing everyday accessories such as tools, butter-churns, hay forks, beer kegs and clothes.
Opening Hours:
Admission Fees:
Yes
Disabled Access:
Yes
UNESCO:
No
Address:
Website:
http://www.muzeul-satului.ro
Muzeul National de Arta (National Art Museum)
Although tragically vandalised and looted during the 1989 uprising, the museum (inside the one-time Royal Palace, built in 1812) has now been lovingly restored. The best of three separate collections, the Gallery of European Art is an absolute treasure, containing many rarely seen masterworks. Highlights include Von Eyck's Crucifixion and a Rembrandt, 16th and 17th-century Spanish works, including several El Grecos, Flemish art including a Rubens and four rooms contain French sculpture and art up to the 20th century. Of the two other collections, the best is the Gallery of Romanian Art, which features works by the country's most famous painters, including Nicolae Grigorescu who often depicted Romanian peasants, as well as sculptures by renowned artist Constantin Brancusi. The small third collection is the Treasures of Roman Art.
Opening Hours:
Wed-Sun 1100-1900 (May - Sept); Wed-Sun 1000-1800 (Oct-Apr).
Admission Fees:
Yes
Disabled Access:
No
UNESCO:
No
Address:
Website:
http://www.mnar.arts.ro
Zambaccian Museum
The Armenian collector, Krikor Zambaccian, bequeathed his intimate collection of mostly impressionist paintings (including one of Constantin Brancusi's earliest sculptures) to the Romanian state in 1946, along with his beautiful residence. The Romanian collection is small, but selective, with great works by some of the country's best-known masters. By the time you leave, names like Nicolae Grigorescu and Stefan Luchian seem slightly less foreign. The small collection of works by Picasso, Cezanne, Bonnard and Renoir is situated on the top floor. The museum is now part of the National Art Museum.
Opening Hours:
Wed-Sun 1100-1900 (May-Sept); Wed-Sun 1000-1800 (Oct-Apr).
Admission Fees:
Yes
Disabled Access:
No
UNESCO:
No
Address:
Website:
Patriarhia Romana (Romanian Patriarchal Cathedral)
Nearly obscured by 1970s housing blocks, this ornate 17th-century cathedral, situated on a small hill overlooking the grey communist-built Piata Unirii, is the headquarters of the Romanian Orthodox Church. A fabulous fresco of the blessed and the damned, ascending to heaven or tumbling into hell, adorns the entrance, as well as the oldest icon on the site, depicting patron saints Constantin and Helen (1665). Inside, expressive and beautifully painted icons, embedded in an exquisite gilded altarpiece, dazzle the eye in the sombre darkness. St Dumitru, Bucharest's patron saint, lies entombed in the left-hand corner and worshippers constantly climb the small staircase to his shrine to pay their respects.
Opening Hours:
Admission Fees:
No
Disabled Access:
No
UNESCO:
No
Address:
Website:
http://patriarhia.ro
Piata Revolutiei (Revolution Square)
On 21 December 1989, 80,000 people thronged the square, supposedly in support of the president after riots in the town of Timisoara, when the Securitate arrested an outspoken priest. But when Ceausescu appeared on the balcony of what was then the Central Committee building (now part of the Romanian senate) people began to chant 'Ti-mi-soa-ra, Ti-mi-soa-ra' and the shock on Ceausescu's face pinpointed the true moment of his downfall – a moment televised all over Romania and, later, the world.
However, this heroic 'people's revolution' is also thought to have been an inside job. Ceausescu and his wife tried to escape in a helicopter from the roof but, being told they were low on fuel, were dropped within the Romanian border, after which they were hastily tried and shot on Christmas day.
A white, marble plaque on the Senate building points to the balcony, inscribed with 'Glorie martirilor nostiri' ('Glory to our Martyrs'), in remembrance of those killed in the fighting. In the middle of the square is a recent addition, the rather ugly Rebirth Memorial (Momorialul Renasterii), built to signal Romania's hopeful future. Just behind the library, a block west of Calea Victoriei, the facade of the building that housed the Securitate (Ceausescu's secret police), has been left in its ruined state, and now frames the glittering offices of the Romanian Architecture Union.
Opening Hours:
Admission Fees:
No
Disabled Access:
No
UNESCO:
No
Address:
Website:
Palatul Parlamentului (Parliament Palace)
Ceausescu's greatest folly, begun in 1984, initially taking 20,000 workers and 700 architects to build. But by the time the dictator was executed in 1989, only the exterior and three rooms had been finished. What is seen from street level on Bulevardul Unirii is a 12-storey monolith rising 84m (276ft) above ground level but it is nearly as deep under ground. It is rumoured to hold a nuclear bunker big enough to contain the entire government, although its actual functions have not been revealed. Inspired by North Korean Communist architecture, which reflected Ceausescu's political leanings, it is 330,000 sq m (3,552,090 sq ft) in area and the second-largest administration building in the world (after the Pentagon). Intended to house Communist Party offices, ministries and state rooms, it is now the seat of Romania's Parliament, headquarters of the International Conference Centre and home to a surprisingly edgy National Museum of Contemporary Art.
Regular 45-minute guided tours (in English), from Bulevardul Natiunile Unite focus on 10 rooms, including the 16m (52.5ft) Sala Unirii, built with a sliding ceiling, wide enough for a helicopter to enter. After a tour, consider visiting the National Museum of Contemporary Art, reached by a long clockwise walk to the entrance on the north side of the building and a ride up in the external glass lift.
Opening Hours:
Admission Fees:
Yes
Disabled Access:
No
UNESCO:
No
Address:
Website:
http://www.cdep.ro
Jewish History Museum
Romania's once-thriving Jewish community (numbering over 750,000 at the outset of WWII) has dwindled to about 10,000. There are a few interesting sites to see in the old Jewish quarter Vacaresti, just east of the historic centre and northeast of Piata Unirii. The most interesting is the Jewish History Museum, Mamulari 3, housed in a mid 19th-century synagogue. Here exhibits cover Jewish contributions to Romanian history and the 350,000 Romanian Jews who died in concentration camps during WWII. The Sephardic Jewish Cemetery is in south Bucharest near the Eroii Revolutieie metro station.
Opening Hours:
Admission Fees:
Yes.
Disabled Access:
No
UNESCO:
No
Address:
Website:
Ghencea Civil Cemetery
Reached by bus 384 from Piata Unirii, about 3km (1.8 miles) west of the Palace of Parliament, this spread-out, rather unimpressive cemetery is worth a look to see its two most famous residents: Nicolae and Elena Ceausescu, who were executed by firing squad on Christmas Day 1989 after the communist government was toppled. The pair don't lie next to each other (Nicolae is at row I-35 to the left, Elena at H-25 to the right).
Opening Hours:
Admission Fees:
No.
Disabled Access:
No
UNESCO:
No
Address:
Website:
Herastrau Park
In the early 19th century, the high society of Bucharest made their promenades along the willowed embankments of Herestrau Lake . A few decades later, the entire surrounds were designated a city park. Pink, yellow and red roses greet visitors to this park and, in a small conservatory, freshly picked flowers are arranged daily in the Romanian style. Arched bridges lead to an island and the other side of the park, where there is a bar, restaurant, sports complex and rowing boats for hire. There is also a ferry across the lake and, next to the Village Museum, a fun-park with rollercoasters and carousels. However, the area surrounding the park holds even greater treasures.
The streets between Bulevardul Mircea Eliade and Soseaua Kisileff contain extraordinarily beautiful houses (from 19th-century neoclassical to 20th-century art nouveau) and modern luxury villas with ivy-covered balconies and exquisite stone carving. This is where Bucharest's elite once lived – and still do today.
Opening Hours:
Admission Fees:
No
Disabled Access:
No
UNESCO:
No
Address:
Website:
The Military Club
This magnificent neoclassical masterpiece was originally built in 1912 to serve the social, cultural and educational needs of the Romanian army. Banquets and official events are still hosted in the ballrooms today. The main part of the building is not open to the public but the sumptuous restaurant and summer terrace is and architectural buffs can admire its exteriors.
Opening Hours:
Admission Fees:
No
Disabled Access:
No
UNESCO:
No
Address:
Website:
Arch of Triumph
Initially made of wood and built iin 1922 in tribute to Romanian soldiers who fought in WWI, Bucharest's very own Arc de Triomphe was finished granite in 1936. At 26m high (85ft), it offers fantastic city views for those who have the stamina to climb the interior staircase.
Opening Hours:
Admission Fees:
Disabled Access:
No
UNESCO:
No
Address:
Website: