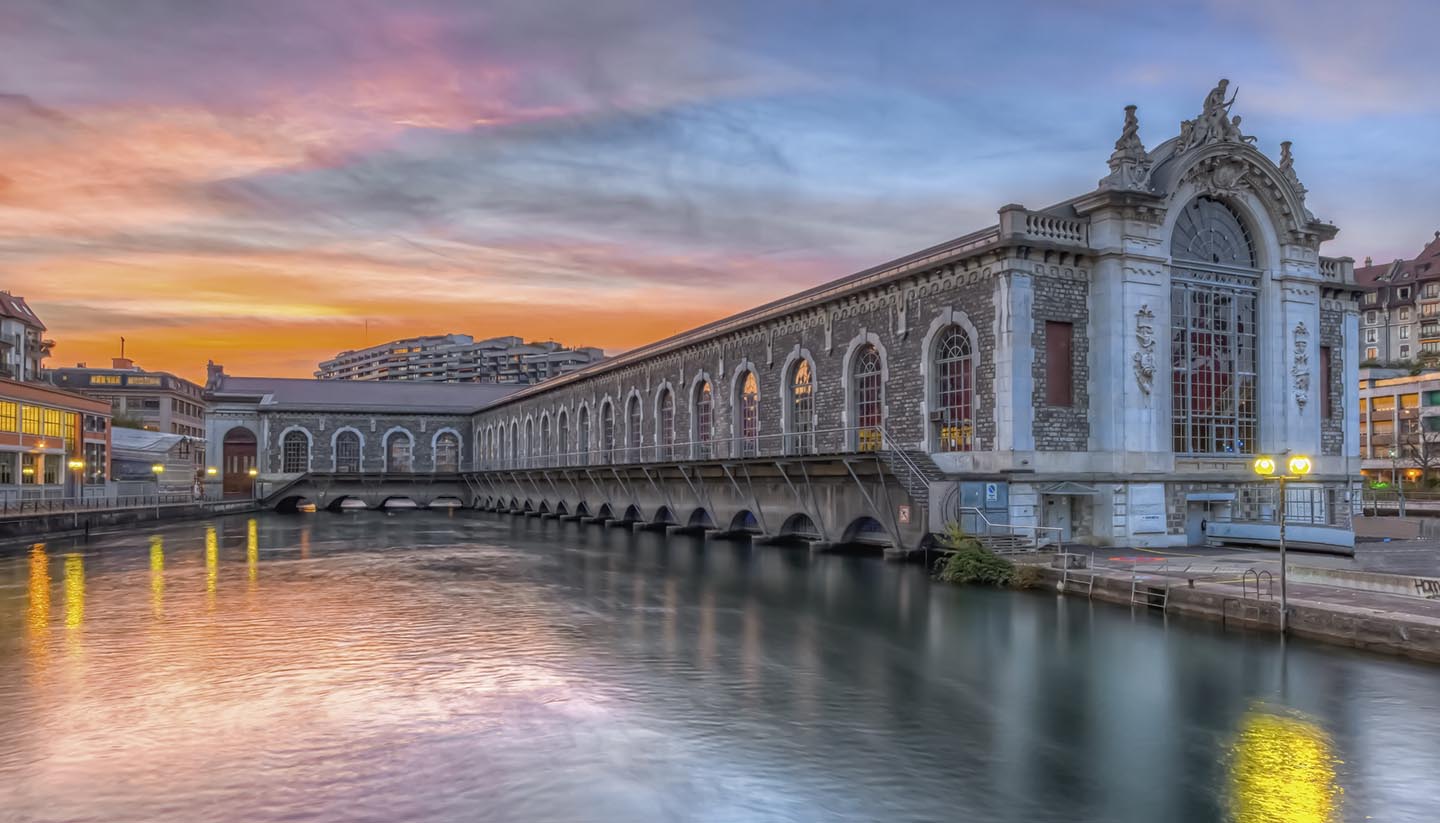 Things to see in Geneva
Tourist offices
Geneva Tourist Office
Address:
Tel:
Opening Hours:
Mon-Wed and Fri-Sat 0900-1800, Thur 1000-1800, Sun and public holidays 1000-1600.
Website:
http://www.geneve.com
Located on the main drag from the rail station to the lake, Geneva's tourist office is hard to miss. Stop by to orientate yourself, pick up a free map and buy a multi-attraction discount card, the Geneva Pass.
Attractions
CERN
Straddling the Franco-Swiss border, the laboratory of the European Council for Nuclear Research is the world-leading particle physics research organisation. It's most famous for being where Sir Tim Berners-Lee created the world wide web, and for its Large Hadron Collider, the world's biggest and most powerful particle accelerator, which sends particles racing round a 27km (16 miles) underground ring. Visitors can see the awe-inspiring LHR for themselves on a guided tour, while CERN's outreach building, a 27m high illuminated sphere called The Globe of Science and Innovation, hosts a permanent exhibition helping you get your head around particle physics. Children should at least be 13 years old. A bit of preperation ahead of the visit is helpful to understand the explanations you will hear at CERN.
Opening Hours:
Mon-Sat 0900-1700
Admission Fees:
No
Disabled Access:
Yes
UNESCO:
No
Address:
Website:
http://visit.cern
Mont Salève
Just over the border in France, the Salève is nevertheless known as Geneva's local mountain as it's just a 20 minute bus ride from the city centre. Either drive or take the cable car up to 1,379m for an outstanding panorama over Lake Geneva, the city and Mont Blanc. A number of hiking paths meander over the mountain, while you'll often come across paragliders launching themselves into the abyss. The less energetic can enjoy the view from one of several restaurants and cafés at the top.
Opening Hours:
Year-round
Admission Fees:
No (but there's a charge for the cable car)
Disabled Access:
Yes
UNESCO:
No
Address:
Website:
http://www.myswitzerland.com/en-us/mount-saleve.html
Carouge
This little artisan town, just 2km (1 mile) south of Geneva's city centre, is full of book and antique restorers, glass blowers, watchmakers, clothes designers, hatters, trendy bistros and smart restaurants. In 1772, the people of Turin came to set up a town to rival Geneva. Carouge changed hands frequently but, in 1816, the town was annexed to Geneva and became Swiss. Its architecture therefore remains Italianate in style and the narrow streets are straight and orderly, with apartments looking onto wide, green courtyards. Populated by Geneva's bohemians, Carouge makes for an interesting alternative to the slick city centre.
Opening Hours:
Year-round.
Admission Fees:
No
Disabled Access:
Yes
UNESCO:
No
Address:
Website:
http://www.carouge.ch
Cathédrale Saint-Pierre de Genève (St Peter's Cathedral)
For a spot so central to Geneva's religious life, St Peter's Cathedral – built between 1160 and 1289 – is surprisingly small. Even more astonishing is its combination of Romanesque, gothic, and neoclassical styles. The austerity of the main body of the church seems wholly appropriate for a building in which protestant reformer John Calvin preached (1536-1564). By contrast, the 15th-century Chapel of the Maccabees (restored in 1875) is a riot of gilded embellishment against blue and red backgrounds. The neoclassical facade was added in 1750. Under the cathedral is an archaeological site revealing remains dating back to the pre-Christian era, while climbing the 157 steps to the top of the north tower rewards visitors with fine views over the Old Town and lake.
Opening Hours:
Mon-Sat 0930-1830 and Sun 1200-1830 (Jun-Sep); Mon-Sat 1000-1730, Sun 1200-1730 (Oct-May). Vaults open daily 1000-1730.
Admission Fees:
No (although there is a small charge for the tower)
Disabled Access:
Yes
UNESCO:
No
Address:
Website:
http://www.saintpierre-geneve.ch
Jardin Anglais (English Garden) and Horloge Fleurie (Flower Clock)
The English Garden, dating from 1854, is home to the Monument National, a statue of two young women – the 'Republic of Geneva' and 'Helvetia' – which together symbolise Geneva's induction into the Swiss Confederation in 1814. Within the park there is an elegant bronze fountain and L'Horloge Fleurie (Flower Clock) that was installed in 1955 to honour Geneva's watch-making industry and is now decorated with over 6,500 plants. The clock measures 5m (16.4ft) in diameter and 17.7m (58ft) in circumference. And if you're into obscure world records, its second hand is the longest in the planet, at over 2.5m (8ft).
Opening Hours:
Daily 24 hours.
Admission Fees:
No.
Disabled Access:
Yes
UNESCO:
No
Address:
Website:
Jet d'Eau (Water Fountain)
If you've got one image in your head of Geneva, it's likely to be this. The city's jet d'eau is in many ways its Eiffel Tower, providing an iconic backdrop for many a tourist's holiday snap. Dominating the harbour, it spurts out 500 litres of water, some 140m (459ft) into the air, every second. Far from being intended as a tourist attraction, the jet was initially a pressure release valve for Geneva's water supply. The aquatic showpiece is illuminated at night and adds an impressive dimension to the city's annual fireworks display in August. During the day the fountain takes care of the special effects for itself, with the appearance of shimmering rainbows a common spectacle during sunny periods.
Opening Hours:
Daily 1000-1600 (Nov-Feb); Mon-Thu 1000-sunset, Fri-Sun 1000-2230 (Mar & Apr); Daily 0900-2315 (May-mid Sep); Mon-Thu 1000-sunset, Fri-Sun 1000-2230 (mid Sep-Oct). The fountain is occasionally shut down due to frost or high winds.
Admission Fees:
No.
Disabled Access:
Yes
UNESCO:
No
Address:
Website:
Mur des Réformateurs (Reformation Wall)
Construction of Geneva's 60ft (18m) Reformation Wall began in 1909 on the 400th anniversary of the birth of protestant reformer John Calvin, considered the spiritual father of the city. The monument features huge statues of the four figures central to the Reformation movement: John Calvin (1509-64), Théodore de Bèze (1513-1605), John Knox (c1514-72) and Guillaume Farel (1489-65). The quartet casts a watchful eye over students lounging about the lovely Parc des Bastions in the university district.
Opening Hours:
Daily 24 hours.
Admission Fees:
No.
Disabled Access:
Yes
UNESCO:
No
Address:
Website:
Jardin Botanique (Botanical Gardens)
Geneva's world-renowned Botanical Gardens were created by the botanist A P de Candolle in the Parc des Bastions in 1817. Relocated to their present site in 1904, the 28-hectare (69-acre) gardens have greenhouses with tropical plants from six continents, a pond brimming with aquatic plants, a rose garden, an arboretum, a garden of the senses, an aviary and a park of rare animals, as well as a research laboratory, herbarium collection (open by appointment) and an extensive library. In total, the gardens consist of around 16,000 different plant species from around the globe.
Opening Hours:
Daily 0800-1700 (Nov-Mar); Daily 0800-1930 (Apr-Oct).
Admission Fees:
No
Disabled Access:
Yes
UNESCO:
No
Address:
Website:
http://www.ville-ge.ch/cjb
Maison Tavel (Tavel House)
Officially the oldest private house in Geneva, this 12th century property in the Old Town was rebuilt after a fire in 1334 and remains a fascinating example of medieval architecture in Geneva. Bought by the city in the 1980s, its six floors now showcase Genevois living from the 14th to the 19th century. Don't miss the original 12th century vaulted cellars and the relief map in the attic showing Geneva as it looked before its defensive walls were destroyed in 1850. The museum sometimes hosts temporary exhibitions, too.
Opening Hours:
Tue-Sun 1100-1800.
Admission Fees:
No (for permanent exhibition).
Disabled Access:
Yes
UNESCO:
No
Address:
Website:
http://www.ville-geneve.ch/plan-ville/musees/maison-tavel
Palais des Nations (Palace of Nations)
This vast Geneva building, designed in the form of a double horseshoe and set in a park with century-old trees, is the European headquarters of the United Nations and the largest UN centre after New York. It was built between 1929 and 1937 to host the League of Nations, the precursor to the UN, so in terms of historical significance it's something of a titan. Guided tours take in the Assembly Hall, the Council Chamber and the Human Rights and Alliance of Civilisations Room with its incredible ceiling painted by Spanish artist Miguel Barcelò. Unsurprisingly, visits are extremely popular and it attracts more than 100,000 tourists annually. Tours last an hour and are available in more than 15 languages.
Opening Hours:
Mon-Fri 1000-1200 and 1400-1600 (Sep-Mar); Mon-Sat 1000-1200 and 1400-1600 (Apr-Aug). Group tours for more than 15 people must be booked in advance.
Admission Fees:
Yes
Disabled Access:
Yes
UNESCO:
No
Address:
Website:
http://www.unog.ch
MAMCO (Museum of Modern and Contemporary Art)
Open since 1994, and occupying the site of a former factory, Switzerland's largest modern art museum extends over four floors. The industrial architecture of the previous tenants greatly adds to the mood of the venue, which focuses broadly on conceptual art from the last 50 years. In addition to its permanent collection, the museum stages a number of temporary exhibitions, often involving international artists. One of the permanent displays is 'L'Appartement', a faithful reproduction of a Parisian collector's flat, for which he has loaned his own furniture, paintings and sculptures.
Opening Hours:
Tues-Fri 1200-1800 (first Wed of the month 1200-2100), Sat-Sun 1100-1800.
Admission Fees:
Yes
Disabled Access:
Yes
UNESCO:
No
Address:
Website:
http://www.mamco.ch
Musée International de la Croix-Rouge et du Croissant-Rouge (International Red Cross and Red Crescent Museum)
Completely renovated in 2013, this museum documents the work of the Red Cross from the humanitarian vision outlined by founder Henry Dunant in 1863, through the many conflicts worldwide where its work has been so vital. The permanent exhibition, entitled The Humanitarian Adventure, is split into three thematic sections, each comprising moving video interviews with witnesses to the Red Cross' work. Particularly affecting is the section detailing how the Red Cross reunites families following war or genocide, while the collection of 6 million record cards containing the fate of prisoners of war during WWI is extraordinary.
Opening Hours:
Daily 1000-1800 (Apr-Oct); Daily 1000-1700 (Nov-Mar).
Admission Fees:
Yes.
Disabled Access:
Yes
UNESCO:
No
Address:
Website:
http://www.redcrossmuseum.ch
Musée Patek Philippe (Patek Philippe Museum)
If your knowledge of Swiss timepieces begins and ends with cuckoo-clocks (which originated in Germany anyway), prepare for enlightenment. Geneva and the nearby Jura region have long been associated with clocks and the Patek Philippe Company counts among the finest manufacturers of Swiss watches. The exhibition is split into two main sections: the first displays antique watches from the 16th to the 19th centuries, many of them considered masterpieces of their kind, while the second showcases watches made by Patek Philippe from 1839 to the present day.
Opening Hours:
Tues-Fri 1400-1800, Sat 1000-1800.
Admission Fees:
Yes
Disabled Access:
Yes
UNESCO:
No
Address:
Website:
http://www.patekmuseum.com