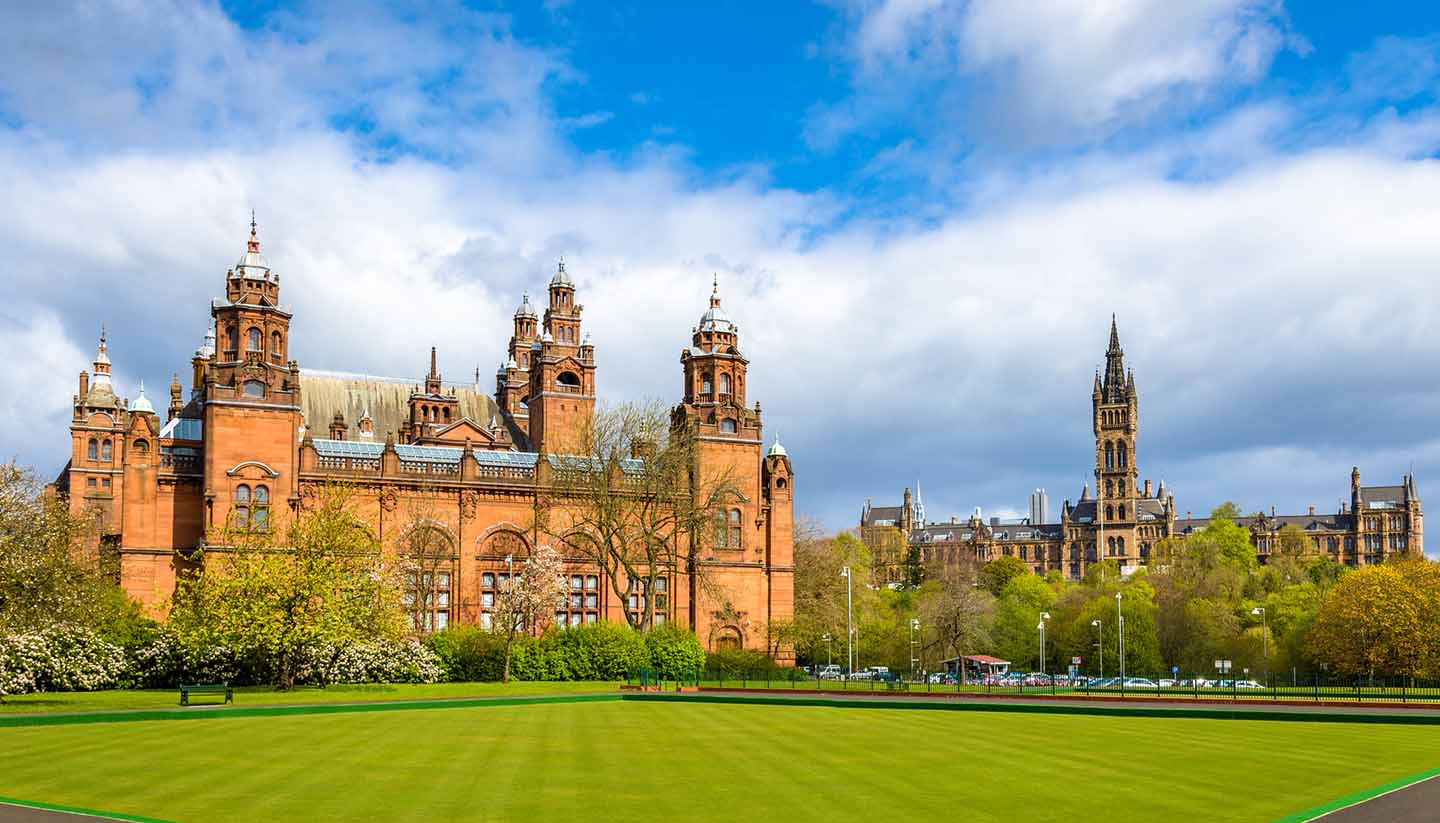 Local time in Glasgow coming soon
Glasgow Nightlife
There are over 700 pubs and bars in Glasgow, over 130 music events every week and numerous nightclubs catering for all musical tastes. Glasgow's nightspots cluster around the West End and Ashton Lane (a cobbled street lined with bars and restaurants), the city centre and the suave Merchant City.
You can buy tickets for most events at TicketSoup (www.ticketsoup.com). The main guide to cultural events and going out is The List (www.list.co.uk). Tickets to events are available from the venues direct or from Ticketmaster (www.ticketmaster.co.uk).
Bars in Glasgow
The Wee Pub
Part of Glasgow's legendary The Ubiquitous Chip restaurant, The Wee Pub lays claim to being the smallest pub in Scotland. It's certainly cosy with friendly staff and punters. It has been serving draught Furstenberg as its house pilsner for 30 years, and also specialises in whiskies and spirits. If it does get too crowded, head to The Big Pub or Corner Bar for cocktails, also part of The Chip.
Address:
Tel:
(0141) 334 5007.
Website:
http://www.ubiquitouschip.co.uk/drink.php
Òran Mór
At the top of Byres Road in Glasgow's West End is Òran Mór (Gaelic for 'big song'), an eclectic venue with a lounge bar, whisky bar, two restaurants, live music venue and club, plus private dining and an auditorium. Set in what was once Kelvinside Parish Church, its main bar and Whisky Bar is open daily while the Brasserie Late Night Bar is open until 3am on Fridays and Saturdays.
Address:
Tel:
(141) 357 6200.
Website:
http://oran-mor.co.uk
Bar Brel
Located in Glasgow's lively West End neighbourhood, Ashton Lane veteran Bar Brel serves well-kept beer and wine in a revamped setting which includes a spacious beer garden and conservatory. A laid-back atmosphere and an extensive menu which includes mussels and frites and whole baked cheeses make it a great place to stop for the evening.
Address:
Tel:
(141) 342 4966.
Website:
http://www.brelbarrestaurant.com
Clubs in Glasgow
Admiral Bar
A variety of fun club nights take place in the basement of this traditional pub. From disco, house, techno, funk and soul on the first Saturday of every month to latin, freakbeat and ska, this is a laidback venue with bar and food upstairs too.
Address:
Tel:
(0141) 221 7705.
Website:
http://www.theadmiralbar.com
The Sub Club
Scotland's best known electronic venue is an underground club where DJs have been spinning techno and electro since 1987. Its flagship Saturday night Subculture is now the longest running weekly house and club night in the world with equally long-serving resident DJs. As well as regular club nights, it also hosts live bands and has one of the UK's largest bodysonic dance floors.
Address:
Tel:
(0141) 248 4600.
Website:
http://www.subclub.co.uk
The Arches
Located in a cavernous brick-vaulted space, under Central Station, The Arches is often called Scotland's original superclub, with pounding club nights from techno and deep house to dubstep or trance. Spread over six underground arches, its two biggest nights are Pressure and Colours. The venue also hosts acoustic gigs, cult festivals, theatre and live music from Grimes to James Blake to the Glasgow Jazz Festival.
Address:
Tel:
(0141) 565 1000.
Website:
http://www.thearches.co.uk
Live music in Glasgow
Scotia Bar
Dating back to 1792, The Scotia is considered to be Glasgow's oldest pub on one of Glasgow's original streets. A short walk from St Enoch Subway in the city centre, it has been of the city's best live music venue for 40 years, famous for folk music with the likes Billy Connolly playing here. It hosts a combination of resident and non-resident bands playing everything from rock to blues.
Address:
Tel:
(0141) 552 8681.
Website:
http://www.scotiabar.net
SSE Hydro
A new addition to Glasgow's urban riverscape is the SSE Hydro, a 12,000-capacity stadium which will see the likes of everyone from Justin Timberlake and Beyonce to Dolly Parton and Il Divo. Some live music events will still take place at the SECC Scottish Exhibition and Conference Centre next door. Both venues are served by Exhibition Centre station.
Address:
Tel:
(0141) 248 3000.
Website:
http://www.thehydro.com
King Tut's Wah Wah Hut
Consistently voted one of the best small venues around, the 300-capacity King Tut's Wah Wah Hut is a stalwart of Glasgow's grassroots music scene and one of the best places to see up-and-coming bands. It was here where the Mancunian band Oasis were signed in 1993. Other bands that played here at the start of their careers include Pulp, Manic Street Preachers and Snow Patrol.
Address:
Tel:
(0141) 221 5279.
Website:
http://www.kingtuts.co.uk
Classical music in Glasgow
City Halls & Old Fruitmarket
Home to the BBC Scottish Symphony Orchestra, City Halls is also a base for the Scottish Chamber Orchestra and its Grand Hall is world-renowned for its acoustics. Dating back to 1841, it is Glasgow's oldest performance space and home to Glasgow's Centre for Music. It also includes the Old Fruitmarket, a refurbished Victorian building with vaulted roof and cast-iron columns which hosts everything from classical concerts to jazz and pop.
Address:
Tel:
(0141) 353 8000.
Website:
http://www.glasgowconcerthalls.com/city-halls/
Glasgow Royal Concert Hall
Home to the Royal Scottish National Orchestra, Scotland's leading symphony orchestra, Glasgow Royal Concert Hall hosts a range of concerts from classical to pop – Leipzig Gewandhaus Orchestra, Dame Kiri Te Kanawa, Corinne Bailey Rae and BB King have all played here. The popular Proms concerts take place here in June and it is also the main venue for Celtic Connections, the world's largest winter music festival.
Address:
Tel:
(0141) 353 8000.
Website:
http://www.glasgowconcerthalls.com
Music and Dance in Glasgow
Theatre Royal
Dating back to 1867, this is Scotland's longest running theatre, its Victorian auditorium playing host to a variety of genres, including drama, comedy, opera, children's theatre, musicals and dance. It is also home to Scottish Opera, the largest performing arts organisation in Scotland, and Scottish Ballet is the theatre's resident ballet company.
Address:
Tel:
0844 871 7647.
Website:
http://www.atgtickets.com/venues/theatre-royal-glasgow