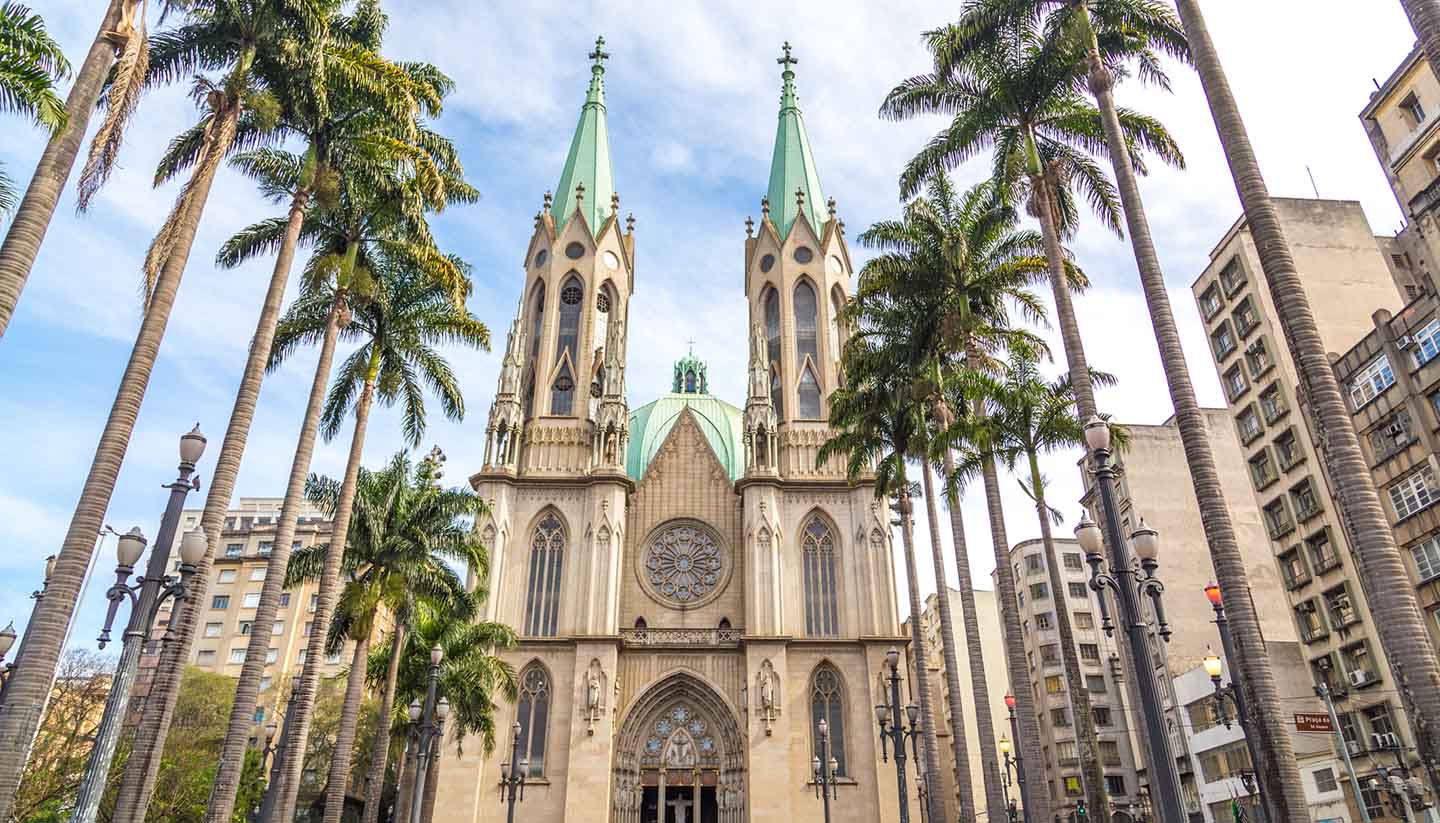 Weather in Sao Paulo

22°C
Weather in Sao Paulo
Best time to visit:
The best time to visit São Paulo is during the spring (September to November) and autumn (March to May) when temperatures are warm and the city experiences less precipitation. During the summer months (December to February) highs typically reach 29°C (85°F) but it can be very humid and tropical, and downpours are a regular occurrence. Winter, between June and August, sees temperatures range from 12°C-23°C (55°F-75°F) when it's wise to bring a cardigan or sweater for the nippy evenings. Most of the year, though, São Paulo benefits from warm weather.
Weather (day)
Temp (max day)
Rain (mm)
Wind (mph)
Humidity Pressure Visibility
21/04/2017

Light rain

1.8

nnw

80-100%
1013 mb
moderate
22/04/2017

Partly cloudy skies

0.2

s

20-40%
1015 mb
good
23/04/2017

Light rain shower

0.7

sse

80-100%
1020 mb
good
24/04/2017

Sunny skies

0

ese

0-20%
1019 mb
good
25/04/2017

Partly cloudy skies

0

nnw

40-60%
1014 mb
good
26/04/2017

Cloudy skies

0.9

nw

60-80%
1010 mb
good
27/04/2017

Moderate rain

12

sse

80-100%
1014 mb
moderate
28/04/2017

Light rain shower

0.6

sse

60-80%
1019 mb
good
29/04/2017

Light rain shower

0.6

se

40-60%
1021 mb
good
30/04/2017

Cloudy skies

0.2

se

80-100%
1021 mb
good
Last updated at
View help
Close help
Last updated: We update the weather data for from our weather partner every four hours. The time the last update was received is detailed here.
Actual Forecast Location: We have 830+ weather locations on the worldtravelguide.net website. Where no exact location is available we have used the nearest appropriate forecast point.
Symbols indicate the predominant weather for the day in question, calculated based on a weighting of different types of weather. So if a day is forecast to be sunny with the possibility of a brief shower, then we will see a sunny or partly cloudy symbol rather than a rain cloud. For the purpose of this forecast, \'day\' is the entire 24 our period 00:00 to 23:59
The maximum temperature is the highest temperature forecast between dawn and dusk, and the minimum temperature is the lowest temperature expected from dusk on the day in question to dawn the next day. The temperature is in °C, or Celsius.
Wind speed and direction are the conditions expected at midday. Wind direction is based on a 16 point compass. W, SW, SSW, etc. The wind direction states where the wind originates. Wind speed is listed in MPH or miles per hour.
Humidity levels indicates how much water vapour the air contains compared to the maximum it could contain at that temperature. As a general guide:
0 to 30 is very low
31 to 50 is low
51 to 70 is moderate to low
71 to 80 is moderate
81 to 90 is moderate to high
91 to 100 is high
Pressure is measured in millibars (mb)
Visibility based on whether the human eye can see the following distances:
Very poor - less than 1km
Poor - between 1km and 4km
Moderate - between 4km and 10km
Good - between 10km and 20km
Very good - between 20km and 40km
Excellent - more than 40km
Close