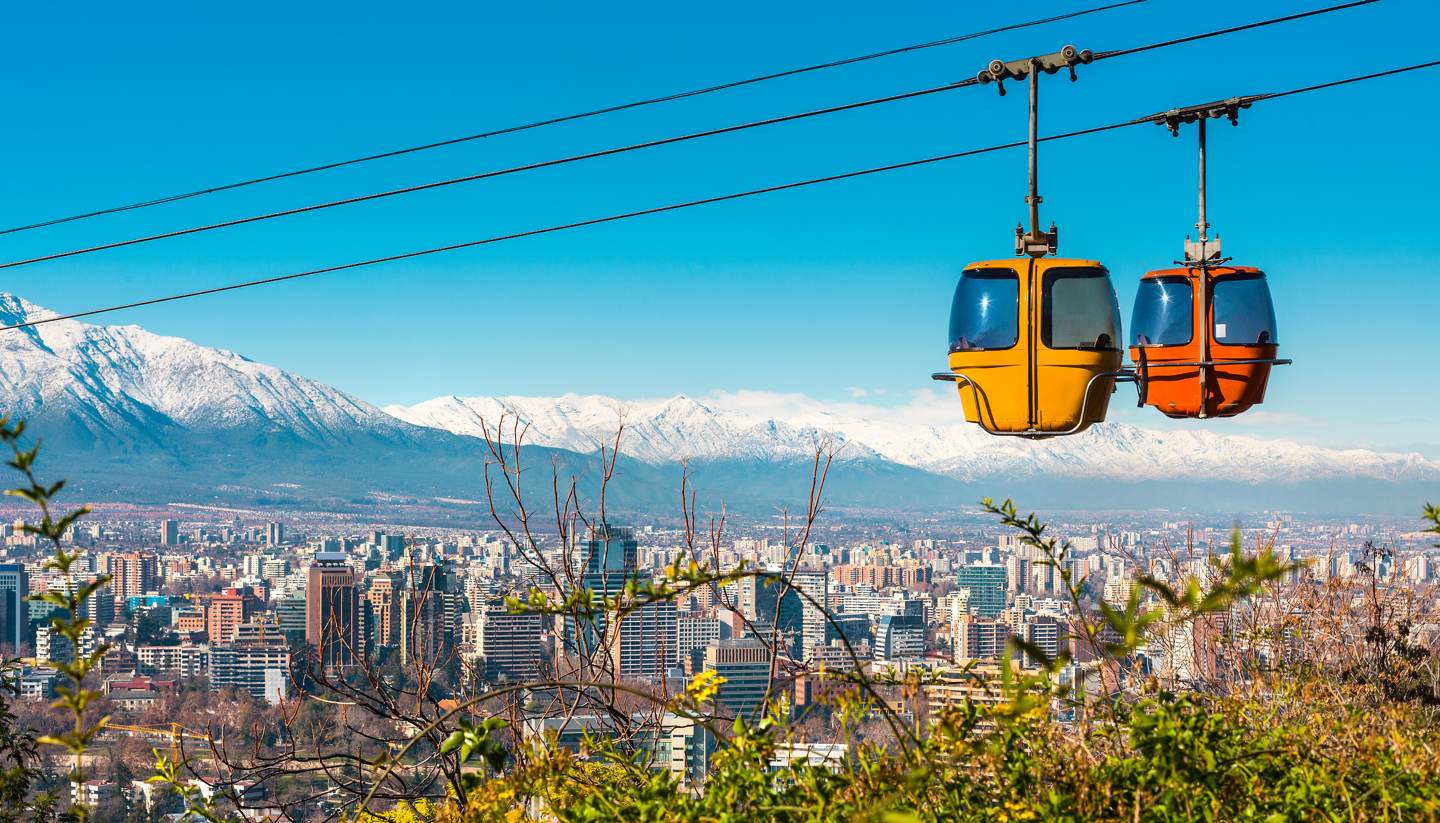 Weather in Santiago

27°C
Santiago Nightlife
Most of Santiago's nightlife spots are located outside the downtown area. The Bellavista district is home to most of the buzzing bars, restaurants and nightclubs. Its main drag is Calle Pío Nono. Less discovered but perhaps more genuine is the area around Barrio Brasil, an old part of town. Meanwhile, the tidy middle-class district of Ñuñoa is gaining in popularity as a place for a night out among those disaffected by the kitsch of Bellavista. The best bars cluster around Plaza Ñuñoa.
For an extensive list of Santiago's pubs and clubs, visit www.pubs.cl.
Good sources of information are the Tiempo Libre supplement of the El Mercurio newspaper (www.emol.com), the Cultura section of La Tercera (www.tercera.cl) and the Santiago Times (www.santiagotimes.cl).
Bars in Santiago
Flannery's Irish Geo Pub
Perhaps the biggest magnet for overseas visitors is Flannery's Irish Geo Pub, in the financial district of Las Condes, where sports coverage and proper pints of Guinness draw large crowds. It's open until late everyday and serves regular bar snacks and food. There's live music on Friday nights and 'Irish sessions' on Sunday evenings between 1900-2100. St Patricks Day is, obviously, huge, but it also throws itself into any other festivity with gusto.
Address:
Tel:
Website:
http://www.flannerys.cl
La Piojera
For the most atmospheric tipple in Santiago, head to the central La Piojera, a traditional beer hall-style drinking den, where carousing and high spirits flow at most hours. Behind an unassuming entrance is an even more unassuming bar, but one brimming with beer, folklore music and good times. It's a Santiago institution and an unmissable place.
Address:
Tel:
Website:
http://www.lapiojera.cl
Bar Dos Gardenias
You are never short of bar options in Bellavista, but one of the most welcoming options is Bar Dos Gardenias, which has regular salsa nights. It opened in 2004 (and named after the Buena Vista Social Club number) and has regular live music. It's open to 2am or 3am, and closed Sunday and Monday. It serves bar snacks such as pizzas, and a charcuterie selection.
Address:
Tel:
(02) 474 4534.
Website:
http://www.bardosgardenias.cl
Clubs in Santiago
Blondie
One club that is continues to remain popular is Blondie, in Barrio Brasil, an indie/goth favourite for many a year. Every Thursday there's an indie party, there's Goth on Fridays while Saturdays are reserved for guilty pleasure type nights. There's a good programme of live music too that has included Franz Ferdinand in the past.
Address:
Tel:
Website:
Subterraneo
Subterraneo is a well-heeled club in Providencia featuring some reasonable DJs. It has a fascinating range of events showing some of the most cutting edge eacts in Latin America. It's a big industrial space – perfect for the kind of acts on there. It has a website, but the best source of information for what's on is its Facebook page.
Address:
Tel:
Website:
http://www.subterraneo.cl
Bar Constitucion
Probably the coolest place in Santiago and its suitably understated, of course – exposed brick walls, no sign outside. There's something on every night from Tuesday to Saturdays at this Providencia venue. It only opened in 2008 and was started as a restaurant, but now its best known for its live music, cocktails and DJ roster. It also hosts artists and avant garde evenings.
Address:
Tel:
Website:
http://www.barconstitucion.cl
Live music in Santiago
La Chiminea
For 60 years, La Chiminea has been loved as an atmospheric venue tucked down a quiet alley. It has a small stage with quality live acts most nights, most often folklore music, but also hosts touring musicians from Argentina and farther afield. It's also a place to sit down and eat before the show and there's a good selection of beers too.
Address:
Tel:
(02) 697 0131.
Website:
http://www.lachimenea.cl
Estadio Nacional
Santiago has a thriving live music scene, running the gamut of sounds from stadium rock to more intimate Latin American bolero. Most big acts perform at the Estadio Nacional (National Stadium). Acts such as Muse, Madonna and Lady Gaga have seen crowds of 40,000 singing along. There are also classical music events too.
Address:
Tel:
(02) 238 8102.
Website:
Santiago Jazz Club
Since 1943, jazz fans have made the pilgrimage to the Santiago Jazz Club in Ñuñoa. Over the years it has seen Herbie Hancock, Louis Armstrong and Billy Cobham tread its boards. Depending on the night, you'll be able to hear all kinds of jazz from ragtime to free jazz and many concerts open with a jam session.
Address:
Tel:
Website:
http://www.clubdejazz.cl
Classical music in Santiago
Instituto Cultural de Providencia
This cultural venue has a packed range of exhibitions and concerts throughout the year. There's a cinema, a theatre stage, plus exhibition halls and live music stage. The exhibition space has seen most mediums of work from photography to sculpture; meanwhile the stages see mostly classical or jazz concerts. There's a worthwhile sculpture garden outside with some remarkable pieces.
Address:
Tel:
(02) 784 8600.
Website:
http://www.proviarte.cl
Theatre in Santiago
Teatro Municipal
Teatro Municipal is an ornate 19th-century theatre built in a European style by Frenchman Charles Garnier, architect of the casino in Monte Carlo. The Santiago Ballet and the Santiago Philharmonic Orchestra both perform here, often together, and it has been the scene of some world-class tango performances. There's hour-long also lunchtime concerts at cheaper prices.
Address:
Tel:
(02) 463 8888 or 1000.
Website:
http://www.municipal.cl
Teatro Nacional
Teatro Nacional is a highly reputable and puts on more contemporary productions. It opened in 1941 as the Teatro Imperio, becoming the National Theatre in 1975. There are usually five or six major productions every year plus a wide range of touring acts. It occasionally puts on theatre shows for children. Live music fans should also check out the listings first.
Address:
Tel:
(02) 696 1200.
Website:
http://www.tnch.uchile.cl
Music and Dance in Santiago
Centro Cultural Estación Mapocho
This is a truly amazing venue. It is a huge, and beautiful, converted train station. The result is one of the more singular cultural centres. It was inaugurated in 1994, and now receives more than a million visitors a year. The size allows conferences and fairs such as the Feria del Libro that saw Patti Smith perform poetry recently. The programme includes music, dance, jazz, art exhibitions and photography – but it's worth going to see the building alone.
Address:
Tel:
(02) 787 0000.
Website:
http://www.estacionmapocho.cl