Hard lower, packed powder upper
Forecast
Base (day)
Wind (mph)
Base Weather
Base Max Temp
Visibility Cloud-cover Rain
Wed

w

Sunny

Clear skies

Good
0-20%
0mm
Base (night)
Wind (mph)
Base Weather
Base Max Temp
Visibility Cloud-cover Rain
Wed

w

Clear

Clear skies

Good
0-20%
0mm
Summit (day)
Wind (mph)
Summit Weather
Summit Max Temp
Visibility Cloud-cover Rain
Wed

w

Sunny

Sunny skies

Good
0-20%
0mm
Summit (night)
Wind (mph)
Summit Weather
Summit Max Temp
Visibility Cloud-cover Rain
Wed

w

Clear

Clear skies

Good
0-20%
0mm
Last updated at 12:05, Thursday 16 February
View help
Close help
Last updated: We update the weather data for Tignes from the our partner every four hours. The time the last update was received is detailed here.
Actual Forecast Location: We have 830+ weather locations on the worldtravelguide.net site. Where no exact location is available we have used the nearest appropriate forecast point.
Symbols indicate the predominant weather for the day in question, calculated based on a weighting of different types of weather. So if a day is forecast to be sunny with the possibility of a brief shower, then we will see a sunny or partly cloudy symbol rather than a rain cloud. For the purposes of this ski forecast, "day" is the 12 hour period 06.00 to 18.00.
The maximum temperature is the highest temperature forecast during the indicated night or day period, and the minimum temperature is the lowest temperature expected during the indicated night or day period. The temperature is in °C, or Celsius.
Wind speed and direction are the conditions expected on average during the indicated period. Wind direction is based on a 16 point compass: W, SW, SSW, etc. The wind direction states where the wind originates. Wind speed is listed in MPH or miles per hour.
Pressure is measured in millibars (mb)
Precipitation, or rainfall, is indicated in millimetres (mm)
Last snowfall amount is measured as the last period of continuous snowfall and is displayed in centimetres (cm)
Snow depths include the "Last snowfall amount"
Cloud cover is measured as the percentage of clouds covering the sky at the time of forecast. So if the cloud cover shows 75% then the sky is three quarters full of clouds.
Visibility based on whether the human eye can see the following distances:
Very poor - less than 1km
Poor - between 1km and 4km
Moderate - between 4km and 10 km
Good - between 10km and 20km
Very good - between 20km and 40km
Excellent - more than 40km
Close
Average snow depth in Tignes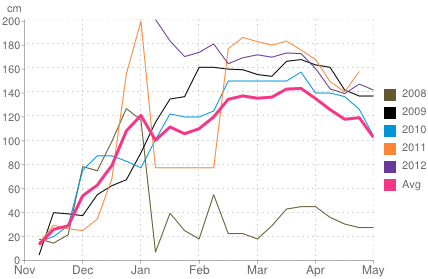 Historical snow depth in Tignes
Select week:
Do you have any Feedback about this page?
© 2017 Columbus Travel Media Ltd. All rights reserved. No part of this site may be reproduced without our written permission, click here for information on Columbus Content Solutions.