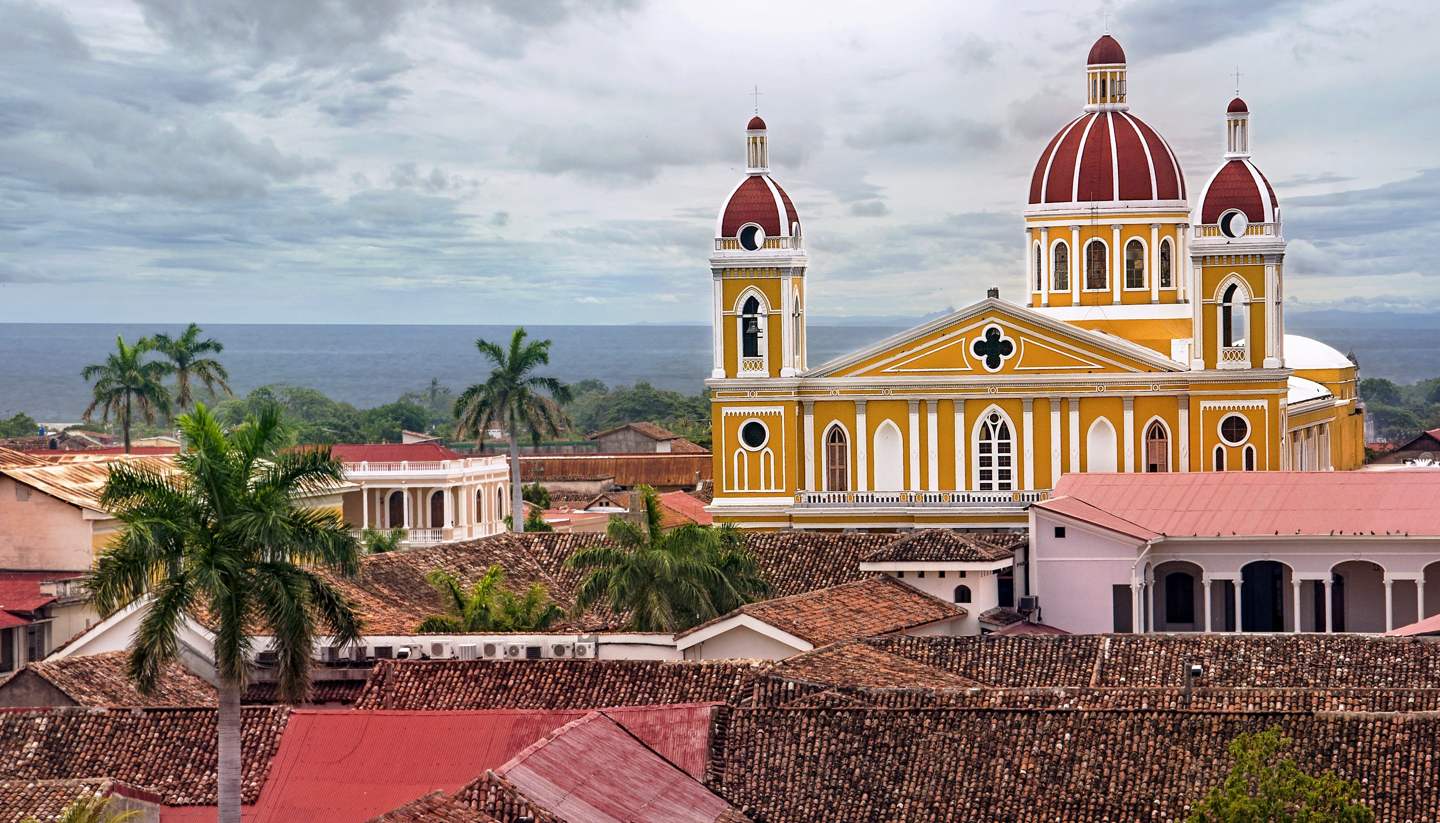 Tourist offices
Nicaraguan Institute of Tourism (INTUR)
Address:
Tel:
Opening Hours:
Website:
http://www.visit-nicaragua.com
Things to see and do
Escape to the Corn Islands
Big Corn and Little Corn are two isolated Caribbean atolls that were once a haven for pirates. Now Little Corn in particular is a pocket-sized paradise that ticks all the boxes – turquoise waters, palm-fringed white-sand beaches, stunning coral reefs and a relaxed vibe. Go snorkelling, diving, horseback riding, or just swinging in a hammock. Get there by plane or boat from Bluefields.
Hike through the forests of Domitila Wildlife Reserve
Close to Granada, the privately owned Domitila Wildlife Reserve is one of the last remaining areas of dry tropical forest on the Pacific coast. It's home to many mammals, including howler monkeys and wild cats, as well as numerous birds, butterflies and insects. Stay the night in a rustic cabin, and then take an early morning hike or horseback ride along the trails.
Stay with a family in Estelí's nature reserve
The country's third biggest city has a friendly, small-town feel with walls still covered in revolutionary murals from the 1980s. Nearby, Miraflor Natural Reserve offers hiking, riding and birdwatching through dry and cloud forest, famous for its hundreds of species of orchids. Accommodation is in basic cabins, or stay with a family to get a real taste of rural life.
Learn Spanish in Granada
This picture-perfect colonial city on the shore of Lake Nicaragua makes the ideal base for exploring. Stroll around its cobbled streets and visit its ancient churches, kayak around its tiny islands, dine in its upmarket restaurants and, if you have time to fit in around excursions, try some Spanish lessons at a non-profit school or look at volunteering opportunities.
Look out for jaguars in Indio Maíz
For the ultimate jungle adventure, explore the dense forest of the Indio Maíz Biological Reserve in the far southeast, which has more species of birds, trees and insects than the whole of Europe. Day hikes are run from nearby El Castillo or San Juan del Norte; go with an indigenous Rama Indian guide and, if you're lucky, you might spot an elusive jaguar.
Penetrate the mists of Jinotega
Known as the 'City of Mists' for its wisps of high-altitude cloud, the birthplace of the Nicaraguan Revolution is now a peaceful city known for its cool climate, stunning valleys, pine forests and granite peaks. It makes a good base for exploring the surrounding coffee farms and nature reserves, lakes and rivers.
Share the passion of León's poetry and politics
Colonial León is the former capital with the lively, cultured feel of a university city. Home to the largest cathedral in Central America, colourful, socio-political murals grace the walls and it's a hotbed for Nicaragua's twin passions: politics and poetry. Or if you prefer more physical adventures, try land-surfing down nearby Cerro Negro, the country's youngest volcano.
Don't miss Managua
Most visitors bypass Managua, the sprawling and frankly ugly capital, which was devastated by the country's bloody revolution. But if you're stopping over it's worth visiting the National Museum, listening to a concert in the Rubén Darío National Theatre, or catching a baseball game, the country's favourite sport, at the Dennis Martinez National Stadium.
Meet Masaya's artisans
There are two good reasons to visit the arty city of Masaya. Shop till you drop at the famous handicraft market where you can meet the skilled artisans and learn about the region's fascinating folklore at the small museum. And head to Masaya Volcanic National Park, where you can hike around the ash-covered landscape and peer into a still-smoking crater.
Wake up and smell the coffee in Matagalpa
If you want an authentic Nicaraguan caffeine hit, visit a coffee plantation in this temperate town in the northern highlands. Nearby, Finca Esperanza Verde is an eco-lodge, nature reserve and organic coffee farm set in tranquil cloud forest. It runs an award-winning reforestation programme and all tourism income is ploughed back into community projects.
Zipline over Mombacho Volcano
Mombacho's imposing cone can be seen from the historic city of Granada and the volcano's nature reserve is the perfect place to discover the flora and fauna of the cloud forest, including beautiful orchids in season. Local guides lead hikes from the peak to its craters, with spectacular panoramic views; or take the Miravalle Canopy Tour for a thrilling zip-line adrenaline rush.
Go eco on Isla Ometepe
Rising out of Lake Nicaragua, this idyllic twin-coned volcanic island is home to friendly fishing and farming communities. Stay in one of the village's small eco-lodges; climb steep Concepción or the easier but muddier Maderas; search for petroglyphs; cycle around the island or simply lounge on the lakeshore beaches.
Paddle down the Rio San Juan
Once an important transit route between the oceans, the river now forms the watery border with Costa Rica. Winding through remote towns and flanked by wildlife-filled forest, it still has an intrepid feel. Explore the fortress town of El Castillo, sail all the way to the Caribbean on a panga boat, or kayak along its banks to spot the many birds and animals.
Discover the beaches, turtles and party life of Rivas
The department of Rivas is home to surf and party capital, San Juan del Sur, as well as some of Nicaragua's most stunning – and often deserted – Pacific beaches, including El Coco, Marsella and Ocotal. The beach at La Flor Wildlife Reserve is where thousands of Olive Ridley turtles come to lay their eggs; you can watch them between July and January.
Surf off San Juan del Sur
This one-time sleepy surfing hangout is now a bustling resort offering a plethora of attractions, from whale-watching cruises to horseback riding, with plenty of bars, restaurants and hotels to cater for all tastes and budgets. Maderas and Remanso surfing beaches are a short drive away, and you can take boats to other popular surf spots.
Hop around the Solentiname Islands
Set in a remote corner of Lake Nicaragua, this archipelago is made up of 36 tropical islands and islets; a haven for hikers, birdwatchers and art lovers. San Fernando, Mancarrón, La Venada and Mancarroncita are the largest, home to a community of primitivism artists and Los Guatuzos Wildlife Refuge, a maze of forest and waterways that teems with wildlife.
Rappel into Somoto Canyon
This geological wonder in northern Nicaragua is one of the oldest rock formations in Central America, dating back some 13 million years. Today, the whole canyon is protected as a National Monument; you can hike along its rocky trails to scenic viewpoints, take a boat tour, try rubber tubing along its crystal-clear water, or rappel down its vertical walls.