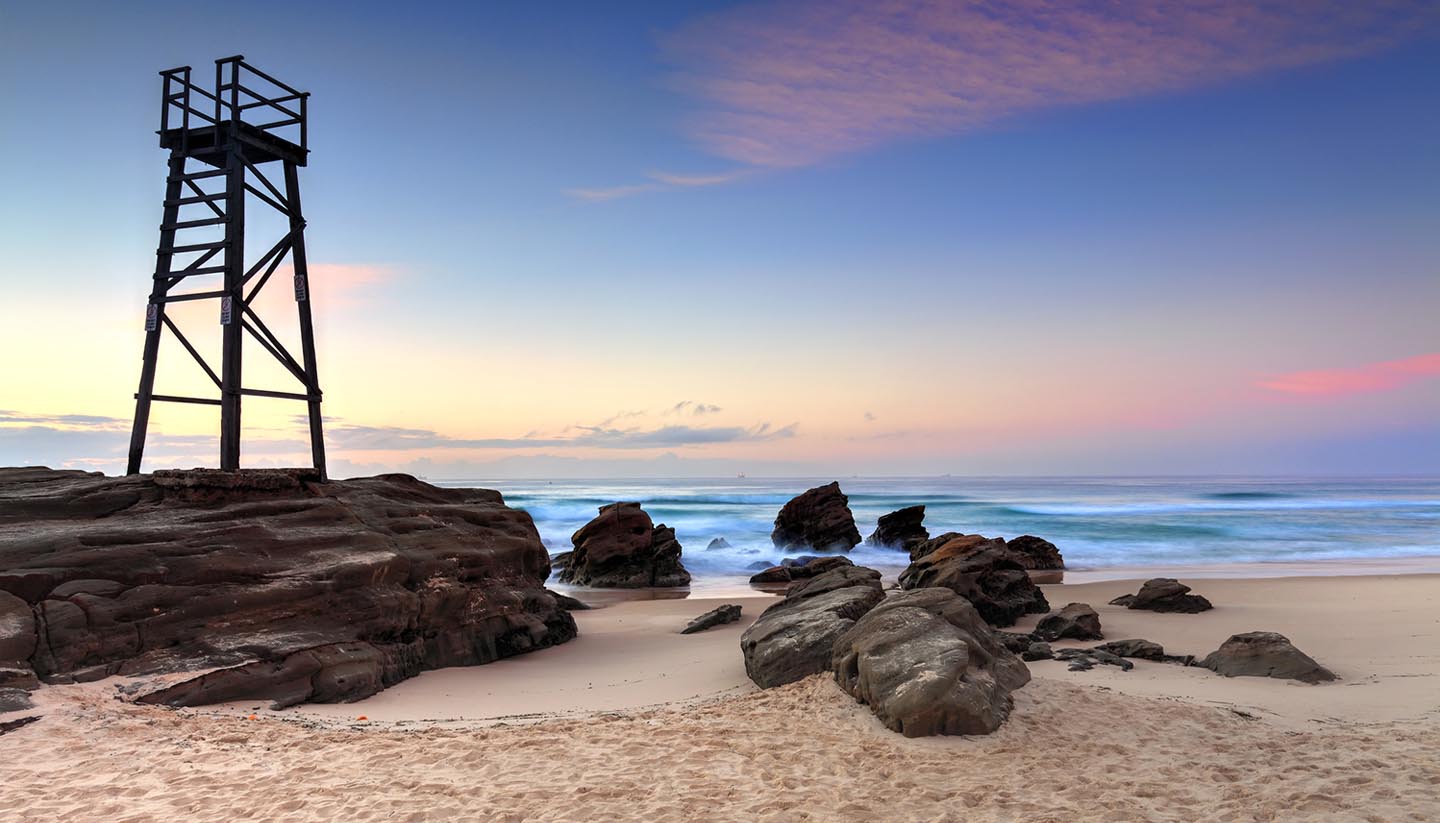 Places in New South Wales
Tourist offices
Tourism New South Wales in the UK
Address:
Tel:
Opening Hours:
Website:
http://www.visitnsw.com
Tourism New South Wales in the US
Address:
Tel:
Opening Hours:
Website:
http://www.visitnsw.com
Things to see and do
Sydney
Explore the fabulous city of Sydney. The iconic Sydney Opera House (www.sydneyoperahouse.com) has a distinctive shape that echoes the sails of the boats in the equally famous Sydney Harbour. Another must-see is the awesome steel structure of the Harbour Bridge. The observation deck of the 305m- (1,000ft-) high Sydney Tower (http://sydneytower.com.au) is a good starting point from which to get your bearings.
The Rocks
Step back in time in The Rocks area (the site of Australia's first European settlement), which features cobbled streets, gas lamps, craft shops and small restaurants. This district offers a great introduction to Sydney's maritime history as well as providing some of the best views across to the Opera House and Harbour Bridge.
Aboriginal heritage tour
Take in Sydney's stunning Royal Botanic Gardens (www.rbgsyd.nsw.gov.au) with an Aborignal tour guide to learn about the heritage of this area and what it meant to the Cadigal, the original inhabitants of the city area. Walking tours take place on Fridays.
Blue Mountains
Gaze upon the World Heritage-listed Blue Mountains to the west of Sydney: the Three Sisters (so-named because of dreamtime legend), at Echo Point in the Leura/Katoomba region, rise above the valley floor, and afford sensational views of this rugged wilderness.
Snowy Mountains
Get into some serious mountain country and have your breath taken away at the sight of Australia's majestic highest peak, Mt Kosciuszko. The main visitor centre is at Jindabyne.
Broken Hill
Experience unaffected Australian wilderness at the uncommercialised and unpretentious Broken Hill (www.visitbrokenhill.com.au), featuring ancient landscapes and Aboriginal culture. In recent years artistic pursuits from a growing population of writers, artists and sculptors have flourished providing a unique impression of the outback.
Lord Howe Island
It's a two-hour flight from Sydney, but this World Heritage-listed island in the Pacific is the place to really escape to. Only 400 visitors are on the island at any one time and those who are there enjoy snorkelling around the coral reef, strolling the beach forests or venturing up Mt Gower for panoramic views (www.lordhoweisland.info).
Willandra Lakes Region
Look at 370,000 hectares (913,000 acres) of semi-arid country in the Willandra Lakes Region, renowned as one of the world's earliest-known cremation sites. The archaeological discovery of skeletal remains indicated that homo sapiens inhabited the area 40,000 years ago.
National Parks
Take in as much countryside as you can cope with at New South Wales' many parks and nature reserves (www.nationalparks.nsw.gov.au). The Royal National Park, just 32km (20 miles) outside Sydney, is the oldest park in Australia and the second-oldest in the world. It is rich in Aboriginal history, with Audley a good place to start at.
South Coast tour
Tour the gorgeous south coast where traditional country towns such as Eden, Thathra and Kiama have escaped the onslaught of mass coastal development and interrupt a string of national parks protecting magnificent bushlands and spectacular coastal areas all the way to Sydney.
Dolphin watching
Go dolphin and humpback whale watching; you can spot migrating whales along the coast and good places include Cape Byron between June and August and Hervey Bay between mid July and late October.
Surf
Do as the locals do and strut your stuff at world-famous beaches such as Bondi and Manly in Sydney. Surf with the big boys at Bronte, Coogee, Collaroy, Palm and Byron Bay beaches. Port Macquarie and Coff's coast in the north of the state are great surfing territories with Scott Dillon's Legends Surf Museum the ideal place to visit when on dry land.
Sydney Hobart Yacht Race
Watch the annual yacht race (http://rolexsydneyhobart.com) from Sydney to Hobart in Tasmania, starting on 26 December and covering over 2,000km (1,250 miles). The first day at Sydney Harbour attracts huge crowds and spectator craft, generating a great atmosphere as the fleet sets sail.
Watersports in Port Macquarie
Couple stunning scenery with nail-biting fun by windsurfing, kayaking and white-water rafting in the Great Lakes district; its most popular resort is Port Macquarie, a sophisticated town set in a deluge of greenery with a large koala population.
Drive
The Grand Pacific Drive (www.grandpacificdrive.com.au) takes you from Sydney to Wollongong, down to Shoalhaven, through coastal rainforest, villages and across the vast Sea Cliff Bridge. Alternatively, the Greater Blue Mountains Drive (www.greaterbluemountainsdrive.com.au) is linked with discovery trails to help you appreciate this World Heritage Area.
Mardi Gras
Indulge in the queen of all festivals, the world-famous Sydney Gay and Lesbian Mardi Gras (www.mardigras.org.au). Held in February, highlights of the two-week event include the launch, the Oxford Street parade and post-parade event and Harbour party.