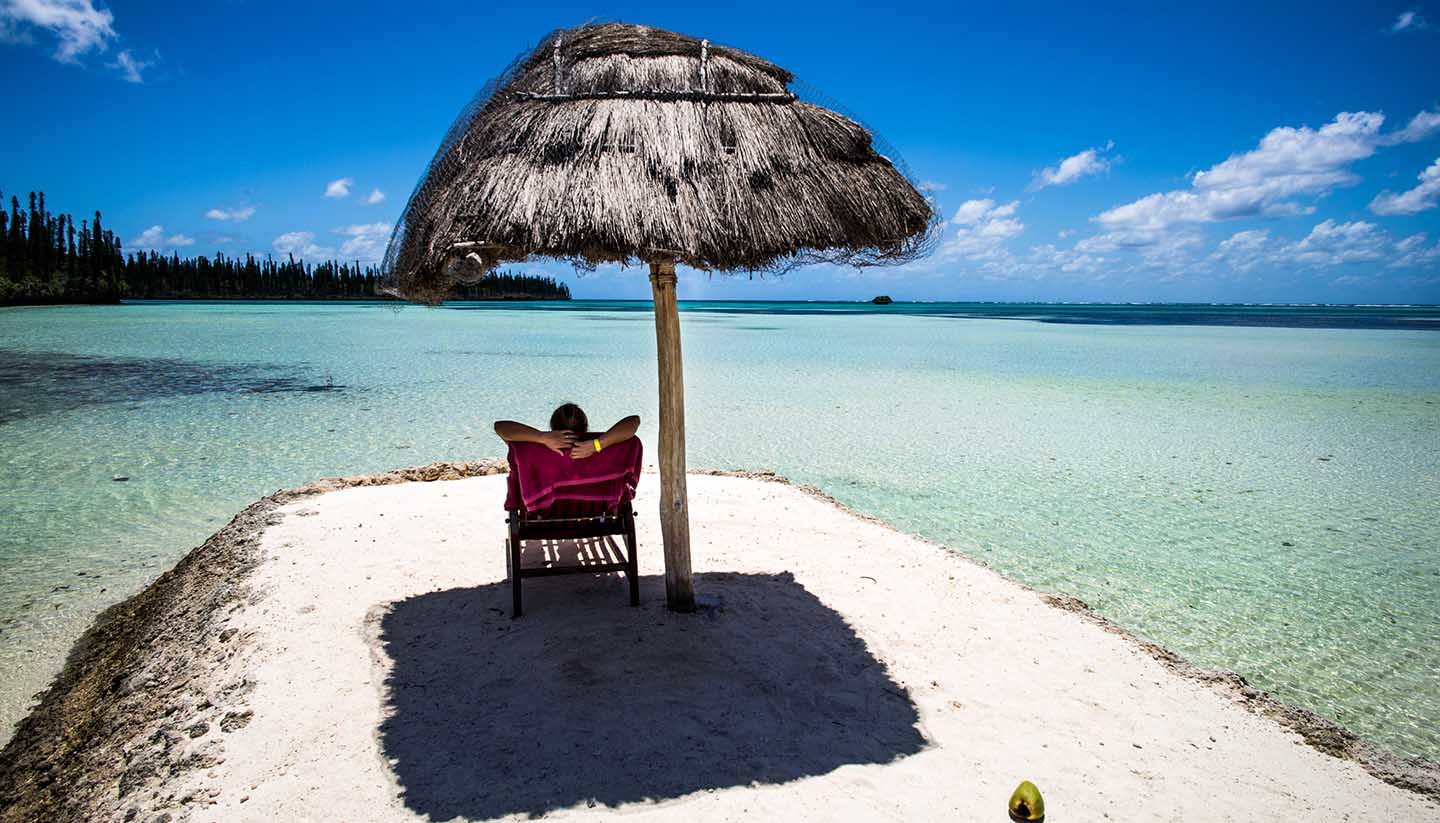 Tourist offices
French Government Tourist Office in the UK
Address:
Tel:
Opening Hours:
Website:
http://www.uk.franceguide.com
New Caledonia Tourism
Address:
Tel:
Opening Hours:
Mon-Fri 1000-1600.
Website:
http://www.office-tourisme.nc
French Government Tourist Office in the USA
Address:
Tel:
Opening Hours:
Daily 0900-1700.
Website:
http://www.franceguide.com
Things to see and do
Saddle up and go horse riding
Horseback excursions are an excellent way to see the best of Grande Terre from simple pony rides to major expeditions crossing the mountain range, mustering cattle and camping in the mountains. Guided tours can be organised from Nouméa, Dumbea, La Foa, Bourail, Thio and the Koné villages. 
Tread a trail through Grande Terre
Strike out on a hiking trip across Grande Terre. Starting in Prony, the Grande Randonnée trail heads north and takes in some of the country's most sublime scenery, before finishing in Dumbéa. At over 100km (62 miles), the well-marked trek is split into eight connecting hikes that can be enjoyed separately or as one walk over several days.
Take a traditional boat out to sea
Take to the water and explore the world's largest lagoon. Excursions in a traditional Melanesian outrigger canoes can be organised at the Ile des Pins, whilst sailing boats can be chartered with or without a skipper. New Caledonia's fantastic coral reefs are best goggled at through a glass-bottomed boats. 
See humpback whales in the southern lagoon
Go whale watching in New Caledonia's southern lagoon. Mating season for humpback whales begins in mid-July and the great creatures can still be spotted come September. During this time catamaran and cruise boat excursions cast off from Nouméa, whilst the massive mammals can be glimpsed near the Loyalty Islands at Lifou.
Cast off on a fishing expedition
Relax on a fishing expedition. The coral barrier reef off Nouméa is excellent for underwater spearfishing, as are waters around the Loyalty Islands. Ouvéa Island's lagoon is rich in fish including the chance to catch a giant trevally. The main location for freshwater fishing is Yaté Lake, open January to October.
Tackle the trade winds with a windsurf board
Try your hand at windsurfing. The Bay of Anse Vata and Côte Blanche, both in Nouméa, are the most popular locations. With trade winds averaging between 20-40km (12-25mph), conditions are ideal for both beginners and the more assured, whilst international competitions attract some of the world's best windsurfers and make for exhilarating shoreline viewing.
Explore the visually dramatic east coast
Hienghéne has a striking lagoon surrounded by 120m-high (400ft) black cliffs. The region is dotted with churches and Melanesian villages, forests, coconut palms and beautiful beaches. At the southern point of this coast is Yaté, a village surrounded by lakes, waterfalls and rich wooded countryside.
Discover the tranquil Ile des Pins
Venture over to the Ile des Pins, discovered by Captain Cook in 1774, and lying 70km (45 miles) off Grande Terre. This exceedingly beautiful island has many white sand beaches, turquoise lagoons, lush rainforests, pines, orchids and ferns not to mention archaeological remains. Day trips are available from Nouméa.
Take in spectacular panoramas at Mont-Dore
Soak up some scenery at Mont-Dore, a mountain surrounded by magnificent coastal views. On the way, stop at the Melanesian village of St Louis and the Plum Lookout for a spectacular vista across the surrounding reef. Also in the south, Blue River Provincial Park is well worth a visit for its breath-taking landscape.
Wind along the west coast beaches
Tour the pure white sand beaches, rainforest and offshore atolls of the west coast. There are elaborate and beautiful caves and rock formations shaped by Pacific breakers at Bourail, whilst further north is Koné, an important archaeological site following the discovery of ancient Lapita pottery believed to have its origins between 2000 and 1000 BC.
Kayak the largest lagoon in the world
Surrounded by a coral reef barrier 1,600km (994 miles) long, New Caledonia boasts the largest lagoon in the world. With excellent swimming and scuba diving, the most exciting way to explore is by kayak. H2O Odyssee in Nouméa offer four-day trips along the Forgotten Coast (Côte Oubliée) and reach land only accessible by paddle.
Seek out submerged ships with wreck diving
Enjoy some superb snorkelling, diving in marine reserves and around sunken shipwrecks. Favourite sites include the bays off Nouméa, the Amédée Lighthouse Reserve (including shark feeding), La Dieppoise (Royal Navy shipwreck), Ilot Maître and the peaceful Prony Needle, whilst the Tenia Horn, the Fault and the Hienghene Reef are all waiting to be discovered.
Admire Amedée's towering lighthouse
One of the tallest in the world, Amedée Lighthouse was constructed in Paris during the reign of Napoleon III to prevent ships wrecking on the reef. Once completed in France, the iron tower was shipped to this coral reef in pieces. Visitors can climb the 247 steps to enjoy sweeping views.
Uncover New Caledonia's rich culture
For a cultural fix, visit Nouméa's South Pacific Commission Building and New Caledonia Museum to see a collection of native handicrafts; try the Museum of Maritime History for artefacts from numerous local wrecks; and the Tjibaou Cultural Centre for concerts, plays and exhibitions celebrating indigenous culture.
Take a stroll around Nouméa
Explore Grande Terre's busy little capital Nouméa, which overlooks one of the world's largest sheltered natural harbours. It's home to attractive squares, a cathedral, museums, a market, many old colonial houses and Aquarium des Lagons, one of the world's leading centres of coral reef scientific research.