Discover the treasures of Croatia on a charter yacht with Goolets
Published on: Wednesday, October 14, 2020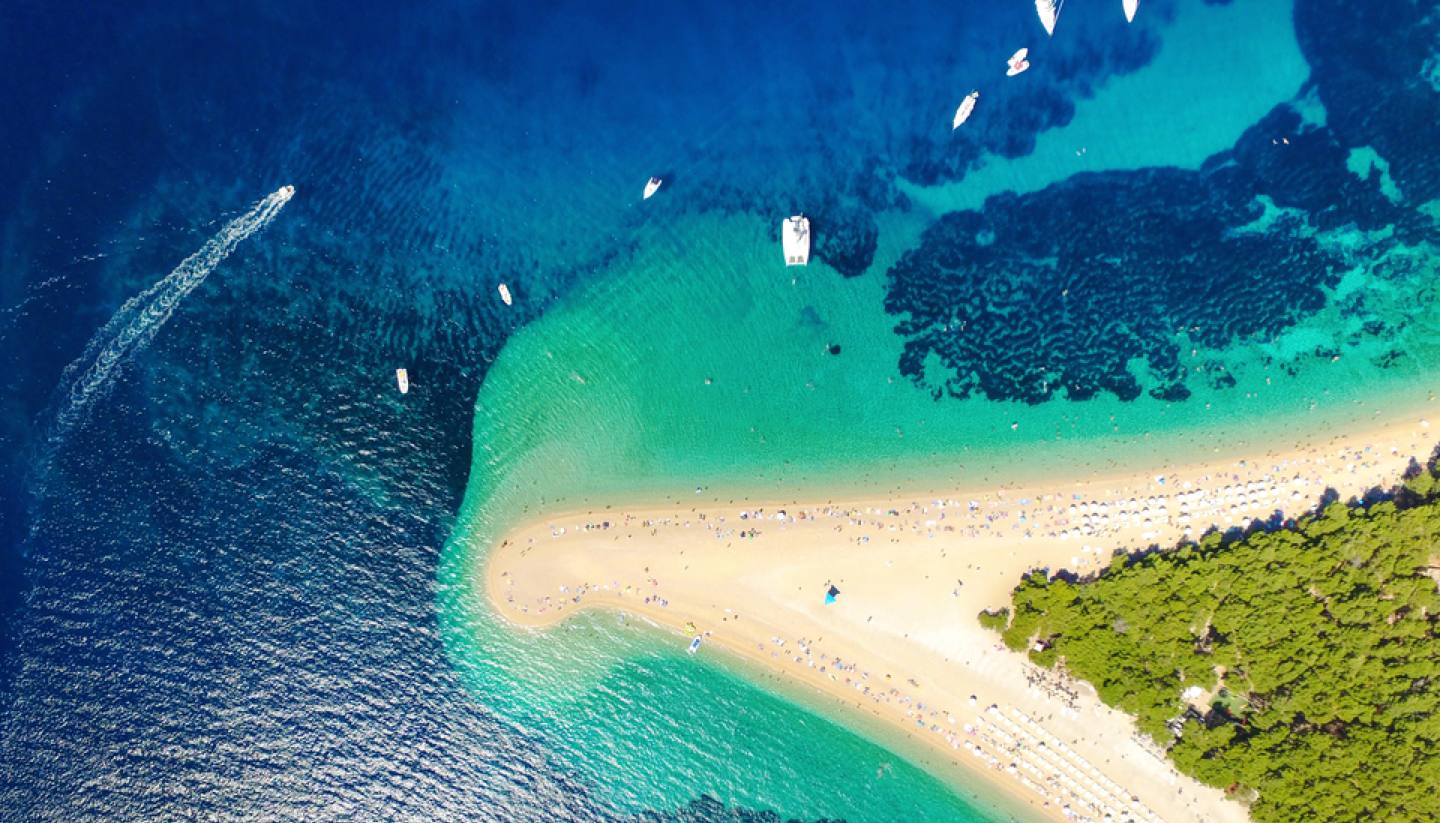 Enjoy a cruising experience in Croatia, with only the sound of the waves in the background
When you experience the Dalmatian Coast sailing on a yacht, life takes on an unsurpassed style and comfort. There is no reason to be in a hurry. You are snuggled in a tranquil space, under the sky's great blue dome, with the deep blue Adriatic Sea laid out before you and stretching as far as you can see.
Welcome to Dalmatino, a magnificent 43.5m (143ft) yacht with its four sails now hoisted and full of wind, gently propelling the craft forward.
Waves lap at the sides of the yacht, creating a soothing background rhythm.
The long flybridge is bathed in sunshine. The extended sofas and cushioned sun pads invite you to sit and relax. Read a book, raise a cheer, share a story with friends, play a musical instrument, singalong – whatever you choose, this warm and inviting space is well suited for one or many.
Your yachting holiday doesn't have to revolve around sedate pursuits either. An assortment of water-sport equipment (jet ski, water ski, kayak, wakeboard, paddleboard and seabob) is neatly stored at the end of the flybridge. They are ready for you whenever you are ready to drop anchor. After a good rush of adrenaline, you can come back to the flybridge and soak in the fabulous jacuzzi, allowing the water jets to soothe your joints and muscles.
Below the flybridge lies a full-beam master cabin and a massive salon. The salon has a modern, open-plan space that offers a bar, a TV area, a formal dining area, and a breakfast area. Alfresco dining is also catered for on the aft deck, perfect for those warm evenings when you want to enjoy sumptuous food and excellent wine in a gentle breeze.
The next level down is another inviting space with three more cabins, all en-suite and decorated with a palette of natural colours. Altogether, Dalmatino's four generous cabins can accommodate up to 12 guests.
The yacht also comes with eight cabin crew – all working discreetly in the background, so you and your guests can relax in ultimate comfort on this luxury yacht.
Recommended itinerary
With 1,200 islands dotted around, the splendid Dalmatian Coast is best explored on a sailing yacht, which gives you plenty of opportunities to seek out secluded coves and pristine beaches.
One of the best-loved itineraries is to go from Split to Kornati and back. Kornati refers to a group of 140 islands, with most of them forming part of the Kornati National Park. Quite a few islands here are uninhabited, wild and rugged, but intensively peaceful and beautiful. You can check out this route here.
From traditional gulets to luxury sailing yachts
The Turkish-built gulets have always been a fixture on the eastern Mediterranean. But in recent years, the three-masted Croatian-built luxury sailing yachts are making a splash, literally and figuratively. In a way, they are bigger gulets – have a higher spec and are better equipped.
These yachts sail when the winds are favourable but can also run their own motor – this winning combination makes them an ideal choice among yachtsmen and holidaymakers alike.
Whether you want to charter a traditional gulet for a small family, or a spacious, luxury sailing yacht for a bigger group, Goolets.net is your go-to expert. They are the largest gulet charter operator in Croatia and their site features a huge fleet of gulets and sailing yachts catering to every budget, all backed by a team of professionals working hard to make sure you have a wonderful holiday on the Med.
Dalmatino is undoubtedly one of their best products, as the ship offers incredible value for money, so much so that their customers bestowed the beautiful yacht the "Best value for money" award.
Why should you choose a sailing yacht?
1. A sailing yacht is larger and has a better standard than a traditional, economical gulet. The cabins on a sailing yacht are similar in standard to what you would expect in a 5-star luxury hotel – comfortable, spacious, with a good-sized shower room and flush toilet.
2. Sailing yachts rely on prevailing wind conditions but can switch to their own motor when need to. Therefore, they offer better value and are more eco-friendly than a fully motorised yacht. For example, it costs around €48k a week to rent a luxury yacht like Dalmatino, while a similar amount will only get you a smaller motor yacht that can accommodate fewer people.
3. Sailing yachts have a certain romantic appeal. A sailing yacht doesn't speed from one place to another. Instead, it glides through the water gracefully, giving you plenty of time to savour every tranquil moment.
For more information about sailing yachts in Croatia and other parts of the Med, contact Goolets.net. They pay exceptional attention to your needs and provide excellent customer support in route planning, activities, and food and drinks to make your holiday special.
You can also check out the Dalmatino page for more information about this fantastic yacht.