Iceland By Air – Iceland Sightseeing in a Boeing 737 Max 8
Published on: Friday, April 20, 2018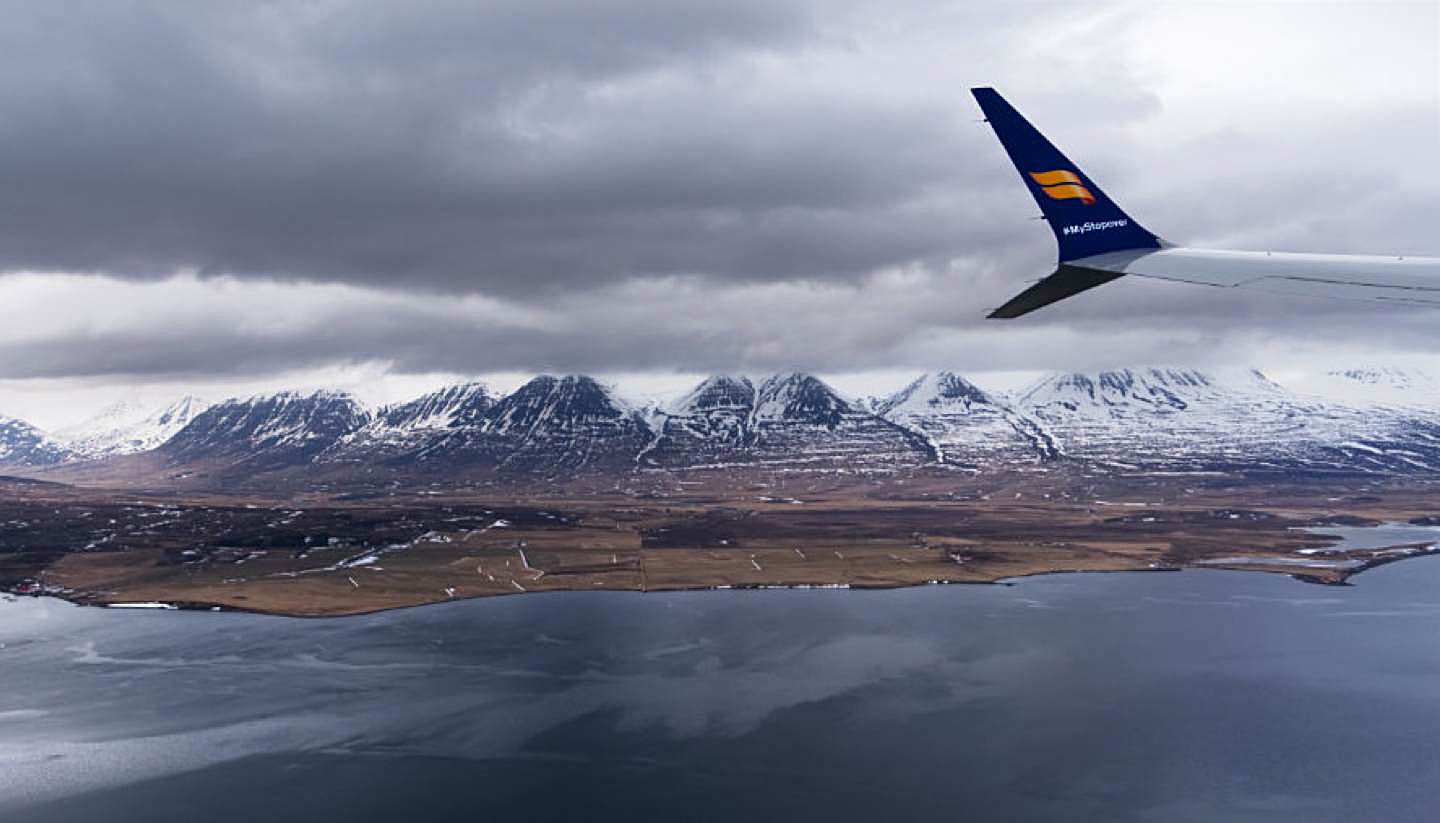 Robin Brown embarks on the celebration flight of Icelandair's latest addition to their fleet, the Boeing 737 max 8
If you were told you were going sightseeing in an aircraft, you'd probably have pictures of an old Cessna or even a helicopter springing to mind. How about flying low through an Icelandic fjord in one of the latest generations of Boeing 737?

World Travel Guide was invited to do just that. It was special and sensational, a celebration flight for Icelandair's latest fleet addition – the Boeing 737 Max 8. The Max 8 replaces the 737 800. We've come to know and love the 737 as the short haul workhorse of the cheap airlines and the backbone of many regional carriers (along with Airbus equivalents). The latest variant though is quieter and more fuel efficient; it even has mood lighting. With a range of around 3,550 miles, this aircraft has got some legs. In theory, it could fly from London to New York non-stop.
Our planned trip to the south to fly around the glacial lake "Jökulsárlón", the aircraft's namesake, was stymied by mother nature. The Captain decided to take us to the north instead, to 'fly over' Akureyri (Iceland's second largest town), where Flugfélag Akureyrar (Icelandair's origin), was born.
Take off from Reykjavik's domestic airport is a little 'urgent'. With its longest runway around 1,500m and the typical required takeoff distance needed by a 737 at around 2,100m, it's a bit tight, let's say. I've taken off in many 737's and it's typical for the pilots to only use 70% to 80% of full power. This was very different though, full power and you realise what the new Leap engines, the Max 8 sports, are capable off.
With the day's cloud base around 2,500 feet, we were quickly in the clouds and a short while later in clear blue skies with thick clouds below us. Not the ideal conditions for a scenic photography tour, unless of course clouds are your thing, in which case you'd have been delighted.
Food was served; a typical mix of salmon, egg, black and red lumpfish caviar, pickled herring and pickled beets. I'm not a big fish eater, but this was delicious, especially the herring and beets. Served with it was the specially brewed 737 Transatlantic IPA, having a robust ABA of, wait for it, 7.37% alcohol – master brewing at its finest.
After 20 minutes or so, there were a few breaks in the clouds yielding tantalising glimpses of the stunning mountain scenery below. Then we began descending into the clouds once more. We'd been told that we were going to fly over Akureyri, I didn't see how though, with such a low cloud base and mountainous terrain. After some buffeting, we suddenly cleared the clouds. Wow, these pilots were not messing about. We were flying down Eyjafjörður Fjord, heading for Akureyri's local airport, which we flew over at just 700 feet. For the locals, it must have been an inspiring, if not a somewhat unnerving sight, if they hadn't been tipped off about it.

Traversing along the fjord provided a super opportunity to take some photos of what we'd only glimpsed earlier. After a short while, the pilot applied power, running out of fjord probably, and climbed once again into the clouds. A quick note to the plane's seat makers: there needs to be lip at the 'front' of the pull-down table, to stop everything sliding off when the pilot applies the power. Luckily for me and aided by well-placed elbows, as I was holding a camera at the time, I managed to avert disaster and a wet lap.
The trip back and arrival afforded us a double chance to photograph
Reykjavik
at a low altitude, as the pilot did a ceremonial flyby again, this time it seemed much lower, almost like that experienced on a go-around. After an expert short landing (had about a couple of hundred yards left), we were greeted by a large gathering who were being given a chance to see the plane up close and inside.
A peek inside the very 'snug' cockpit and a chat with the pilots revealed the level of sophistication with this aircraft. The Max 8 sports the same kind of high visibility graphic displays that you find in the latest generation of airframes, such as the Dreamliner 787, with greater integration of control functions managed by them.
So, if you thought that the 737 was getting a bit 'long in the tooth', think again!

About Icelandair
Icelandair is a transatlantic airline and now you can fly direct to Iceland from £76* return (book by April 26). Fares include 10kg hang-bag, personal in-flight entertainment and refreshing service. Icelandair also offers a unique opportunity for UK passengers to enjoy a stopover in Iceland for up to seven nights at no additional charge. It flies to 22 North American destinations from London with just one stopover in Reykjavik.