Toyama Prefecture: saddle up for one of the world's most beautiful bays
Published on: Wednesday, December 12, 2018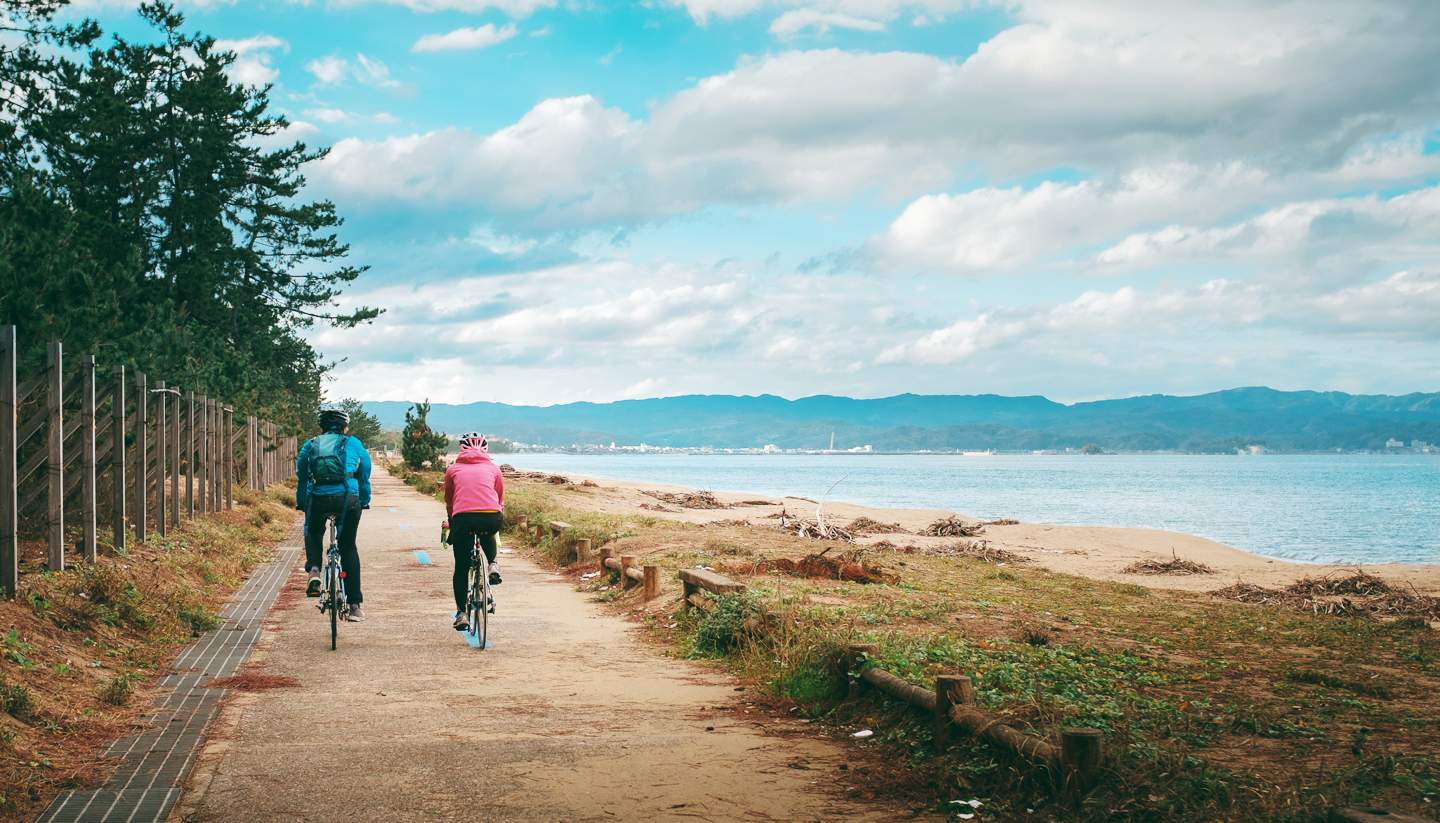 Ancient Buddhist temples and Tateyama Mountain range fringed by beaches that glow in the dark: cycle through the stunning Toyama Prefecture to see them all
Only about two hours by Hokuriku Shinkansen (bullet train) from bustling Tokyo, Toyama Prefecture is a peaceful corner of Japan with snow-capped mountains and beaches carpeted with luminous firefly squid every March to May. To fully appreciate the natural beauty entwined with Japanese flavours and fervour, you need to explore the prefecture slowly, and the best way to do so is to hire a bike and follow one of the three well-marked cycling routes.
Toyama Bay Cycling Route
This 88km (55 miles) route starts at Ao Fishing Port and ends at Etchū-Miyazaki Station, taking around six hours. It follows the bowl-shaped Toyama Bay, one of the UNESCO-supported 'Most Beautiful Bays in the World Club.'

With long views of a blue and infinite sea, Amaharashi beach is a definite highlight along the route. Several cycle stations and cafes are also present in this area, making it an ideal stop. A little further west lies the 800-year-old Uchikawa Riverside. The many characteristic bridges over its meandering river have given rise to its nickname, 'the Venice of Japan'. Uchikawa comes alive on October 1 during the Shinminato Hikiyama Festival with a procession of elaborate floats.
Another worthy diversion is the Firefly Squid Museum. Here, you can learn about the tiny bioluminescent creatures that light up the shoreline of Toyama Bay every year between March and May.
Tip: Rent a cross-bike from 0900 to 1600 for a fee of 500Yen at Himi Fishery Culture Centre and pick up a handy map listing all attractions and rest stops along the route.
Toyama Countryside Cycling Route
Escape to the countryside of Toyama by taking this 71km (44 miles) cycling route that runs through key historical and cultural sites.
Starting from Kamiichi Station, you'll cycle to visit the ancient Oiwasan Nissekiji Temple. It came about when monk Gyōki carved a figure of the Buddhist deity Fudō Myō-ō onto the rock in 725CE. Since then, it has been a prominent temple of worship for Shingon Buddhism. Start your visit by embracing the practice of takigyo (meditation under a waterfall) to purify your mind, then work at attaining peace by practising the art of Shabutsu, quietly tracing an image of Buddha in the tranquil heart of the temple.
The route then takes you through stunning countryside set beneath the magnificent Japanese Alps and a beautiful section of the Jinzu River where 1,000 cherry blossom trees line both sides of the water. Every spring, they transfer into a vast cloud of pretty pink petals and make for Instagram-worthy pictures. Nearby, the Keijusha Washi Bunko is a small papyrus museum where you can learn how the traditional Washi paper is made.
Tips: Rent a bike at the Kamiichi Tourist Information Center from 0900 to 1700 for 1,000Yen (with 500Yen cashback when you return the bike on the same day). There are many cafes along this route, including one at the Keijusha Washi Bunko.

Gokayama: World Heritage Site
No visit to Toyama is complete without seeing the gasshō-zukuri houses of Gokayama, located in the remote southwestern part of the region. A UNESCO World Cultural Heritage site since 1995, these farmhouses have distinctive thatched roofs modelled on the 'gasshō' gesture (pressing one's hands together in prayer).

Restaurants in Toyama Prefecture
Toyama has no shortage of interesting restaurants catering to every budget.
Umi-Akari (10-1 Unami, Himi) is a sea-front ryokan, a traditional Japanese inn complete with onsen (hot spring) and two fantastic restaurants. The seafood is fresh, brought in daily from the Himi fishing port. You can also order Kaiseki, Japan's famous multi-course dinner.

For an extraordinary cultural experience, visit the temple town of Tateyama and try some classic shojin ryori cuisine – vegetarian meals prepared by Buddhist monks. Oiwakan (31 Oiwa, Kamiichi) is an exceptional place to experience it.

Another favourite local dish is the award-winning Toyama Black Ramen, a dark soy sauce-infused chicken and fish broth. Although you might expect this dish to be salty, it is, in fact, light and easy on the pallet.

Accommodation in Toyama Prefecture
For a luxury stay at the base of the mighty Mount Tsurugi, Tsurugi Koizuki (1 Yuuwano, Kamiichi) has 12 guest rooms equipped with a private outdoor bath, plus a communal outdoor hot bath. The onsite Etchu Tsurugi Onsen can also help to soothe your aches and pains after all that cycling. The price of 27,000 Yen (US$240) per person includes accommodation plus dinner and breakfast.

Perched on the Noto Peninsula, Umi-Akari(10-1 Unami, Himi) offers spectacular views of Toyama Harbour from its rooms and outdoor onsen. The Himi-Banya Onsen and the prehistoric Ozakai Cave are also a few minutes away by car. A night of accommodation, including dinner and breakfast, is 16,000 Yen (US$142) per person.

Getting to Toyama Prefecture
Take the bullet train (Hokuriku Shinkansen) from Tokyo and you'll reach Toyama in just about two hours. Alternatively, you can fly from Toyko – the journey takes less than an hour. For more information, check out https://foreign.info-toyama.com/en/access/