What to see & do in Yokohama and Kanagawa Prefecture
Published on: Wednesday, December 26, 2018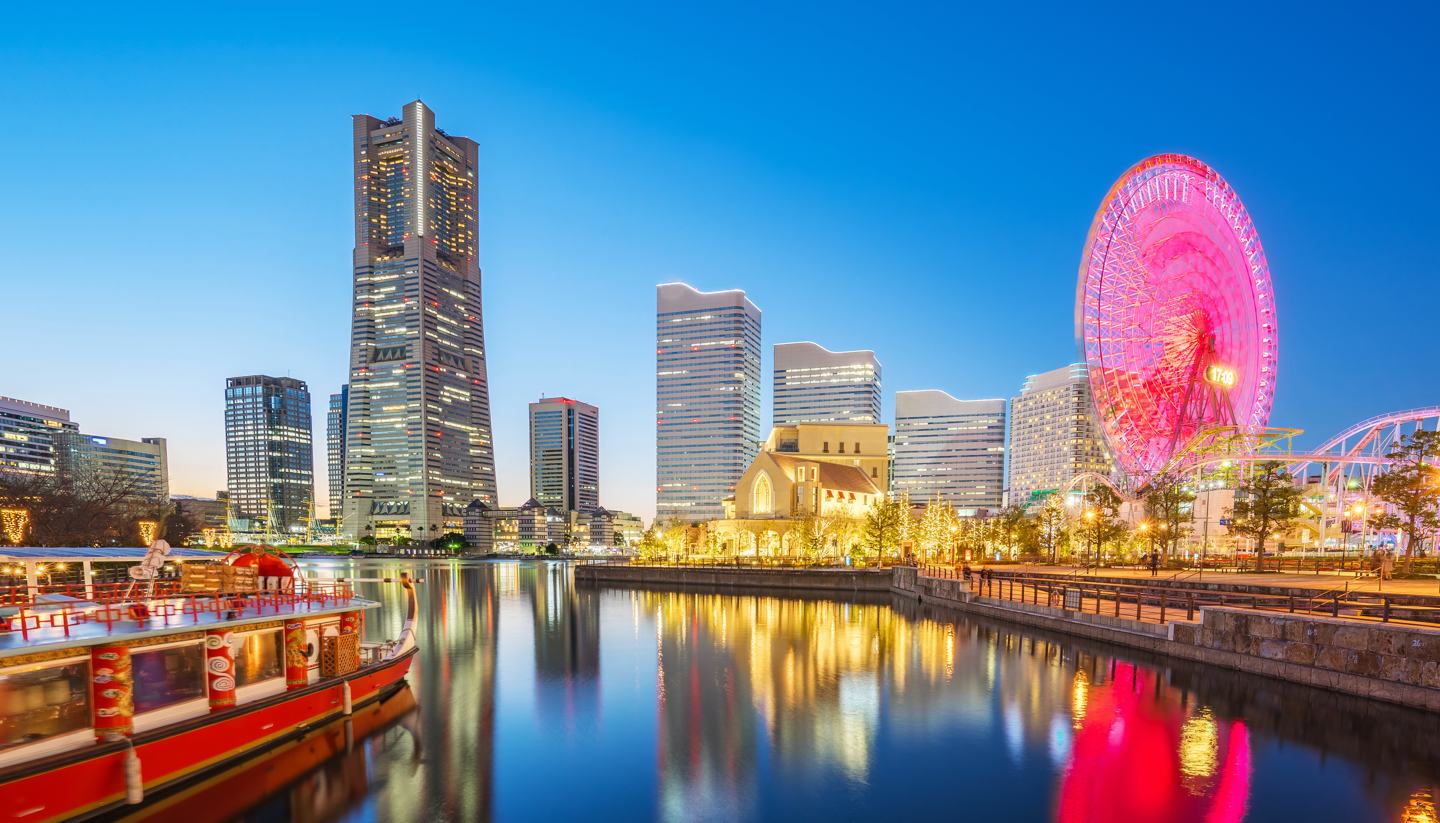 As Japan hosts the 2019 Rugby World Cup, we explore Yokohama, the cradle of Japanese rugby, and other attractions in Kanagawa Prefecture
The spotlight of the world is shining onto Japan, the host of the 2019 Rugby World Cup from September 20 to November 2. While matches are held in stadiums across Japan, the grand final will take place at the International Stadium (aka Nissan Stadium) in Yokohama.
Yokohama is one of Japan's greatest cities. Said to be the cradle of Japanese rugby – the first rugby game in Asia was played here in 1866 – it's fitting that this vibrant metropolis plays host to the Rugby World Cup final match on November 2.
Between matches, throw in a cultural break to boot and follow our best tips of Yokahama and Kanagawa Prefecture.
Things to see & do in Yokohama
Many World Cup matches, including the semi-finals and finals, are scheduled to be held at the International Stadium in Yokohama. Purchase your tickets as soon as possible to watch some of the world's best players in action and give a good cheer when they dive across the try line. In Rugby, the term 'try' means scoring points when a player grounds the ball behind the try line.
Yokohama's nightlife has an excellent mix of izakaya (traditional Japanese bars), hipster-cool brewpubs, soulful jazz clubs and funky karaoke boxes where you can unleash your inner diva. Noge District, where a string of bars tucked snuggly within narrow alleys, is the place to be. Join the merry customers shouting 'kanpai', bottoms up while standing up in typical tachi-nomi style.
A short walk from Noge District is Minato Mirai. Meaning "harbour of the future", Minato Mirai is most impressive at night when different coloured lights adorning the sleek glass and steel buildings are turned on. Visit the Sky Garden Observatory in the Landmark Tower for spectacular views of the skyline. For something quirky, check out Yokohama Cup Noodles Museum opposite Cosmoworld, the amusement park.
Things to see & do in Kamakura
About an hour away from Yokohama is a cultural-rich city of Kamakura with an enviable collection of ancient samurai residences and peaceful temples.
See the Great Buddha of Kamakura
The Great Buddha, aka Daibutsu, is perhaps the most popular attraction in Kamakura. Measuring 11.4 meters (37ft), it is the second tallest bronze Buddha statue in Japan.
Experience Iaijutsu in Kamakura
If you have long been fascinated by samurai, the sword-carrying warriors who seem to move around silently and draw blood in the blink of an eye, then give Iaijutsu (or Iaido) a go. A martial art discipline, Iaido is the classical sword art of samurai. At the Kamakura Iaido Association (616-6 Yamasaki), visitors can participate in a trial lesson, learning how to draw a sword from its sheath quickly, swing at the object accurately, and return the sword to the sheath gracefully.
For a more peaceful experience, partake in one of the regular zazen, Buddhist sitting meditation sessions in Kenchō-ji, the oldest Zen temple in Kamakura. The temple complex has many halls, including Hatto, the largest wooden temple structure in the Kanto Region. You can also take the stairways behind the temple up to a small platform where you can see Mount Fuji on a clear day.
Things to see & do in Hakone
For an excellent view of Mount Fuji, head to the mountainous town of Hakone, about an hour from Yokohama. Set within the Fuji-Hakone-Izu National Park, Hakone is high on many travellers' bucket list thanks to its many onsen (hot spring resorts) and sprawling natural splendour.
The best way to enjoy Lake Ashi and take in spectacular views of Mount Fuji is to take a sightseeing cruise operating among the four jetties on the east and west sides of the lake. There are two companies – one offers a catamaran while the other takes passengers around on a replica pirate ship.
Fly over the Owakudani Valley
The best views of Mount Fuji can also be enjoyed from a gondola lift. Known as the Hakone Ropeway, the journey starts at Sounzan Station and ends at Togendai Station, which is by the scenic Lake Ashi.
Soak to your heart's content
With 20 hot springs around the Hakone area, you can easily check into one and enjoy an onsen indulgence. Mentioned in ancient Japanese text, soaking in an onsen has several benefits including helping one to relieve stress and soothe one's painful joints.
Food & drink tips in Yokohama and Kanagawa Prefecture
With 600 bars and restaurants, the Noge district in Yokohama is the main area for food and drink.
For ramen foodies with demanding palates, check out the Shin-Yokohama Ramen Museum (2 Chome-14-21, Shinyokohama). The world's first 'food amusement park' where all famous ramen stores across Japan congregate here to give you the ultimate ramen experience.
When it comes to drinks, Japanese beer needs little introduction. If you're up to try a local favourite, mix Hoppy (a very low alcoholic beverage) with sake (a Japanese distilled beverage). Of course, you can also drink Hoppy straight from the bottle.
Getting to Yokohama and around Kanagawa Prefecture
The JR Tokaido Shinkansen bullet train gets you from Tokyo station to ShinYokohama station in 18 minutes for 1,360 Yen. The International Stadium is only a 15-minute walk from Shin-Yokohama station.
For a more budget-friendly option from Tokyo to Yohohama, take multiple local trains instead. Firstly, take JR Tokaido line from Tokyo station to Kawasaki station, then take the JR Keihin-Tohoku line to Higashi-Kanagawa station. Finally, you switch to JR Yokohama line to Shin-Yokohama station. This journey takes about 36 minutes and costs 550 Yen.
To get to Kamakura, take the JR Yokosuka line to Kamakura station, starting from either Yokohama station or Tokyo station. The journey takes approximately an hour.
To get to Hakone, take regular JR trains or Shinkansen bullet trains from Tokyo to Odawara, then transfer on the Hokane Tozen railway to Hakone. Another option is to take the limited Express Romance car by Odakyu Railway from Shinjuku in Tokyo to Hakone, the journey is 1.5 hours. Alternatively, regular trains also run from Yokohama to Odawara.