Yacht Charter in Turkey: An unforgettable experience
Published on: Thursday, February 13, 2020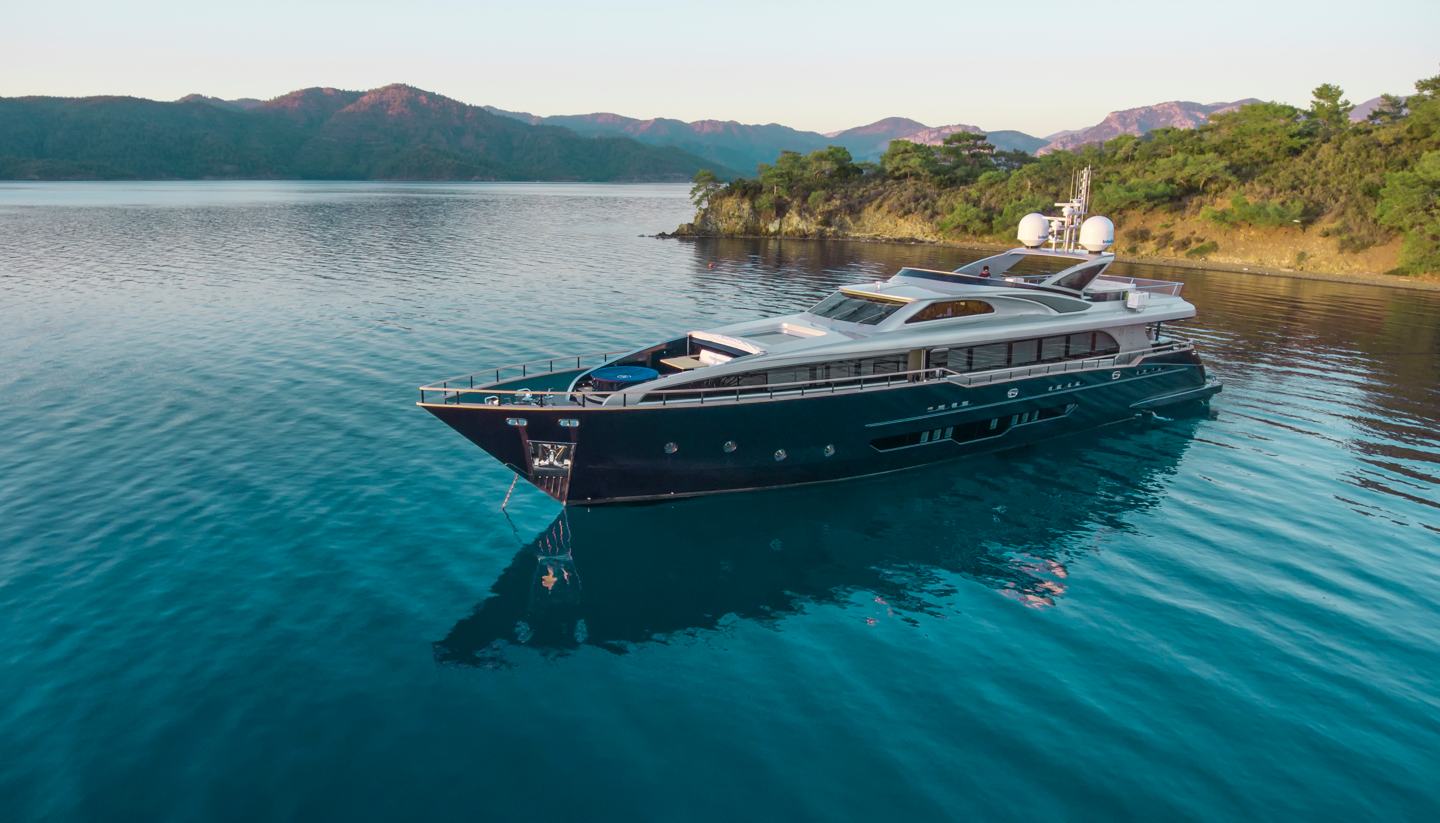 Take in Turkey's terrific south-west coast as you glide along the Mediterranean in a chartered yacht, courtesy of the experts at Turkey Luxury Gulets
The morning sun reflects off crystal clear waters, creating a shimmering effect that temporarily distracts one from the translucent turquoise blanket that is the Mediterranean Sea – this is how the days start when you are on-board a gulet (a traditional wooden vessel) and sailing off the coastline of south-west Turkey.
Turkey Luxury Gulets offers visitors the perfect medium through which you can experience the unspoiled parts of the Mediterranean. Over 1,000 gulets in different sizes can be hired with a personalised itinerary, crew, chef and daily menu tailored to your desires. You can opt to have a romantic cruise for two or something that is more suitable for a group of friends. Regardless of which option you choose, you will be supported by a team of committed and passionate professionals whose objective is to help you create the trip of a lifetime.
Itinerary inspiration
The memorable Blue Cruise Route
The amazing week-long Blue Cruise Route is all about variety. Island trips, city sightseeing, relaxing beaches, engaging watersports and mouth-watering food (both on-board and on-shore) are just some of the stand out features you'll experience along the way.
Starting in the coastal city of Bodrum, home to the 15th-century Bodrum Castle, guests set sail to the beautiful Orak Island and the stunning coral reefs of the Seven Islands. You can settle down with a good book or enjoy a relaxing Jacuzzi soak on-board, but with waters so warm and crystal clear, it might be hard not to take a dip, dive, or delight in some watersports.
After visiting English Harbour, named after the constant stream of British Navy ships that travelled through the area during World War II, your gulet will continue to Cleopatra Island (Sedir Island), famed for its historical sites as well as its stunning North African style desert beach. The long-standing story is that her lover, Marc Anthony, shipped a boat full of sand from Egypt to the island to impress the homesick Cleopatra.
Then it is onward to Longoz Bay, a lush corner of pine forests tumbling down to azure bays. Swim, snorkel, enjoy watersports, or simply take unforgettable walks through the pine-scented forests on land. If you think you have seen it all, the next stops of Kargili and Kisebuku (Alakisla Buku) offer more gorgeous beaches for you to unwind on.
Unlike commercial cruises where goodbyes are just cursory, guests returning to Bodrum at the end of the trip are met by one of the representatives who make sure that the trip has been perfect for you. The staff are also on hand to give further guidance for travelling and sightseeing.
The romantic Göcek routes
Once an out-of-the-way spot known only to local yachtmen, Göcek's large crescent bay now attracts international movie stars and royalty who look for quiet holidays away from mass tourism. The world's rich and famous come here to lounge on a yacht with a glass of wine and a good book – and you can also experience this blissfulness on the romantic Göcek-Fethiye-Göcek route too.
From Göcek we sail to Cleopatra's Bay or Sunken Bath Bay. Legend has it that the 'Queen of the Nile' bathed here and today, you can swim among the ruins of ancient baths. The next stop is Tersane Island, once a Greek island but now belongs to Turkey following the 1923 Population exchange agreement between the two nations.
After a brief stop at Bedri Rahmi Bay, your gulet will continue to Fethiye where sea temperatures here stay above 19C all year round. On land, Fethiye has a wide range of activities that await those who are keen to try paragliding, experience extreme whitewater rafting or take a jeep safari through the mountainous interior. If you prefer to seek out a hidden bay and work on your tan, the staff will make it happen too.
The last few days of the itinerary include a trip to the resort village of Ölüdeniz (the enviable blue lagoon is probably the most photographed site in Turkey), a chance to see the ancient ruins and Christian tombs of Gemiler Island before finishing off by experiencing the stunning views of the Zeytin and Yassica Islands respectively.
Like all other gulet routes offered by Turkey Luxury Gulets, you can customise the trip around Göcek to suit your needs. For instance, another well-loved itinerary perfect for romantic couples is the Göcek-Kekova-Göcek route. One notable highlight of this route is the Butterfly Valley – it is named so because during a short period in summer, the valley is filled with a veritable sea of fluttering butterflies.
Journeying through the endearing farming and fishing towns of Yeşilköy and Kaş, your gulet will soon reach the island of Kekova, an unspoiled, uninhabited island that is defined by its unbridled tranquillity and the ruins of an ancient city trapped underwater. This route also includes Kizil Ada, Yassica Islands, Bedri Rahmi (Tasyaka) Bay, all of them offer plenty of quiet moments where you can just chill, swim, or take a romantic walk on land each day.
Sailing to Greece
Would you like a true Mediterranean experience? Then perhaps the Marmaris-Bozburun-Marmaris route is for you. Travelling along the Turkish coastline, this trip takes you on a journey to Greece and back again.
Starting in Marmaris, our representative will introduce you to the experienced captain and crew who will be with you as you make your way across the Aegean and Mediterranean Seas to Arap Islet and Bozukkale (where you'll find the castle and fortress of Loryma, an ancient city). Bencik Bay is another Instagrammable stop – your pictures are likely to gain many likes in no time.
The last stop in Turkey is the small, mellow town of Datça – perfect for windsurfing and snorkelling. Next, it is time to journey south-east and to the nearby Greek Dodecanese Islands which are closer to Turkey than Greece. The first stop is Symi, home to stunning neoclassical style dwellings and a clock tower that resembles London's Big Ben. After Symi, it is time for Rhodes where St John's crusading knights once roamed the alleyways and where the Colossus of Rhodes (a giant statue of Helios, one of the Seven Wonders of the Ancient World) once stood.
About Turkey Luxury Gulets
With 14 years of experience and over 1,000 luxury gulets to suit every purpose and budget, Turkey Luxury Gulets is a leading provider of private luxury yacht experiences that cruise the relaxing Turkish coastline.
Personalisation is key – guests will discuss their needs and desires with one of the 24 experienced gulet experts who know all the hidden gems in the East Mediterranean. The aim is to create a gulet trip that is special for you and your guests. When on-board, your party is also supported by a team of friendly and dedicated crew who will be on hand to make sure every guest is well taken care of.
Contact Turkey Luxury Gulets on +386 1 620 8891 today or visit the website turkeyluxurygulet.com for your once-in-a-lifetime experience.
If you liked this article, you might also like Croatia and Greece: the island tours of a lifetime.