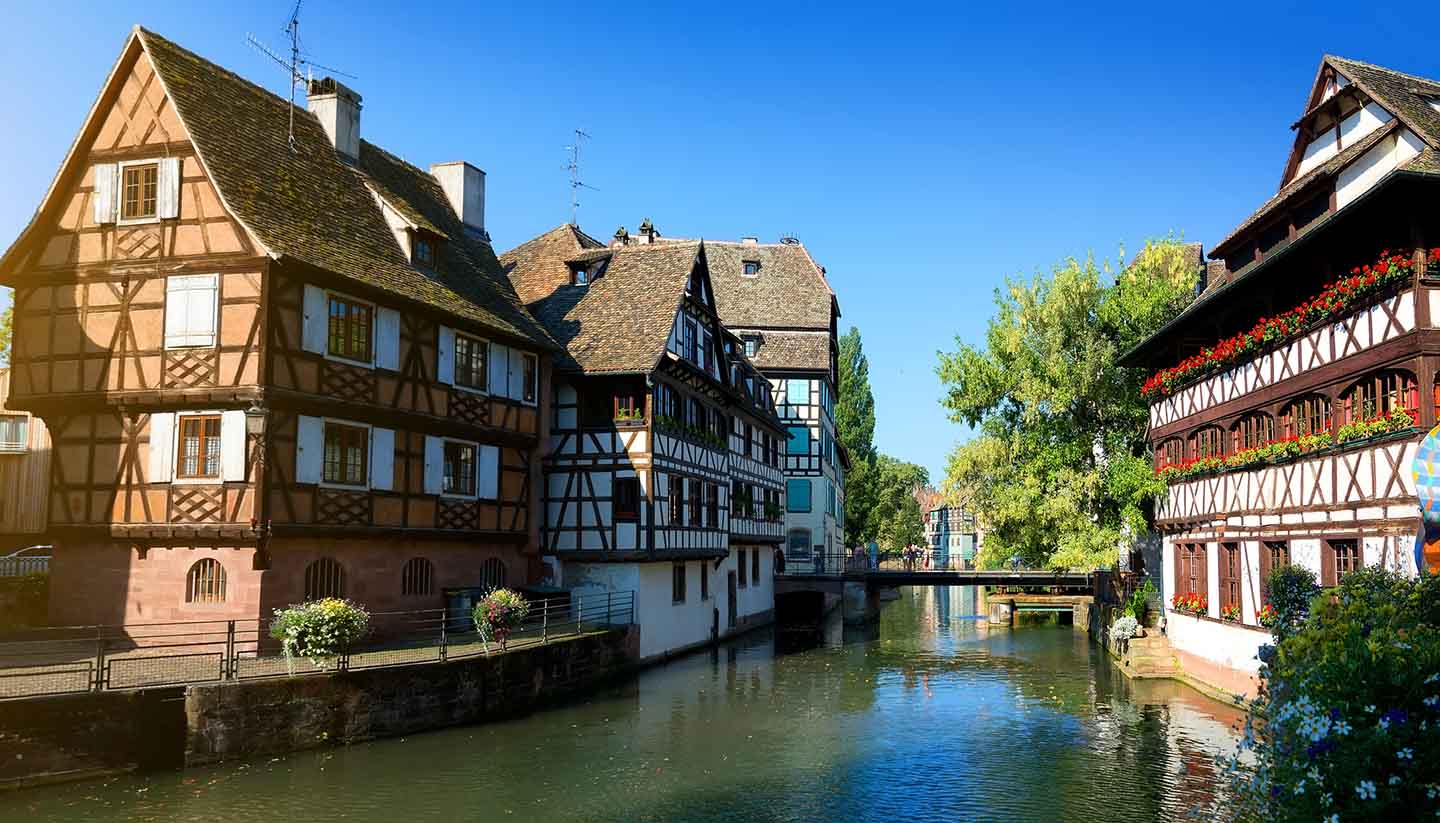 Restaurants in Strasbourg
La Bourse
Price:
Cheap
Cuisine:
Cheap
Inaugurated in 1927, the Brasserie of the Bourse is one of the last testimonies of the belle époque in Strasbourg, where architecture and memorabilia will make you step back in time. The menu is consistently good and unpretentious, with classic dishes, from pot-au-feu (meat broth with vegetables), roasted chicken and pan-fried fish, as well as flammekueche, the traditional pizza-like bread base with cream cheese and onion. Go early and enjoy the musical aperitifs hosted by one of the restaurant's pianists.
Address:
Tel:
03883 64053.
Website:
http://www.restaurant-de-la-bourse.fr
Le Coq Blanc
Price:
Moderate
Cuisine:
Moderate
Located in the Robertsau district, close to the European institutions, this local plush restaurant attracts locals and regulars, as well as businesspeople, diplomats and passers-by. Enjoy the beautiful terrace in the summer and savour their fresh salads and soups, or cosy up indoors in the winter and delve into some rustic warming classics such as game meats or poultry in rich dark sauces.
Address:
Tel:
03884 18777.
Website:
http://www.au-coq-blanc.fr/fr
L'Alsace à Table
Price:
Moderate
Cuisine:
Moderate
Located near place Kléber, this attractive 1920s Parisian brasserie is elegantly decorated with paintings, wooden tables and landscapes of the sea. A maritime feel also infiltrates the menu as a good choice of fish and seafood dishes is on offer, including lobsters and freshly caught trout. The emphasis is greatly traditional Alsatian cuisine, and the house speciality ischoucroute aux troispoissons(sauerkraut with three fish). The first floor can cater for business functions, banquets or personal events and can cater up to 100 plus people.
Address:
Tel:
03883 25062.
Website:
http://www.alsace-a-table.fr
Au Crocodile
Price:
Expensive
Cuisine:
Expensive
This restaurant has stood the test of time and its reputation often precedes it – from Michelin stars lost and gained (the restaurant was awarded three stars under Chef Emile Jung), to new management under Chef Philippe Bohrer and a new star to its name, the restaurant shines through its dishes' complexity and refinement. The cuisine here combines Bohrer's love of haute cuisine with regional cooking, with selections from prime meats and game to unusual desserts and flavours. Still, the restaurant offers interesting and affordable set lunches. Close to the cathedral and place Kléber, Au Crocodile remains an excellent address for fine dining with a twist, thus reinstating the place of gastronomy and cooking as an art form.
Address:
Tel:
03883 21302.
Website:
http://www.au-crocodile.com
Buerehiesel
Price:
Expensive
Cuisine:
Expensive
Antoine Westermann has earned a Michelin star for the refined regional cuisine at Buerehiesel, a 17th-century country house set in the heart of the Parc de l'Orangerie. Dinner here usually calls for special occasion although lunch sets are surprisingly affordable and popular. From a timber-beamed room or on the summer terrace, do not miss the chance to dine with a view of the park. Dishes such as the local pasta (schniederspaetle) with pan fried frog legs scented with chervil or the caramelised brioche with beer, beer ice cream and roasted pear would surely tickle any tastebud.
Address:
Tel:
03884 55665.
Website:
http://www.buerehiesel.com
Ancienne Douane
Price:
Cheap
Cuisine:
Cheap
No trip to Strasbourg would be complete without a taste of the most popular local speciality, the flammekueche or tarte flambée, a bread base rolled out thin in a rectangular shape and covered with fromage blanc, crème, thinly sliced onion and bacon before being cooked in an wood-fired oven. This restaurant, besides the traditional hearty dishes with sausage and sauerkraut, offers a good variety of flammekueche, either savoury with different cheeses or sweet, usually with apple. The atmosphere is friendly and a terrace over looking the water and the adjacent quay makes for a good spot for people -watching whilst tasting some local dishes.
Address:
Tel:
03881 57878.
Website:
http://www.anciennedouane.fr
Hippopotamus
Price:
Cheap
Cuisine:
Cheap
The Hippopotamus chain is a French fast-food eaterie offering good-quality steaks, burgers, salads and desserts in a fresh and young environment. The location is central (close to both the place Kléber and place des Halles) and the restaurant is big enough to cater for families and groups, with good value set-meal options, including children's menus. There are also play areas for children, allowing parents to share an entrecote or fillet of beef with a side of chunky chips while the kids keep themselves entertained.
Address:
Tel:
03882 38490.
Website:
http://www.hippopotamus.fr
Le Tire-Bouchon
Price:
Moderate
Cuisine:
Moderate
Right in the heart of Strasbourg, a stone's throw away from the cathedral, this popular restaurant serves all things Alsatian, rustic, authentic and with pride. The choucroute (sauerkraut) with various meats and sausages or the Baeckeoffe, a hearty casserole of meats and potatoes stewed in white wine are just a selection of some of the region's classics. The wine list is also impressive (as the place's name might suggest, as it means corkscrew), and the sommelier will gladly show you around the wine cellar and talk you through various options to accompany your meal.
Address:
Tel:
03882 26088.
Website: