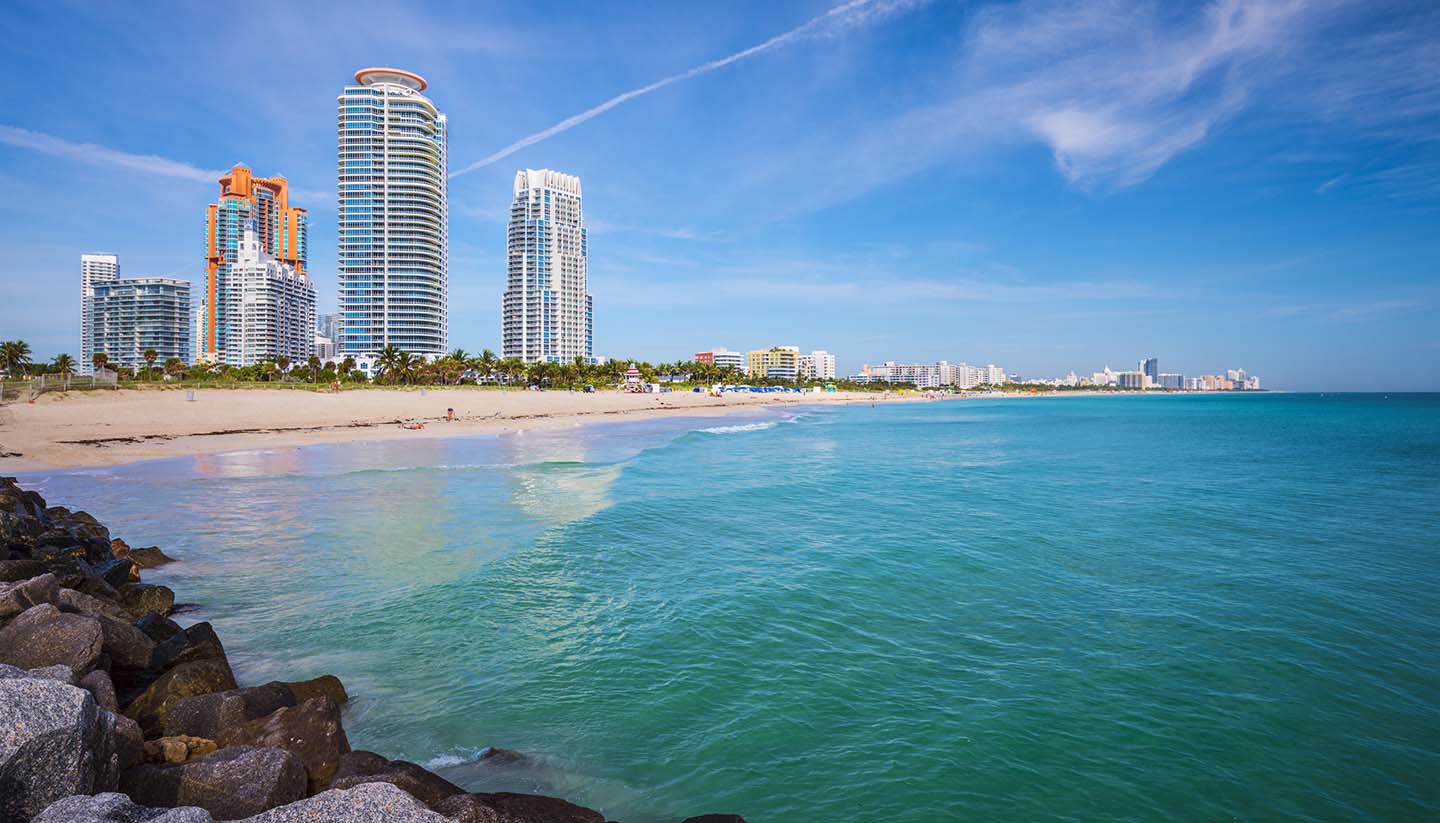 Miami Nightlife
New York might be the City That Never Sleeps, but Miami runs it a very close second. The city offers a panoply of choice ranging from sleepy beach bars to thumping nightclubs. Although no part of the city is without distractions, the main scene is around South Beach where neon-lit, art deco buildings provide a suitable backdrop to hedonistic crowds.
Bars close around 0100 and nightclubs around 0600. The minimum age for admission to all clubs in Miami Beach (including South Beach) is 21 years – the minimum drinking age in Florida. It is advisable to carry ID and dress codes often require chic attire.
Bars in Miami
Bleau Bar
As you'd expect from the spot where James Bond took on Goldfinger in a game of gin rummy, Bleau Bar is seriously glamorous and a favourite with visiting celebrities. Modernised several times since its 1950s heyday, it does excellent cocktails including Bond's favourite vodka martini, shaken not stirred.
Address:
Tel:
+1 305 674 4760.
Website:
http://www.fontainebleau.com
Larios on the Beach
Owned by singer Gloria Estefan, Larios on the Beach serves lethal after-dinner mojitos (fresh mint, sugar and rum cocktails) alongside nightly funky Cuban music. Recently renovated, the décor is slightly eccentric but the Atlantic views make it a must-visit at sundowner time.
Address:
Tel:
+1 305 532 9577.
Website:
http://www.lariosonthebeach.com
WunderBar
A painfully hip hangout in Miami Beach, the WunderBar is a small but chic affair inside the Circa 39 Hotel with blue-painted bar stools and a huge selection of rum. Crowds coo over the crafted cocktails and cabaret shows, but the coolest clientele chill under the cosy poolside cabanas.
Address:
Tel:
+1 305 538 4900.
Website:
http://www.circa39.com
Clubs in Miami
Liv
Inside the Fontainebleau, Liv's domed ceiling once saw Sinatra swing but now swells with sweaty, cyber-eyed ravers for EDM megastars like David Guetta and Fatboy Slim. With three bars and exclusive, VIP table service, you'll need to dress fine for entry, but once in, the dancefloor turns into a monstrous mess of arms and lasers.
Address:
Tel:
+1 305 674 4680.
Website:
http://www.livnightclub.com
Icon
Located within an old picture house, Icon is a classic Miami club that attracts a smattering of A-list names such Usher as well as a whole line of Z-list liggers. Despite the flickering stars on parade, this recently revamped spot is brilliant fun thanks to its split-level layout and excellent cocktails.
Address:
Tel:
+1 786 735 3344.
Website:
http://iconmiami.com
Nikki Beach
There might be branches in Ibiza and Marrakesh, to name but a few, yet the original Nikki Beach still has a faithful following in its Miami hometown. Located bang on a glorious stretch of white sand, it has an indoor and outdoor dancefloors, fabulous cabanas and lounges which attracts a young, glamorous crowd.
Address:
Tel:
+1 305 538 1111.
Website:
http://www.nikkibeach.com/destinations/beach-clubs/miami-beach
Live music in Miami
Krystal Lounge
If your idea of a good night out involves twirling up a sweat to the latest Latin rhythms, try Krystal Lounge, which has a large dancefloor and hosts live bands and DJs playing authentic salsa music. One of Miami's more relaxed venues, the dress code isn't as strictly enforced as elsewhere – jeans are a possibility.
Address:
Tel:
+1 305 274 1112.
Website:
http://www.kaffekrystal.net
New World Center
Home to the New World Symphony, the Frank Gehry-designed New World Center is a striking glass and steel building offers more than 60 performances a year. The building has a dramatic rooftop garden with sea views and can be toured on Tuesday and Thursdays at 1600, and Friday and Saturdays at 1200.
Address:
Tel:
+1 305 673 3331.
Website:
http://www.newworldcenter.com
The Stage
This uber cool live music venue in Miami's Design District is the place to go if rock and indie bands are your cup of tea, although the odd hip hop act has been known to tread the boards here too. The vibe is relaxed, the drinks huge and the crowd a little sweaty, but don't let that put you off – it's great fun.
Address:
Tel:
+1 305 576 9577.
Website:
http://www.thestagemiami.com