Soaring over Vilnius, plus 14 other offbeat things to see and do in Vilnius
Published on: Wednesday, August 1, 2018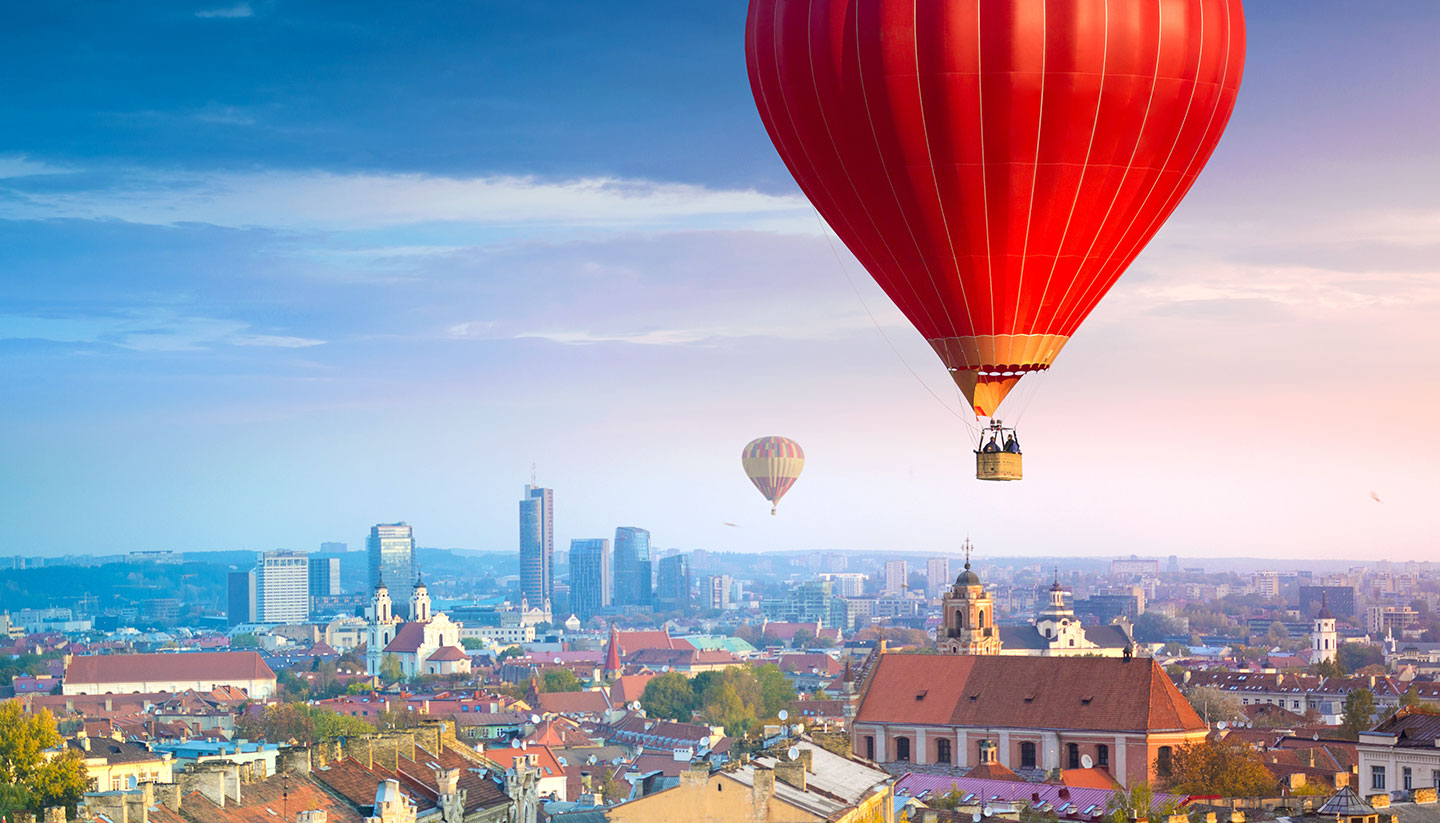 With a hypnotic blend of medieval Old Town, stirring history, edgy street art and progressive culture, Vilnius is a rewarding place to visit, writes Vivien Yap
Enjoy a hot-air balloon flight
A powerful blast of heat inflates the balloon, and the oversized wicker basket lifts off. As we rise, the spellbinding views of the Old Town appear and a cluster of steeply pitched roofs falls under my feet. In the soft morning light, Vilnius looks like something out of a storybook.
Thanks to Vilnius's relatively uncrowded airspace, this is one of the few European capitals you can enjoy a hot-air balloon flight. On this clear morning, the wind carried us over the church spires of Vilnius, out to villages speckled with small farms and neat farmhouses, and over swaths of primeval woodlands. This is a peaceful corner of Europe that hasn't changed for centuries. Dogs barked and farmers waved as we drifted eastwards before landing on a meadow near the village Kyviškes. Never mind it was still early in the morning, as part of the ritual, Kęstutis the pilot cracked open a bottle of champagne and we gave a toast and a loud cheer, basking in the glow of a perfect morning.
Visit Vilnius and experience the magic yourself. The helpful Vilnius Tourism site lists reputable hot-air balloon companies; pick one, hop in the basket and off you go.
Use a typewriter
In the backroom of Mint Vinetu, an independent bookshop full of character on 16 Šv Ignoto, a typewriter sits on a broad wooden table. A young lady was bashing out a letter as I walked in. The retro clatter of tab, tab, clang, clang, and the unmistaken "ding" when the carriage returns adds an air of authenticity to the studious setting. Apart from buying new and used books, you can also enjoy a steaming cup of coffee with a slice of homemade cake, type out a letter, attend a poetry reading, or take a minute to sit and meditate.
Get a pilgrim's passport
Lithuania was the last pagan country in Europe, having accepting Christianity briefly in 1251 and again, this time officially, in 1387. Once it had embraced Christianity, Vilnius went into overdrive and built 31 Roman Catholic churches for its relatively small number of residents. Today, just around the corner from Mint Vinetu is the Pilgrim Centre (Dominikonų g. 6) which helps devotees to discover Vilnius as the City of Mercy. You can get a pilgrim's passport and collect a stamp in any of these Doors of Mercy sanctuaries – Vilnius Cathedral, the Shrine of Divine Mercy, the Gate of Dawn, and St Ignatius Church – to record your journey of faith.
Make a wish
The Vilnius Cathedral has been the hub of religious activities for almost a millennium. The site was originally a pagan temple dedicated to Perkūnas, the Baltic God of Thunder. In 1251, when King Mindaugas converted to Christianity, he destroyed the temple and built a cathedral in its place. When King Mindaugas died, the site was converted back to a pagan temple. Following the official adoption of Christianity in 1387, another cathedral was built on the same site. The present Cathedral was constructed in 1779, after many rounds of re-building due to a series of terrible fires and floods that happened throughout the centuries. Look for the miracle tile marked with the word STEBUKLAS outside the Cathedral. It's said that once you locate the tile, you're supposed to make a wish and spin around clockwise three times.
Remember the human chain
A few steps away from the miracle tile, you'll find a set of granite footprints commemorating the Baltic Way – a political demonstration where two million people joined hands to form a human chain from Vilnius to Riga (Latvia) and Tallinn (Estonia) on Wednesday, 23 August 1989. It's an emotional moment to stand right next to the footprints and remember the sheer patriotism and courage that drove these two million people across the three Baltic countries to stage a protest against the Soviet Union.
Get a history lesson from Gedimino
The long, wide avenue opposite the Cathedral is Gedimino, the political centre of Lithuania where Parliament, Constitutional Court and government offices line the street. The street name changed with the country's political situations. Here's the timeline:
1836 – it was built and known as St George Avenue, after the patron saint.
1922 – it was renamed Mickiewicz Street after the Polish poet when Vilnius was annexed to Poland.
1939 – it was named Gedimino for the first time, after the Grand Duke Gediminas who founded Vilnius in the early 14th century.
1941 – it was renamed Adolf Hitler Street when the Nazi Germany occupied Vilnius.
1944 – it was renamed Stalin Avenue, and sometime later the Lenin Avenue during the Soviet occupation.
1989 – it was named Gedimino for the second and (hopefully) final time.
Meet the mummies
Vilnius isn't short of fascinating history and a trip to the Orthodox Church of the Holy Spirit at the edge of the Old Town unfolds a stirring drama. At the centre of the church lies a glass coffin with three mummified bodies of Saints Anthony, John, and Eustathios. The trio was executed 1347 when they angered Algirdas, the pagan Grand Duke of Lithuania, for preaching publicly. The air here is thick with strength and authority, plus an element of mysticism. The only way to feel it is to visit. Perhaps thanks to this mysterious power, this was the only church that remained open during the Soviet occupation.
Note: Not to be confused with the Dominican Church of the Holy Spirit, this Orthodox Church is near the Gates of Dawn.
Read the (light-hearted) Constitution
In the Vilnius Old Town lies the self-proclaimed "Republic of Užupis", once a poverty-stricken area but now a thriving art district. The republic has its own Constitution, written by two guys on a hazy summer evening in 1998. One of them loves dogs and the other likes cats, so these two animals are rightfully mentioned in the Constitution. Translated into many languages and hung on shining plaques, the Constitution is now on display on the long wall on Paupio Lane.
Get close to a prehistoric spider
Almost all Baltic amber is from Lithuania and Kaliningrad of Russian (which is sandwiched between Lithuania and Poland). Amber is fossilised pine resin with some containing creatures perfectly preserved for millennia. At the Amber Gallery-Museum of Vilnius (Šv. Mykolo g. 8), you can see fine amber chunks with insects trapped in them, including one that encases a prehistoric spider.
Check out the bromance
The mural of Trump and Putin sharing a kiss at the back of a restaurant in Vilnius became a viral sensation worldwide when CNN reported it in 2016. The mural was later vandalised and later changed to Trump leaning into Putin with a cigarette in his mouth. The mural is at Pylimo g. 66.
Today, this mural attracts visitors armed with selfie sticks and it's still grabbing headlines – the latest news is from the Guardian criticising it as 'homophobic'. You can read the article here.
Say cheese
If you love hard cheese, seek out the brand DŽIUGAS. Available in different stages of maturity from 12 to 48 months, this flavourful cheese has a touch of sweetness and a slight crunch in the bite. It pairs well with beer, wine or fruit, but you can also enjoy it on its own.
Now say 'Apple Cheese'
The name 'Apple Cheese' can be confusing because it isn't cheese, but dried apple wedged like a block of cheese. A traditional Lithuanian favourite, the process involves cooking apples with spices for hours before drying them for four to six weeks. The result is a gelatinised mass with a very pleasant sweetness. A must-try if you're in Vilnius.
Eat & drink well
On the subject of food, there is no reason to go hungry in Vilnius with most restaurants moderately priced and of high quality. Here are my top picks:
• Leičiai (Stiklių g. 4) serves up authentic Lithuanian food and excellent craft beer.
• Sweet Root (Užupio g. 22) will impress even the most demanding foodies who appreciate seasonal ingredients at their finest. I believe it's only a matter of time until this minimalist in design restaurant earns a Michelin star.
• Sugamour (Vokiečių g. 11) sings to your heart. The entrées are incredible but it is the impeccable dessert that will leave you speechless.
Check out the restaurants in Vilnius guide for more recommendations.
Kayak at night
After a wholesome meal, choose to see Vilnius at night by taking a kayak on the Neris River that flows through the city. You can rent a kayak at Baidarės Vilniuje.
Swim instead
Vilnius is a very clean city and the Neris River is equally unspoiled. Hire a bicycle from the city's bikeshare scheme and cycle upstream to Valakampiai Beach and go for a swim. The beach is about 8km (5 miles) from Vilnius Cathedral and it should take about 20 minutes to cycle there.
Before you go, see:
If you liked this article, you might also like: