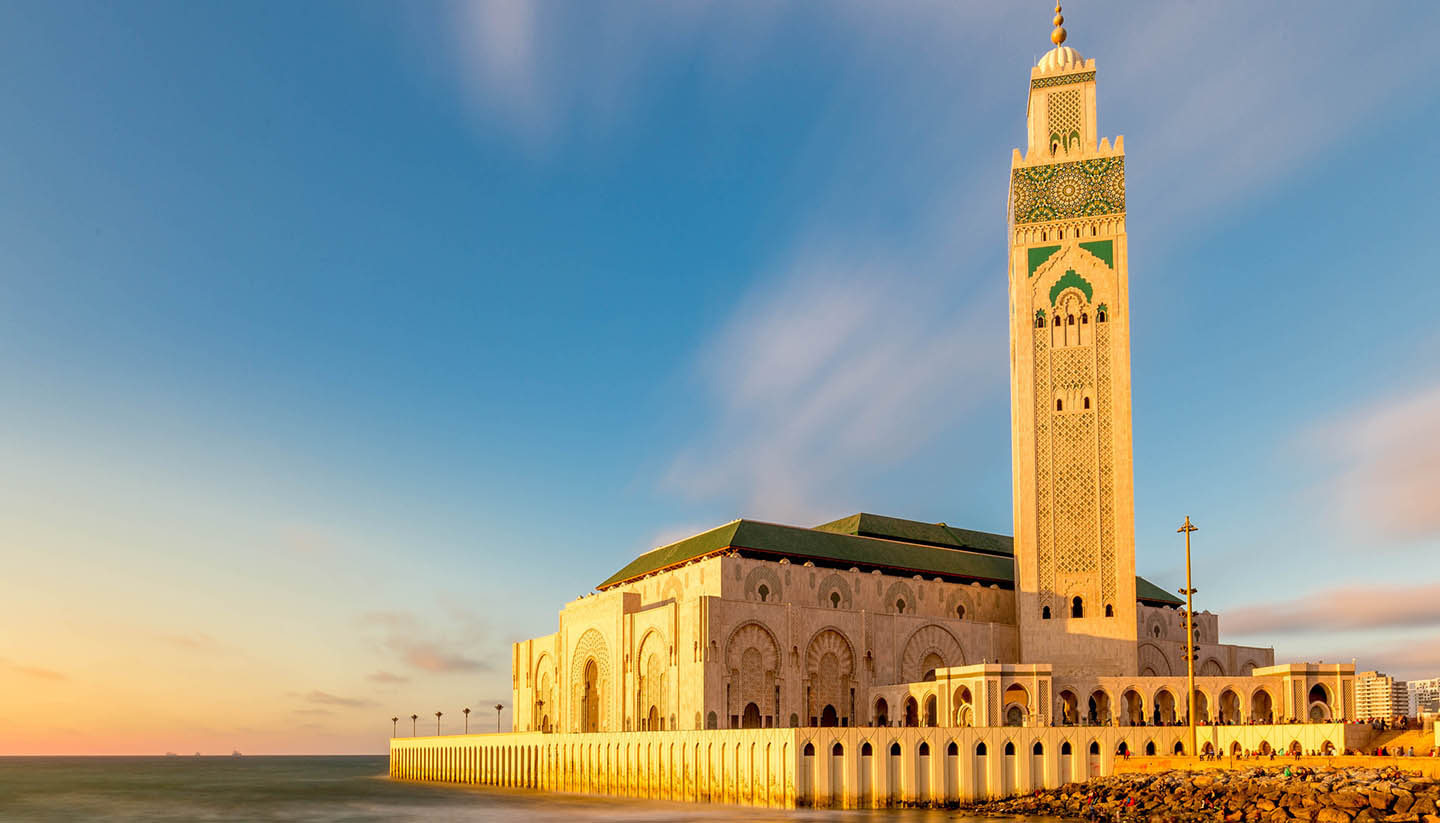 Local time in Casablanca coming soon
Currency in Casablanca
Dh
Casablanca Nightlife
Though it would be wrong to suggest that no one drinks, alcohol is generally frowned upon in Morocco, so there isn't much of a boozing culture. Casablanca might be the exception. With a more European feel to the rest of the country, perhaps due to its French colonial past, Casablanca is awash with sophisticated bars, lively restaurants and a few nightclubs. The Corniche area has the trendiest spots, where people congregate in the streets and crowd the beach clubs during seemingly endless summers. There are a few places to watch traditional dances and music, too.
Bars in Casablanca
La Bodéga
La Bodéga is a hip and trendy tapas bar, located just north of the central market. With live music on most nights, from Arabic and Spanish beats to rock and reggae music, this is a favourite choice among Casablanca's well-heeled set. There are also Brazilian samba classes on Tuesday nights. You will notice a fondness for sports flags here, mainly pinned to the ceiling, because La Bodéga is the renowned for showing all the big football fixtures too.
Address:
Tel:
+212 522 541 842.
Website:
http://restopro.ma/bodega/index.html
Petit Poucet
Once the haunt of pioneering French flyer and writer Saint-Exupéry, not to mention Albert Camus and Edith Piaf, this colonial-era slice of old Casablanca is dressed in 1920s décor and oozes nostalgic ambience. The bar is rather unfussy, and certainly not as well signposted as a wandering traveller would hope for, but it's still a great place for a romantic drink in the city.
Address:
Tel:
+212 5 2 490 060.
Website:
Brooklyn Bar
A Brooklyn-style bar may not sound like the most authentic nightspot for Casablanca visitors to try, but for young hip things who love Americana, it's proving very popular. Despite the brick walls and curious art (it looks more like a Moroccan fantasy of a Brooklyn bar than a replication of anything in New York), it still features some of the city's best cocktails and a friendly atmosphere.
Address:
Tel:
+212 661 259 698.
Website:
Sky 28
Sky 28 allows visitors to pair Casablanca's best wine list with some of the best views in the city from the 28th floor of the Kenzi Tower Hotel. The cocktails are excellent, if pricey, the tapas is delicious, and the atmosphere decidedly chic. A jazz band usually gets the night rolling, before a DJ playing the latest jams takes over to keep the party going until the early hours.
Address:
Tel:
+212 522 978 000.
Website:
http://www.kenzi-hotels.com/kenzitower/dining-fr.html
Clubs in Casablanca
Black House
Located in Casablanca's Hyatt Regency Hotel, the Black House nightclub mainly attracts business people and tourists, but some of the city's most sophisticated inhabitants have been spotted here as well. There is a wide choice of cocktails available behind the bar, which has a rather dramatic setting, with black and red décor throughout. There is no strict dress code, but smart casual is preferred.
Address:
Tel:
+212 522 431 234.
Website:
http://casablanca.regency.hyatt.com/en/hotel/dining/BlackHouseDiscotheque.html
Cabaret Embassy
For a raucous night with a very local, very authentic feel, grab a seat at the back of Cabaret Embassy and watch the hypnotic hips of the Chaabi dancers whirl onstage. This tiny nightspot is an essential stop for night owls and a great place to see native performers whip crowds into a frenzy. Be warned: the Embassy gets a bit loud and debauched as the night wears on, so be prepared for anything.
Address:
Tel:
+212 522 265 707.
Website:
Live music in Casablanca
Papagayo
While there aren't a huge number of live music venues in Casablanca, Latino fans can get their fix at Papagayo, which has a band playing each night. To a backdrop of Moorish-looking stone walls, music lovers can wiggle out to salsa, meringue and other spicy Latin American dances, which is all fuelled by the tasty Spanish dishes served up here.
Address:
Tel:
+212 522 985 167.
Website:
Rick's Café
Sam really does play it again in the piano bar at Rick's Café. While the classic Humphrey Bogart and Ingrid Bergman film, Casablanca, was actually shot in Hollywood, most fans won't mind that this Rick's Café is actually an affectionate recreation. Most come and sip (some of the city's most expensive) drinks in the bar which true to the film has exquisite furniture and décor, superb service and even a piano. Rick's Cafe is a fine way to spend an evening.
Address:
Tel:
+212 522 274 207.
Website:
http://www.rickscafe.ma
Theatre in Casablanca
Cinema Rialto
One of the best art deco treasures in the city, this recently restored cinema dates back to 1930s. Architecturally stunning, there's only one screen inside beaming a variety of films, including some Moroccan classics, which has an impressive cinematic canon. Even if there's nothing on that catches your fancy, step inside and try to imagine that Edith Piaf and Josephine Barker once performed here.
Address:
Tel:
+212 522 262 632.
Website: