Bathe thyself: Searching for the 'Kneipp Cure' in Germany
Published on: Tuesday, April 20, 2021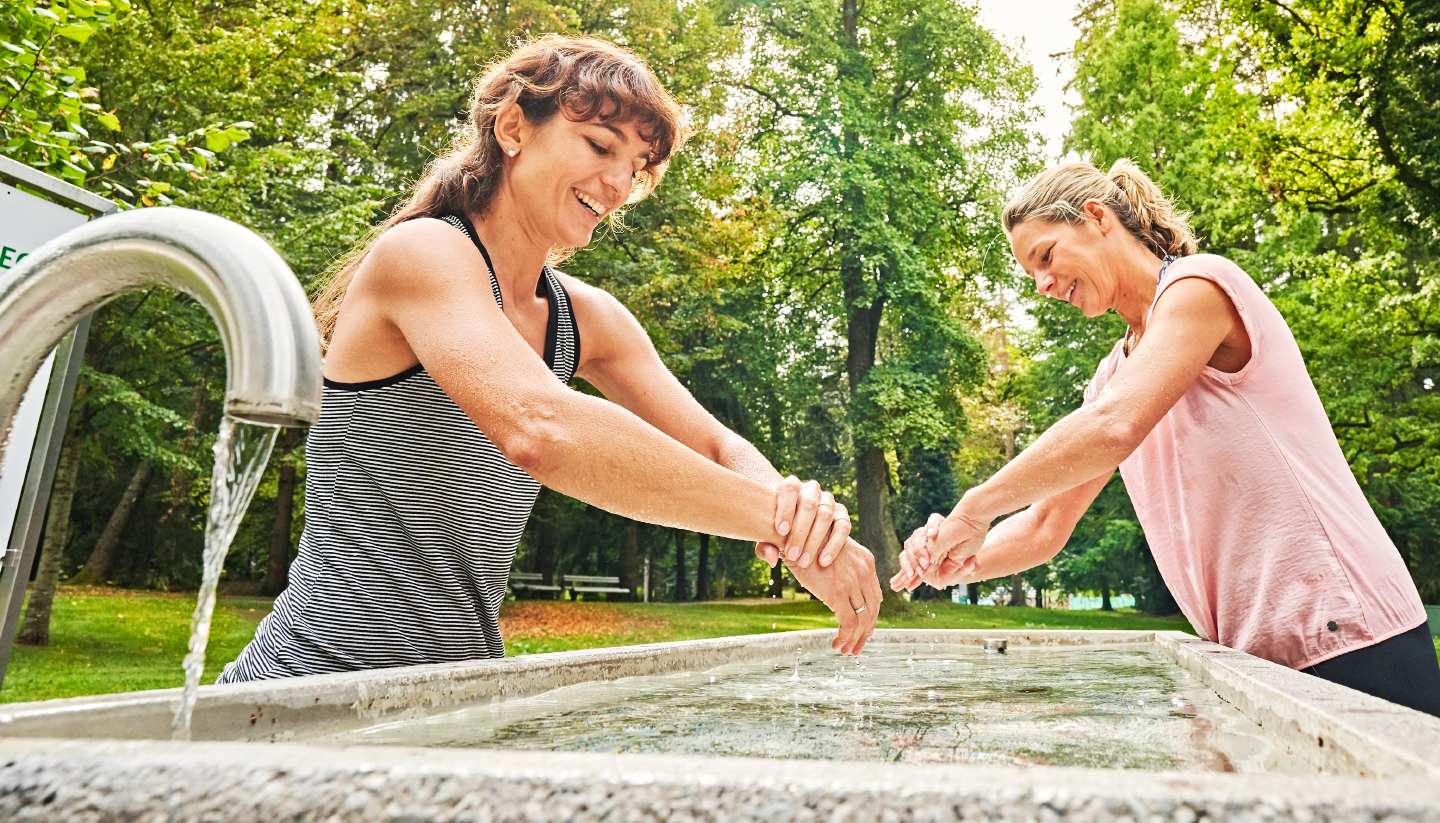 Once upon a time, Europeans flocked to Germany in search of the 'Kneipp Cure' or Kneippism, so find out what it is and why it is popular again
Bad Wörishofen – Bad means bath in German – is a town that is as near to perfection as one could imagine.
In the compact town centre, neat rows of steep-roofed shops and houses line the streets, all fitted with windows that gleam under a sky of few puffy clouds. Everything is clean and tidy (not even a piece of chewing gum wrapper on the road), and everyone is polite and cheerful. It is the sort of place that makes you feel instantly safe and welcome.
But more remarkably, Bad Wörishofen was the town where Sebastian Kneipp developed Kneippism or the Kneipp naturopathic treatment in the 1800s, which would eventually lead UNESCO to honour his teaching as Intangible Cultural Heritage of Germany in 2015.
So for more than a hundred years, tourists have been coming to Bad Wörishofen in search of the 'Kneipp Cure', a complementary medicine that aims at prevention and rehabilitation. Today, there are 42 certified spa hotels in and around town, all of which provide a wide array of Kneipp-inspired treatments.
In addition, there is also a Kneipp introduction every Wednesday at 1:45pm at the Thermal Spa complex with a local expert sharing the essences of Kneippism, while the Kneipp Academy nearby teaches practical ways that one can incorporate Kneippism into modern-day life.
Who was Sebastian Kneipp and what is Kneippism?
Born on 17 May 1821, Kneipp and his family lived in Stephansried, a tiny village near Ottobeuren in the south of Germany. Initially, Kneipp worked as a weaver like his father, but as a staunch Catholic, he wanted to become a priest. When Kneipp was 23, he finally gained a place in a secondary school in Dillingen with the help of a clergyman. Once admitted, Kneipp studied vigorously, but years of deprivation eventually took a heavy toll on his health. Just two years later, while still at school, Kneipp contracted pulmonary tuberculosis, which at that time was killing tens of thousands of young adults across Europe due to lack of understanding and available treatments.
In 1849, Kneipp chanced upon a book on hydrotherapy by Johann Siegmund Hahn while struggling with the disease. Considering Dillingen is right by the Danube, Kneipp decided to experiment on himself – he bathed in the icy Danube, followed by a brief sprint to his room. The cold water treatment invigorated Kneipp – he loved it so much that he continued with the experiment. Miraculously, his immune system got stronger and his illness went into remission, to the point that he could leave for Ducal Georgianum, a theological seminary in Munich, the following year.
In 1852, Kneipp completed his study and was ordained a priest. He was assigned to Wörishofen three years later – and it was in Wörishofen that he developed the holistic Kneipp therapy that aims to achieve harmony between the body, mind and soul, while broadening his knowledge on exercise and herbalism.
As Kneipp helped many families battling various diseases, his reputation grew and Wörishofen was designated as an official spa town and with the word Bad (meaning bath) added as a prefix.
Kneipp's Five Pillars
Nature is the best pharmacy – this belief of Kneipp pretty much explains why his therapy is founded on the following five principles:
Hydrotherapy – using combinations of hot and cold water treatments to improve circulation and stimulate organs.
Phytotherapy – adding medicinal herbs to bathwater to relieve stress and aches; may also include drinking herbal teas or applying herbal ointments.
Exercise – incorporating gentle and/or vigorous activities to boost the effects of hydrotherapy.
Nutrition – eating a low-protein high-fibre diet, mostly plant-based and with minimum animal products.
Inner order – paying attention to one's mind, body and soul, and achieving harmony through a conscious, balanced way of life.
These principles might have been developed in the 1800s, yet they are still relevant and befitting the demands of modern-day life.
Personalised treatments
The most basic Kneipp treatments involve washing or submerging your arms or feet in cold water for ten seconds, followed by five minutes in warm water and then repeating. A small cry may escape you at first if you aren't used to it, but don't panic and continue to breathe. After a couple of minutes of alternating between cold and hot water, you are likely to see an immediate lifting of mood, with a renewed sense of calm washing over you.
But Kneippism is more than putting arms and feet in cold/warm water. To get the best of it, you meet with a licensed medical professional and go through a basic medical assessment. After that, the doctor will discuss and prescribe a natural and holistic plan that works for you.
For instance, assuming that you're a working adult with high stress levels and irregular dieting patterns, a consultation with a doctor who is also Kneipp-certified may result in you attending eating awareness training, colon massages, herbal baths and medically prescribed exercise programmes over a few days, with every element carefully planned and supported by a team of trained staff.
Age-old ideas that are refreshingly current
The people of Germany have a long tradition of embracing natural medicines and homeopathy – the latter was introduced by German physician Samuel Hahnemann in 1796. To many patients, these alternatives provide a non-intrusive way to strengthen the body's resistance to disease and the ability to heal itself. There isn't a raft of prescription drugs to consume nor distressing side-effects to deal with.
Out of the Five Pillars of Kneippism, hydrotherapy is gaining global popularity with soaring numbers now taking to exercise in pools with varying temperatures, including in icy waters.
Using cold water to shock the body temporarily was once hugely popular in Germany and throughout Europe. Florence Nightingale, for example, believed that hydrotherapy improved her health when she was suffering from anxiety and exertion after the Crimean war. The British Library also keeps a letter that Nightingale wrote to Edwin Chadwick on 8 September 1860, in which she mentioned (the) water treatment "to be most effectual" in incipient tuberculosis, along with "bedroom ventilation at night, diet, founded upon improved digestion, the result of the open-air exercise, sometimes gentle gymnastics, much cold water sponging and little wet-sheet packing." In other words, her beliefs were similar to Kneipp's.
Now scientists have begun to better understand how cold water shock can help us build resilience and make us less reactive to chronic stress that harms the body. When you add progressive measures (phytotherapy, exercise, healthy eating and mindfulness) to the mix, it is easy to see why Kneippism is so well-suited to 21st-century urban dwellers like you and me.
Where can you find Kneippism in Bad Wörishofen?
There are 42 certified spa hotels in and around Bad Wörishofen, with many of them running a Kneipp trial week for the novices. The programme starts with an initial examination, followed by custom treatments and a final medical consultation.
KurOase im Kloster (www.kuroase-im-kloster.de), a hotel adjourning the monastery where Kneipp developed his healing method and treated people from all walks of life, is among the 42 hotels.
22 water-treading pools and arm baths are also dotted across town – these are suitable to be used as taster sessions, which should not be repeated multiple times without guidance from a licensed practitioner.
Kneippism in other parts of Germany
Apart from Bad Wörishofen, other German spa towns that embrace Kneippism include Bad Lauterberg, Bad Schandau, Bad Schmiedeberg, Bad Sobernheim, Göhren and Oberstaufen.
Kneipp products
Kneipp also refers to a range of quality, all-natural products that are free from palm oil, paraben, paraffin, silicone, mineral oils and microplastics. Also, none of the products has ever been tested on animals.
Arguably, the most-loved products are the bath salts and bath crystals mined from Saline Luisenhall in Göttingen, central Germany, using a centuries-old traditional extraction method. The salt deposits, at 460m (1,509ft) below ground, were formed some 250 million years ago when the area was an ancient seabed. The natural brine is then purified, air-dried, and turned into quality products that are treasured by health-conscious consumers.
Disclaimer
The authors of this post have tried Kneipp products and spoken to people who have gone through a custom programme in Bad Wörishofen. However, this post does not replace professional advice tailored to your specific circumstance.
You may also like: