18 of the best art and culture festivals around the world
Published on: Wednesday, March 31, 2021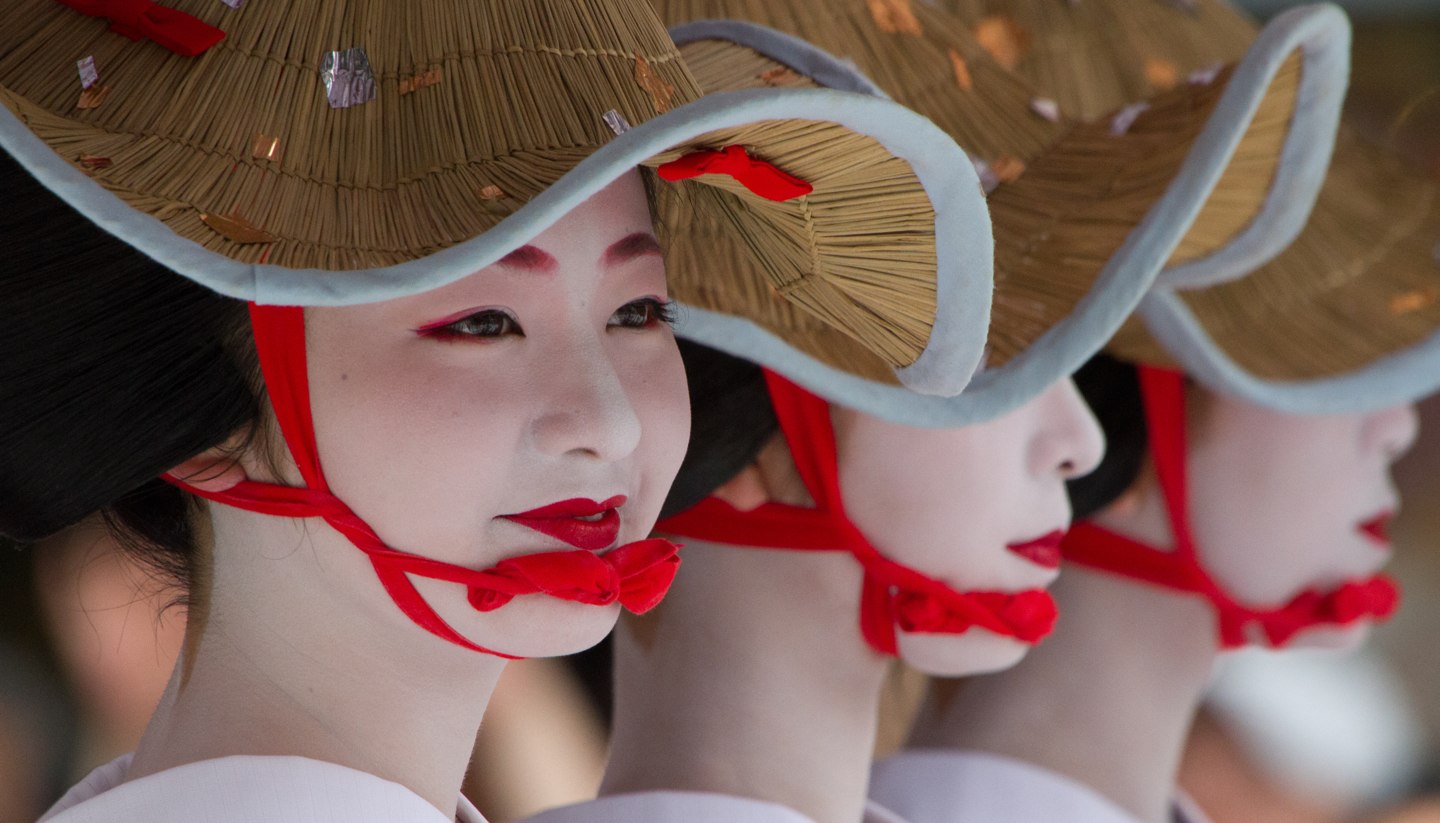 Discover the best art and culture festivals around the world through craft, comedy, dance, theatre and cultural performances
Around the world, there are dozens of celebrations taking place every month. Some of them are big hitters, while others are less well-known outside the local community. In this article, we handpick the best art and culture festivals happening from January to December.
However, beware that some events may be postponed or cancelled due to the COVID-19 pandemic.
January: Tweede Nuwe Jaar, Cape Town, South Africa
As the world recovers from its collective New Year hangover, Cape Town bursts into action with music, dancing and parades as it celebrates Tweede Nuwe Jaar. It literally means 'Second New Year' and takes place on January 2 – although sometimes the parades happen a few days later to coincide with the first weekend of the year.
Tweede Nuwe Jaar is rooted in the slave history of Cape Town. Back in the 19th century, slaves were allowed to get a day off on January 2 and many used the opportunity to welcome the day with music and dance. Gradually, the celebration became a spectacular cultural event, featuring performers (known as the Kaapse Klopse) who don bright costumes and strut their stuff through the streets. The best place to watch the parade is in the historic District Six area.
February to March: Adelaide Fringe, South Australia, Australia
Adelaide Fringe takes place at the tail end of the Aussie summer and provides a 31-day extravaganza of cabaret, comedy, circus, music, theatre, visual arts and workshops.
Founded in 1960, the festival has grown into an institution, attracting over 6,000 independent artists who put on various shows in more than 300 venues across Adelaide's city centre and suburbs each year.
Website: https://adelaidefringe.com.au/
March: South by Southwest (SXSW), Austin, Texas
Always at the cutting edge of the new trends, SXSW has flourished from its music conference root in 1987 to what is now a celebration of "the convergence of the interactive, film and music industries".
The event has also produced a string of "where were you when" moments: Johnny Cash making a keynote address in 1994, Prince performing in 2013, and President Barack Obama speaking in 2016 on civic engagement in the 21st century.
Website: https://www.sxsw.com/
March: Las Fallas of Valencia, Valencia, Spain
Every March 14-19, Valencia welcomes in spring with the Fallas, where giant papier-mâché figures (known as ninots) are burnt on the night of San José (St Joseph), the patron saint of carpenters.
The origins are said to go back to the Middle Ages when local carpenters would burn the wooden planks used to hang candles that light the workshops in winter. At first, the carpenters would just bundle up the planks, but by the mid-19th century, they started to make them bigger and more human-like. Nowadays, you can expect to see spectacular figures that artists have painstakingly put together over many months before the celebration.
Although La Cremà (the Burning) is the main event taking place on March 19, the celebration starts on March 1 with the Mascletà, a barrage of firework displays held every day at 2pm at the Plaza del Ayuntamiento.
April: Coachella, Indio, California, USA
From Blackpink to Beyonce, some of the world's biggest artists have graced the main stage at this annual music and arts festival held over two consecutive weekends in Indio, not far from Palm Spring.
While rock and pop headliners draw large crowds, it's worth seeking out performers from other genres like hip hop, indie, and electronic dance music. If you aren't into music, keep yourself busy by browsing various art installations or buying vintage and handcrafted items at makeshift booths.
Website: https://www.coachella.com/
May to July: White Nights Festival, St Petersburg, Russia
The magnificent St Petersburg, located just 7° south of the Arctic Circle, enjoys long hours of daylight during the summer months (May to July) – hence this period is also known as belyye nochi, or the White Nights, a time when the locals soak up the sun by day and attend numerous performances – including the best ballet, opera and music events – by pale night.
Apart from classical concerts, the climax of all the White Nights revelry is Alye Parusa (Scarlet Sails) that takes place at the end of June – this involves a gorgeous two-masted ship with scarlet sails crossing the Gulf of Finland amid spectacular fireworks. The red sails symbolise freedom, love and hopes for the recent school graduates in Russia.
May: Cinco de Mayo, various places
Cinco de Mayo – meaning the Fifth of May – commemorates Mexican forces' victory over the French army at the Battle of Puebla, a city that lies 135km (84mi) southeast of Mexico City. The day is marked with parades, speeches and re-enactments of the 1862 battle.
In the US, however, Cinco de Mayo has become a celebration of Mexican culture and heritage. You can expect fancy parades and mariachi bands in cities with large Mexican-American populations, such as Chicago, Denver and San Francisco.
June to July: Bali Arts Festival, Bali, Indonesia
The tropical paradise of Bali is at its most lustrous during the annual Arts Festival, when the islanders come together to share the best of Bali's dance, music and other artistic expressions with visitors.
The festival always starts with a street parade, followed by an irresistible array of traditional dances, art displays, film screenings, and of course, all-night parties.
June to August: Chinese Opera Festival, Hong Kong, China
Chinese opera, said to be one of the oldest art forms, consists of many elements, including singing, dancing, acting, martial arts and acrobatics. Each opera tells a story and often teaches a moral lesson.
At this festival, you can expect a string of stage performances, along with talks on regional opera styles and the art of Chinese opera.
June: Glastonbury, England, UK
Glastonbury has come a long way from its humble beginnings in 1970 when it was a two-day show at Worthy Farm and attendees could get fresh milk and free camping with their £1 ticket. Today, it is probably the most sought-after event in music and pop culture.
Past headliners include Adele, Coldplay, David Bowie, Jay Z, Metallica, Rolling Stones, Stevie Wonder and U2, to name but a few. With so many heavyweights, it really is impossible to pick the best Glastonbury moments.
Website: https://www.glastonburyfestivals.co.uk/
July: Festival d'Avignon, Avignon, France
Every July, the Festival d'Avignon turns the city into a giant theatre with multiple venues hosting contemporary performing arts events – with 80% of the shows being either original creations or premiering at the festival.
There are also Workshops of Thought, inviting researchers, philosophers and activists to discuss, debate, or read texts specifically written for the festival.
Website: https://festival-avignon.com/en
July: Gion Matsuri, Kyoto, Japan
Undoubtedly the biggest cultural festival in Japan, Gion Matsuri has been held every July since 869 – when the locals wanted to appease the gods during a plague.
While there are street parties and many events taking place during the month-long festivity, the main processions are held on July 17 (Sama Matsuri Junko) and July 24 (Ato Matsuri Junko).
The decorated floats are the highlights of Gion Matsuri – they are adorned with woven fabric, sculptures and even lanterns. The best places to watch the processions are around Shijo, Kawaramachi, and Oike streets.
August: Edinburgh Fringe
The world's largest arts and culture festival, the Fringe presents an exciting hodgepodge of plays, performances and exhibitions for three weeks every August.
The varied programmes – some paid and others free – cater for everyone. You can watch a circus, laugh at a comedy, weep at an opera, enjoy a spoken word performance and dance with fellow revellers.
Website: https://www.edfringe.com/
August-September: Beethovenfest, Bonn, Germany
The birthplace of Ludwig van Beethoven, Bonn's cobbled streets come to life every late-August to early-September, during the annual celebrations honouring the greatest composer who ever lived.
First held in 1845 to mark Beethoven's 75th anniversary of birth, the festival now breaks new ground with more than just the classic works of Beethoven – you can expect pleasant surprises like new concert formats, for example.
Website: https://www.beethovenfest.de/en/
September: Art Basel, various places
Art Basel started in Basel, Switzerland, where three gallerists decided to show work from various galleries to visitors. The first event in 1970 drew some 16,000 attendees and it gradually grew from there. In 2002, Art Basel was introduced in Miami Beach, Florida, and six years later, in Hong Kong – all shows now draw large crowds of curators and collectors.
In 2019, a piece of artwork shown in Art Basel Miami Beach went viral on social media – it was a single ripened banana duct-taped to a wall. Titled Comedian, the artwork (rather, the concept of the artwork as the owner can replace the rotten banana) was sold for US$120,000.
Website: https://www.artbasel.com/
October: MassKara Festival, Bacolod, Philippines
Arguably the most dazzling festival in the Philippines, MassKara actually started on a sorrowful note. The year was 1980 when the city of Bacolod faced a series of crisis, most notably the fall of sugar cane prices and the sinking of an inter-island ferry that saw many families suffer great losses. The local government decided to put a smile on the residents' faces by hosting a carnival, starring performers wearing colourful (smiling) masks and glittering costumes.
Nowadays, the event features elaborately decorated floats, along with plenty of music and street dancing. The high point of the festivity is MassKara Festival Queen, a local beauty pageant.
November: Day of the Dead, various places
Día de los Muertos or Day of the Dead originated in Mexico but is now celebrated through Latin America and even the USA. This festival is about honouring dead relatives and acknowledging the end of life that no one can escape.
While every town has its unique way to mark the event, Mexico City is where most tourists head to – especially after the event was featured in the James Bond movie Spectre.
December: Junkanoo, Nassau, Bahamas
The rum-fuelled days in the Bahamas get better and brighter on Boxing Day (December 26) when the islanders get out and about in eye-catching costumes and gyrate to rhythmic music produced by horns, cowbells and goatskin drums.
The organisation structure of Junkanoo is similar to New Orleans' Mardi Gras in the sense that various social clubs (often with catchy names) are the driving forces behind each dance routine and musical performance.
While the main festival takes place on December 26, there are mini Junkanoos happening on New Year's Day and Independence Day (July 10). Visitors to the islands of the Bahamas are welcome to participate.
You may also like: