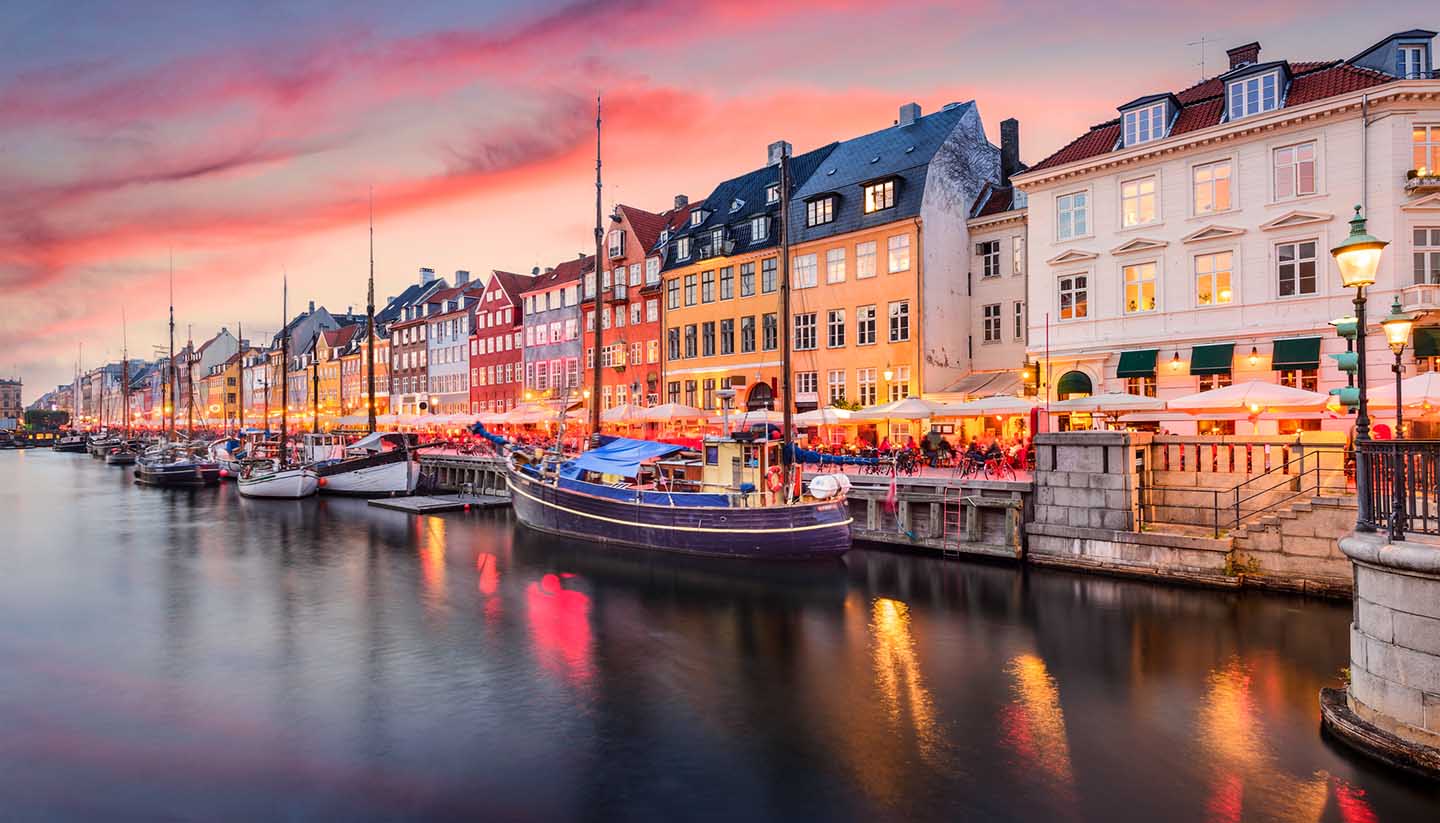 Currency in Copenhagen
kr
Copenhagen Nightlife
Nightlife in Copenhagen is a late affair and live gigs rarely get going on weekends until long after midnight. The city's ever-changing range of clubs and bars caters to all tastes, though, from pop and cutting-edge dance music to world-class jazz . Copenhagen also offers a number of restaurant-to-bar 'hybrids' that change mood and function over the course of an evening. There is no one defined nightlife area, although Nyhavn, Boltens Gaard and Vesterbro are popular. Copenhagen This Week (www.ctw.dk) and Wonderful Copenhagen website (www.visitcopenhagen.com) both provide nightlife and cultural event listings.
Tickets for most cultural events and performances are sold by BilletNet (tel: 7015 6565; www.billetnet.dk), or online.
Bars in Copenhagen
Mikkeller
Despite an increasing interest in wine, Copenhagen essentially remains a beer-drinking capital and this is the place to come if you're looking for something more subtle than Carlsberg. A micro-brewery, Mikkeller serves speciality beers from around the world as well as Denmark and even distils its own spirits. Snacks are available, but don't expect a full meal.
Address:
Tel:
3331 0415.
Website:
http://www.mikkeller.dk/the-bars
Balthazar
An elegant option for gritty Copenhagen, the champagne bar of the palatial Hotel d'Angleterre is evolving into a meeting place for the city's more soignée beautiful people. They take the bubbly seriously here, offering more than 200 labels, served with a choice of enticing accompaniments from caviar to tapas. DJs move in on the weekend to add a suitably cool soundtrack.
Address:
Tel:
3312 0095.
Website:
http://www.dangleterre.com/restaurant-bars/balthazar
Karriere Bar
Made famous by The Killing, Karriere Bar is one of three venues which sit side-by-side in the supposedly mean streets of the Meatpacking District. In the drama series, police detective Sarah Lund is seen wending her way towards the cocktail bar, which despite the grungy vibe, is a great local spot for a good dinner and slugging beers.
Address:
Tel:
3321 5509.
Website:
http://www.karrierebar.com
Clubs in Copenhagen
NASA
For a sophisticated experience, head for NASA, a hip "members'" club which pops up on a Friday and Saturday. Only theoretically private, bouncers will let you in if you've got the right look and the right attitude, so dress smart and sharp and act suitably deferentially. The venue is dressed entirely in white and specialises in soul, but varies the vibe with other sounds too.
Address:
Tel:
4055 8059.
Website:
http://www.nasa.dk
Vega
Perennially popular, this Copenhagen legend is a treat for the eyes as well as the ears with its 20th century modern design. Housed in a handsome old union building, it's a live music venue which doubles as a club – the Vega Lounge, with its huge, octagonal bar, is as much of a draw as the gigs. Look out for drop-ins by big names acts like Bjork, who have been known to give impromptu concerts in its more intimate spaces.
Address:
Tel:
3325 7011.
Website:
http://www.vega.dk
Jazzhus Montmartre
A legendary jazz haunt in the 1960s, Jazzhus Montmartre prompted musicians like Stan Getz and Dexter Gordon to move to Copenhagen in its heyday. After 15 years in the wilderness, the venue reopened at a new address in 2010 and offers much more than great jazz. Its on-site Italian restaurant serves up some delicious organic food.
Address:
Tel:
3172 3494.
Website:
http://www.jazzhusmontmartre.dk
Live music in Copenhagen
Friday Rock at the Tivoli
The most joyous venue in Copenhagen for summer gigs, the city's renowned amusement park, Tivoli, may not be the first place to spring top mind for a concert, but its Friday Rock nights have a knack for attracting world class talent. Stretching the musical spectrum from The Beach Boys to Kanye West, shows are usually free for those with a theme park entry ticket.
Address:
Tel:
3315 1101.
Website:
http://www.tivoli.dk
The Black Diamond
This stunning waterfront venue is a great place to enjoy an intimate jazz concert or chamber music recital. The terrace extending from the bar is a special treat in the warmer months and there's also a bookshop and decent café for those visiting in the day. Call by before dark to explore one of Copenhagen's best buildings and enjoy the view.
Address:
Tel:
3347 4747.
Website:
http://www.parkcafe.dk
Café Nemoland
This famous outdoor bar in the alternative community of Christiania is a favourite location for summer gigs, but the beer and burgers flow whether anyone's playing or not. The cafe is open all year-round as a charming meeting-place for locals and visitors respectful of the commune are welcome too.
Address:
Tel:
3295 8931
Website:
http://www.nemoland.dk