Find a city-break escape in Stockholm: a spired skyline ensconced in an archipelago with world-class museums, succulent meatballs and refined heritage
Stockholm might be known for IKEA outlets, ABBA and Eurovision winners, but it also offers so much more. The land of the Volvo features fascinating medieval architecture in its charming Old Town (Gamla Stan), a fashion shopping mecca (Norrmalm), and a plethora of world-class museums. Use this guide to plan your next trip to the Venice of the North and make your Nordic holiday an unforgettable one.
When to go
Spring (March-May): March has a colder climate with an average temperature of 1°C (32°F), but late April and May offer warmer temperatures that range from 5°C to 13°C (41°F-52°F).
Summer (June-August): This is peak tourism season, as the city celebrates a string of festivals and events including Swedish National Day on June 6. In July, the average high is a balmy 22°C (72°F) and lows average 13°C (55°F).
Autumn (September-November): This golden season doesn't last long, as cold sets in fast towards the end of October. By November, averages range from 1°C (34°F) to 4°C (39°F).
Winter (December-February): The colder season brings warm holiday delights like a Christmas market and cosy pubs, but be sure to also pack your warmest clothes. Temperatures plummet to -3°C (27°F) and barely extend to -1°C (30°F).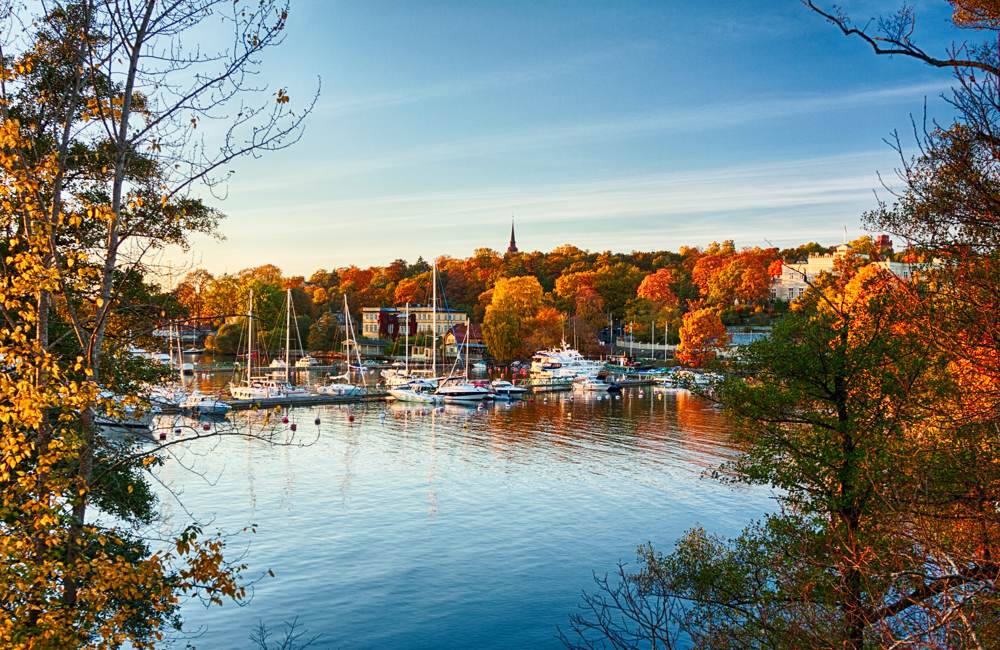 Waldemarsudde Bay
Getting around
Storstockholms Lokaltrafik's system of buses, light rail, trams, trains and metro make public transit a convenient option for tourists. The metro, or T-bana, is the best option for travellers going in and around Stockholm, and it has connections to the greater commuter rail system. Tickets for public transport load onto SL Access smartcards. Single-ticket validity can extend from 24 to 72 hours.
Hail taxis on the street or order services from a number of companies to access the quickest transportation possible. These metered taxis accept credit card payment and charge higher rates during evenings and weekends. Fares include tips. To see other types of available transportation, check out our Getting Around Stockholm guide.
Must-see attractions
ABBA: The Museum
Sweden's most famous musical group, ABBA, has a museum dedicated to its songs, tours, and all things related to the iconic pop artists. Hum along to the catchy Mamma Mia! soundtrack while roaming temporary exhibits, permanent collections of pieces from ABBA's wardrobe and wax figures of the quartet. Don't forget to snap pictures with the large assortment of groovy backdrops.
Vasamuseet (Vasa Museum)
One of Scandinavia's best-loved museums, here you will find the uniquely well-preserved Vasa warship that sank in 1628. The Vasa is the only nearly-intact 17th-century ship to ever be salvaged, and today the museum is the most-visited one in Sweden.
Stadhuset (Stockholm City Hall)
This is one of Sweden's most famous buildings and one of the capital's most-visited tourist attractions. Famous for its grand ceremonial halls and unique pieces of art, Stockholm City Hall is also the venue of the Nobel Prize banquet, held on the 10th of December every year.
Old Town (Gamla Stan)
This spellbinding Old Town is one of the largest, best-kept medieval neighbourhoods in all of Europe. It features sights, food, drinks and countless places to buy authentic, handcrafted souvenirs. It is also home to the Stockholm Cathedral, the Nobel Museum and the stunning Royal Palace.
For more sightseeing inspiration for your upcoming trip, read our Things to See in Stockholm guide.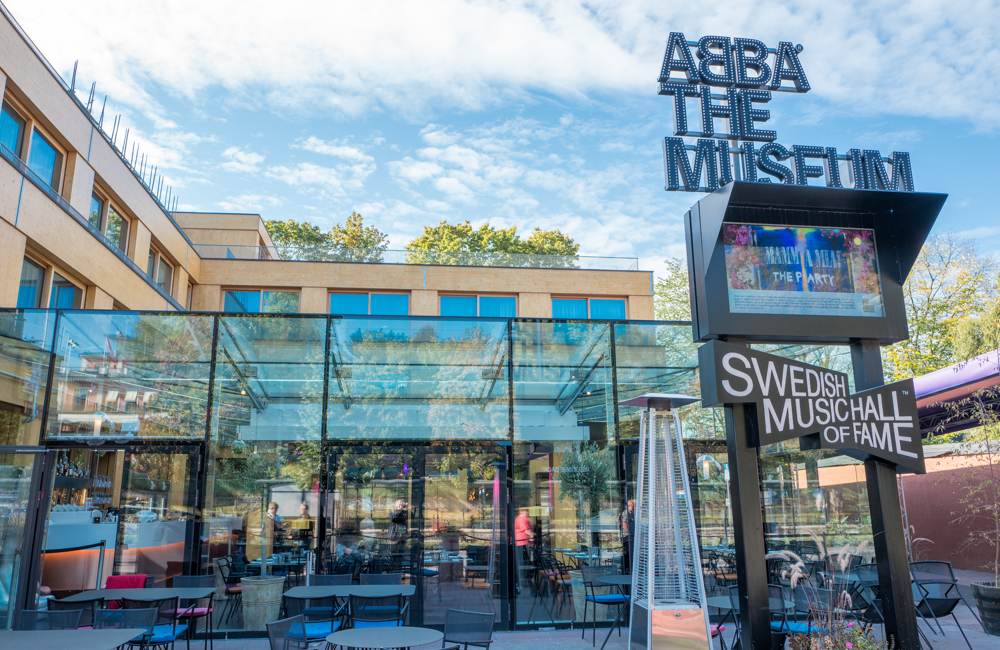 ABBA museum
Quirky & offbeat
Kayak the Stockholm Archipelago
In the southern part of the archipelago, you can kayak in the calm waters or further out in the deeper sea. This spot is easily accessible by car or public transport, and it is an absolute paradise for kayakers It is open from May to September; however, it is always worth checking availability before going.
See a Concert in Stockholm's Stylish Konserthuset
The Konserthuset (Concert Hall) is one of Stockholm's most recognisable buildings, holding over 100 concerts and various other creative programmes per year. The Royal Stockholm Philharmonic Orchestra is a must-see, and the Konserthuset has been its home since 1926. A list of their performances can be found here: www.konserthuset.se
Our Things to do in Stockholm guide details other unorthodox activities guaranteed to spice up your holiday.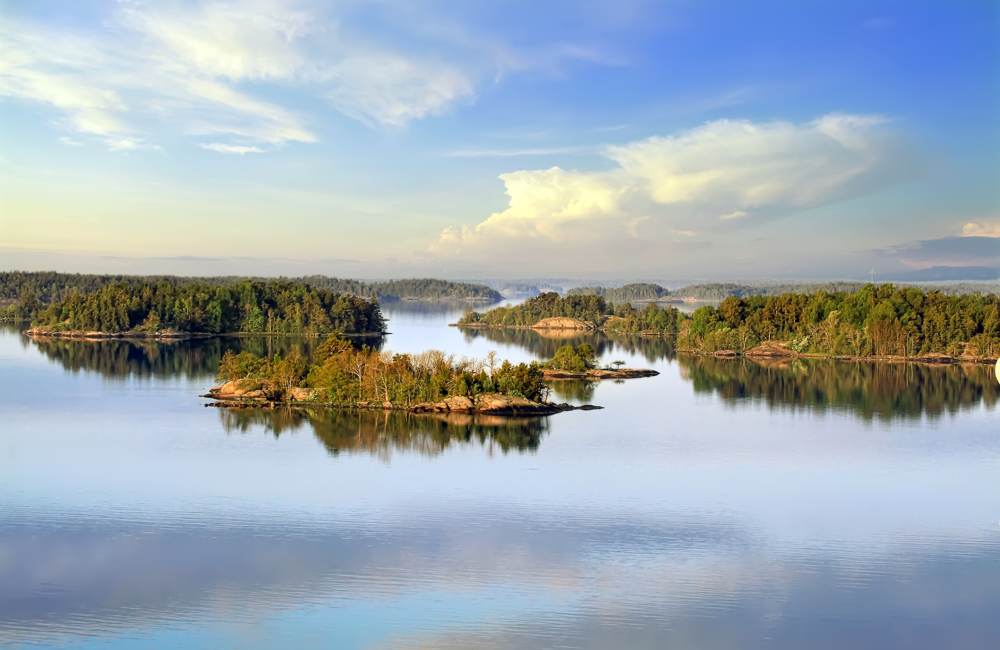 Stockholm Archipelago on the Baltic Sea at sunrise
Travel tips
Must-try foods in Stockholm
Kanelbelle – This cinnamon bun is one of Stockholm's tastiest and most popular treats. These delicious spiced-buns are available in all cafes, shops and bakeries. The sweet pastry is said to have been brought to Sweden when the Vikings first invaded Istanbul.
Toast Skagen – Sweden's version of a Prawn Cocktail. Peeled prawns mixed with dill, lemon and mayonnaise are topped with fish roe and served on a crisp, sautéed bread slice. Despite its Danish roots, it remains a favourite on the menus of Swedish dinner parties and restaurants alike.
Foraged berries – Swedes love spending time in the wild, and thanks to their Right of Public Access, they can freely wander the country's vast array of forests to pick these divine fruits. Picking berries, mushrooms and herbs is a must for every family on a day out, and fresh produce is also easily accessed in shops, markets and even on stalls along country roads.
Herring – best served with crisp bread and washed down with a glass of fine Scandinavian spirit.
Tipping: Restaurants in Stockholm usually include gratuity in the bill. If the bill does not include a service charge, add a tip of 5-10% or round up the total to the nearest 10.
Hotel services do not require tips, but guests may tip if they feel so compelled. Tip at your own discretion, as tipping is generally not expected.
Check out our Stockholm food & drink guide: 10 things to try in Stockholm, Sweden for some more delicious recommendations. To find out where to eat, see our Restaurants in Stockholm guide.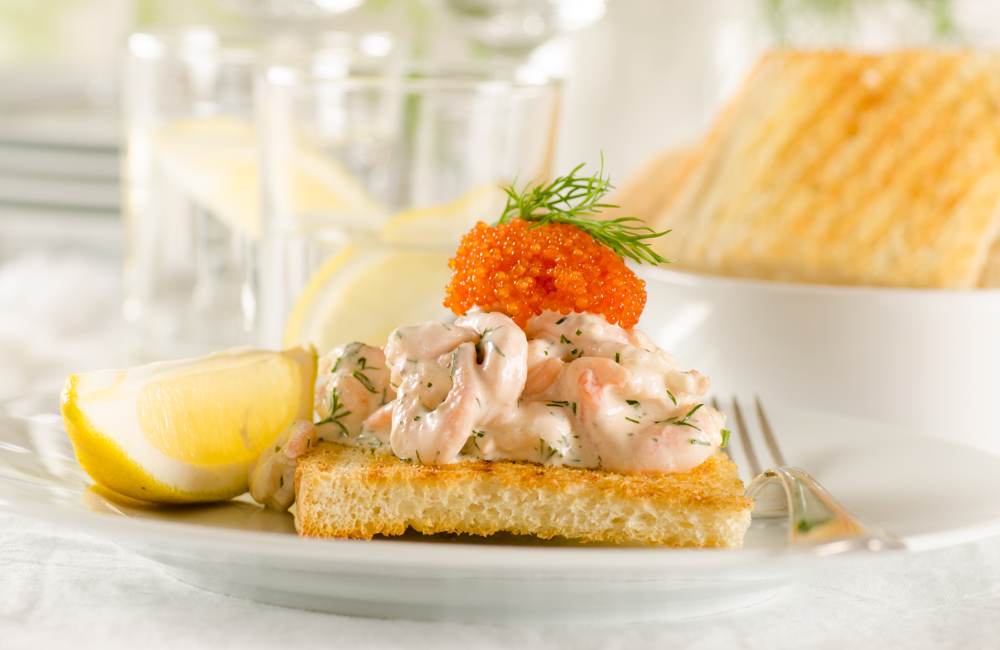 Toast Skagen
Hotels in Stockholm
With included breakfasts, Baltic Sea views, and sharp Scandinavian design, Stockholm's hotels aim for prime comfort. For such a luxurious city, there are still a variety of affordable hotels for tourists on a budget. The Motel L is a cheaper option that still offers clean, comfortable rooms near the Gamla Stan. The more expensive Lydmar Hotel sits across from the Royal Palace, while the trendy Berns Hotel boasts 82 rooms that marry modern Scandinavian designs with a more traditional theme. Find more hotel suggestions for any budget in our Stockholm Hotels guide.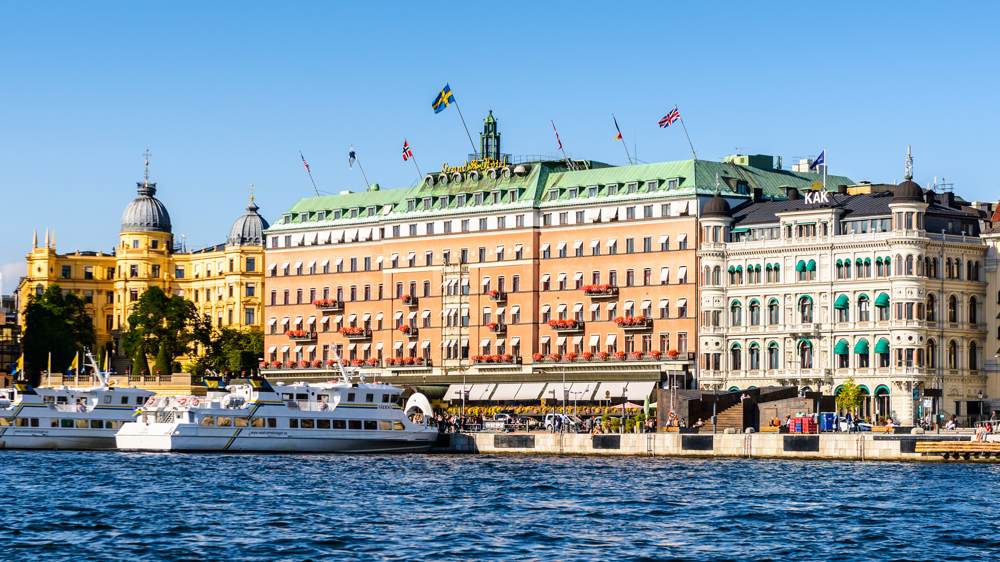 Grand Hotel, a five-star hotel in Stockholm
Nightlife in Stockholm
Whether it's under the setting summer sun or in the pitch dark of winter, Stockholm's bars and clubs boom in the later hours of the day all year round. Scores of Spanish-influenced clubs and swanky jazz venues snake through the city's neighbourhoods, but most groups on the hunt for a good time swarm to the Stureplan neighbourhood in central Stockholm. Look at our tips and suggestions for evening drinks and dancing with our Stockholm Nightlife guide.
Shopping in Stockholm
Sweden's strong economy allows the city to produce high-quality goods and services available for visitors to purchase. Shop European fashion designers' creations, the world's largest IKEA just outside the city limits and food markets bursting with colourful sweets. During your shopping whirlwind, don't forget to explore NK, Stockholm's oldest department store, for trendy clothing and crafts. Map out your shopping excursion and review our Shopping in Stockholm guide for more information.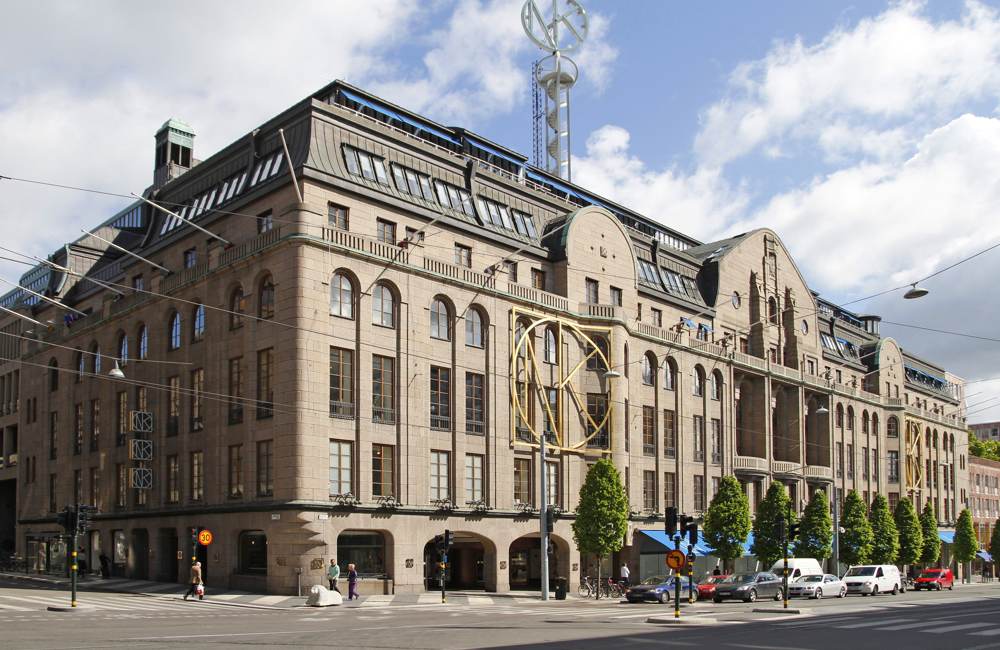 NK Shopping Center in Stockholm
Visa requirements to Stockholm, Sweden
American, Canadian, Australian, British and other EU nationals do not require a visa to enter Sweden. If the stay extends beyond a 90-day period, American, Canadian and Australian nationals need visas. British and EU nationals can remain in Sweden for an unlimited amount of time, but they must register with authorities when the stay extends past the three-month mark. Passports must be valid three months past the length of stay of the nationals listed above and must be issued within the past 10 years. See more detailed information about the documents you need with this Sweden Visa and Passport Requirements guide.
Before you go, check out: