An essential guide to Mardi Gras in New Orleans, USA
Published on: Tuesday, February 11, 2020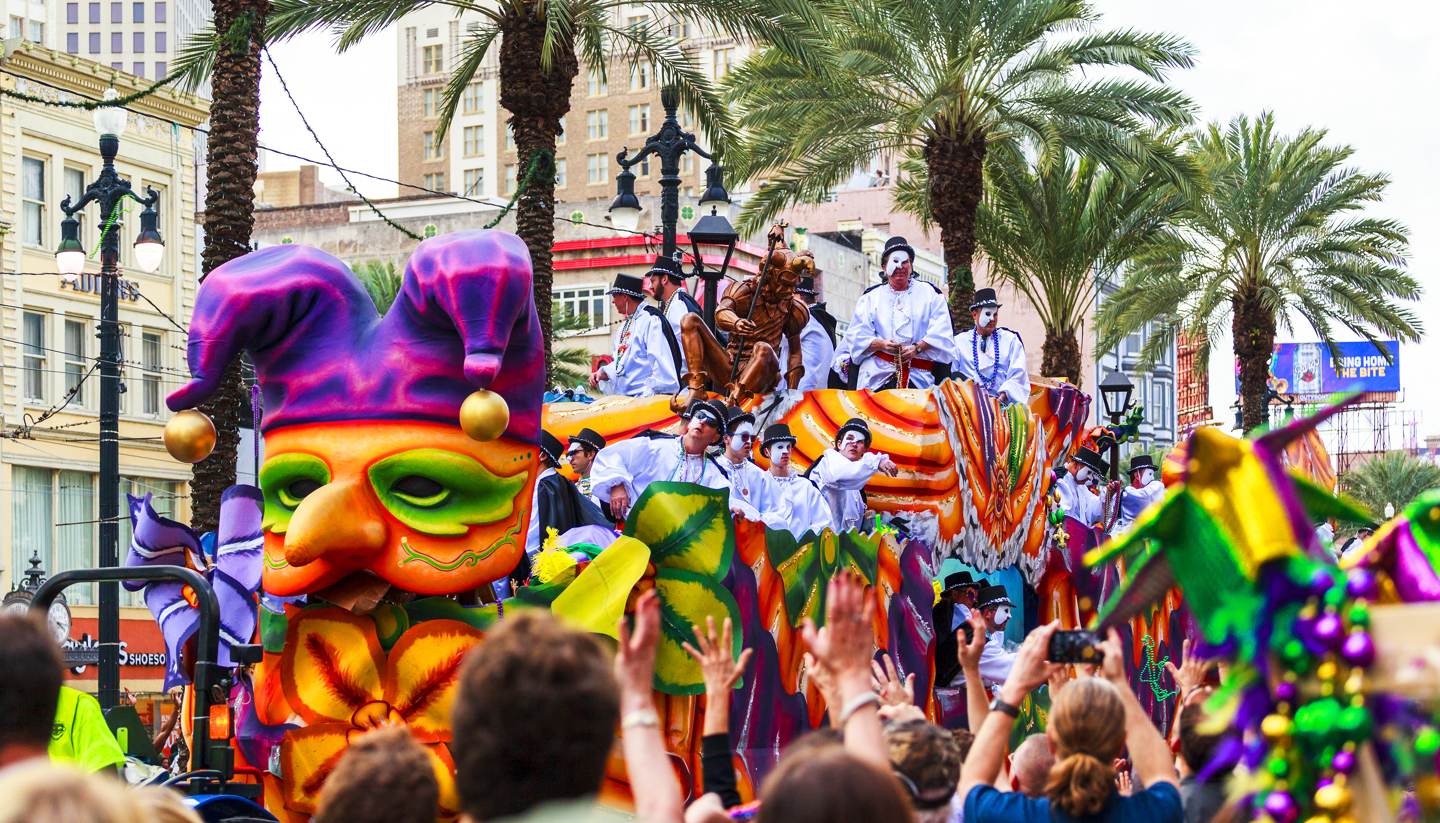 Wild parties, fancy dress and colourful beads make Mardi Gras in New Orleans well worth visiting this 25 February
Why go to Mardi Gras in New Orleans?
Mardi Gras in New Orleans is an unstoppable wave of celebration, the low rumblings of which begin as early as Twelfth Night (6 January), the official start of the Carnival season. On this day, a few small parades will kick-start the season but major parades will only start two weeks before Mardi Gras.
The exuberance builds in momentum until exploding on Mardi Gras which takes place on Fat Tuesday, the day before Ash Wednesday. New Orleans is a city that needs little excuse to throw a party, so you can expect great things when they celebrate Mardi Gras.
There are hundreds of activities throughout New Orleans running over the two weeks leading up to Mardi Gras, sometimes with several parades a day, as different 'krewes' would put on elaborate costumes and parade with colossal floats. Krewes refer to around 50 semi-mysterious societies with names such as Rex and Zulu, each with different traditions. The word Krewe is also a generic term for all Carnival organisations in New Orleans. Check out the parade schedule and join the people of New Orleans for the most joyous, music-filled, decadent weeks of the year.
What is Lundi Gras
The day before Mardi Gras is known as Lundi Gras (Fat Monday or Shrove Monday). On Lundi Gras night, Proteus (the second-oldest parading krewe) and Orpheus (known for their extravagant floats) take to the streets.
Where to go
Each parade has its own route – for instance, the Krewe of Orpheus may start at Napoleon Avenue and end at the Convention Centre, while the Krewe of Argus may begin at the intersection of Veterans and Houma, make a loop and end at the interaction of Veterans and Martin Behrman Avenue. However, most parades that focus in Uptown New Orleans will somehow go along St Charles Avenue and also through the French Quarter. Please check the local listings for each parade and their respective route.
Please note that the French Quarter area can get rowdy – the cliché of girls taking off their tops to get people to throw them beads does happen along Bourbon Street in the French Quarter. However, parades in the city and suburban areas are for families and risqué behaviours are usually not tolerated.
What to eat
With thousands of restaurants serving anything from Gumbo to fried chicken, no one should go hungry in New Orleans. Between 6 January and Mardi Gras Day, you will also see people tucking into King cakes – a delicious blend of coffee cake and cinnamon roll iced in gold, green and purple (the colours of Mardi Gras).
Check out this article How to eat and drink well in New Orleans for the best recommendations.
What to wear
You can definitely go in jeans and a t-shirt (weather permitting) but most people choose to dress up in elaborate costumes (the fancier, the better) as there are several costume contests throughout the city.
If you really want to show off, bring at least two costumes per day – one for the day and one for the night. As repetition is generally frowned upon, pack as much fancy dress as your suitcase can carry.
The most famous costume contest takes place at the corner of Bourbon and St Ann streets on Mardi Gras day. Called "the most famous drag-queen contest in America", hundreds of people in fancy costumes will compete for the Bourbon Street Awards. If you fancy joining, simply sign up for your category early that morning at the registration table.
Is it a free event?
All parades are free to watch and most events are free to participate. However, you do need tickets for Mardi Gras Balls (exclusive events organised by Krewes for their members and selected guests) and also for great seats in viewing stands around the city.
Where to stay
It depends on what kind of a party you'd like. If you're not planning to sleep and intend to have cocktails for breakfast before a full day of bar-hopping and shouting for throws, then the French Quarter is where the action is.
What to do?
Essentially, your job is to clamour for 'throws', trinkets tossed from floats in response to the cry, "Throw me something, mister!" The parades are staffed by the members of the various krewes that organise them. They ride the floats in costume and wear masks – believe it or not, float riders are required by law to wear masks in keeping with the mystery and tradition.
Throws can be coloured plastic or glass beads, they can also be useful items like decorated plastic cups, tote bags, sunglasses, key chains, hats, to name but a few.
These are only usually given out to the crowd members with the best costumes or to those that shout out most enthusiastically. So go as crazy as you can – you will be rewarded with temporarily valuable baubles.
Be prepared
While New Orleans usually enjoys mild weather in February with an average low of 9°C (48°F) and an average high of 18°C (64°F), it can get rainy and chilly too.
Leave your expensive jewellery at home. Make sure your credit cards and cash are well hidden and be aware of pickpockets.
Before you go, check out:
This post is updated on 11/02/2020
If you liked this post, you might also like: