An essential guide to Mardi Gras in New Orleans, USA
Published on: Thursday, February 8, 2018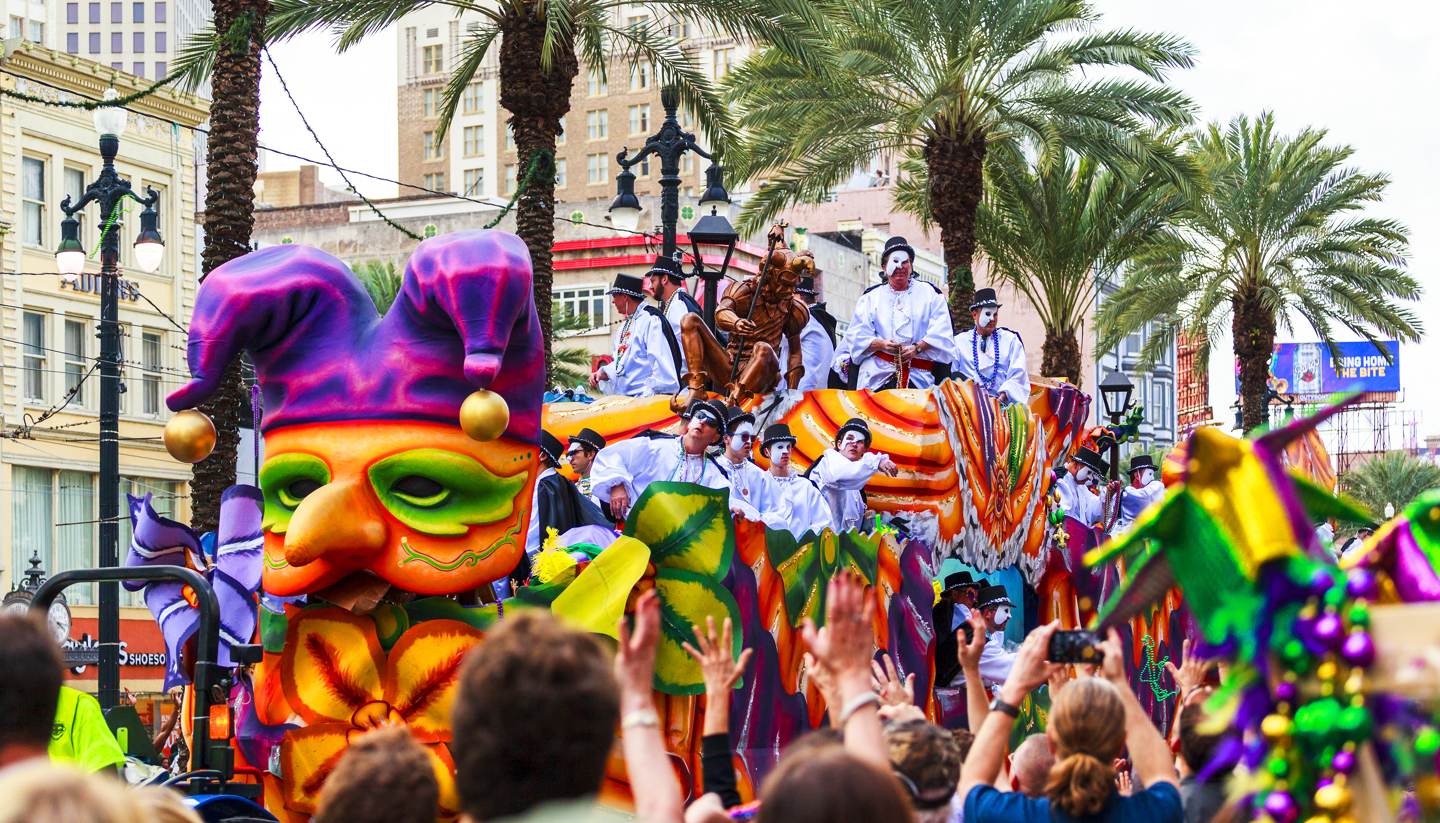 Wild parties, fancy dress and colourful beads make Mardi Gras in New Orleans well worth visiting this 13 February
Why go to New Orleans Mardi Gras?
Mardi Gras in New Orleans is an unstoppable wave of celebration, the low rumblings of which begin as early as Twelfth Night (6 January), the official start of the Carnival season.
The exuberance builds in momentum until exploding on Lundi Gras and then Mardi Gras – or Fat Tuesday – on 13 February, the day before Ash Wednesday. New Orleans is a city that needs little excuse to throw a party, so you can expect great things when it's officially Carnival season.
There are thousands of activities throughout New Orleans running over the two weeks leading up to Mardi Gras, sometimes with two or three a day. However, the main events are the costumed parades coupled with intricately decorated floats. They are organised by 'krewes', a collection of around 50 semi-mysterious societies with names such as Rex and Zulu, each with a different character and traditions. In short, the scene is annually set for two of the most joyous, music-filled, decadent weeks of the year, anywhere in the world.
Where to go
The cliché of college girls taking off their tops to get people to throw them beads from Bourbon Street balconies does happen. But, the French Quarter is much more than Bourbon Street, so find your place on Royal or Decatur Streets, where there's as much frivolity without so much in the way of nudity.
Next, you'll want to see some parades. Check local listings paper The Gambit or go online at www.mardigrasneworleans.com to get a comprehensive list – there's upwards of 50 parades during Carnival. Many of the main ones sashay down St Charles Avenue into the Central Business District, with some skirting parts of Canal Street, so be prepared to leave the bubble of the French Quarter.
On Lundi Gras, put on your finest fancy dress (the fancier, the better), grab a frozen daiquiri and simply walk around New Orleans' French Quarter. You'll be sharing the streets with thousands of people in attire of every imaginable variety, everyone walking around with permanent grins on their faces. At any time, wander up Frenchman Street on the border of the French Quarter, where you can sample the best of the local music scene in just about any bar you stumble across.
Where to stay
It depends on what kind of a party you'd like. If you're not planning to sleep and intend to have cocktails for breakfast before a full day of bar hopping and shouting at balconies for beads, then the French Quarter is where the action is.
On Lundi Gras, you can barely move for costumed festivities, and it's a wonderfully surreal place to be. Given that the bars are open for 24 hours, you may want to have a haven to recuperate. There are excellent hotel options around the city, particularly around the Mid City or Central Business District. If you're planning to catch most of the big Uptown parades, then a nearby hotel would be perfect for comfort stops between the float-watching marathons.
What to do?
Essentially, your job for two weeks is to clamour for 'throws'. The parades are staffed by the members of the various krewes that organise them. They ride the floats in costume, many with their faces covered, distributing throws to the baying crowds. Throws are usually the gaudily-coloured plastic Mardi Gras beads that cover the city over the two weeks of festivities.
However, krewes also throw out more worthwhile knick knacks, including decorated plastic cups, doubloons and also very rare throws particular to their krewe. Muses, for example, have decorated shoes; Zulu have coconuts, and they are considered somewhat prestigious.
These are only usually given out to the crowd members with the best costumes or to those that shout out most enthusiastically. So go as crazy as you can – you will be rewarded with temporarily valuable baubles.
Where to avoid
Unless you want to throw yourself into the eye of the storm and stagger between lurid strip bars and daiquiri shops, skip Bourbon Street.
If you really want to see the city's most infamous thoroughfare, head there before lunch where you can get a hurricane at Pat O'Brien's or a fried breakfast at Clover Grill in relative civility. Other than that, try to stay in the main tourist areas as some of the outlying residential areas in New Orleans can get somewhat sketchy after dark.
What to wear and how to prepare
Lundi Gras and Mardi Gras are the biggest displays of costumery, so if you're going to be a good Carnival participant, you should have at least two costumes for these days. That said, dressing up is also starting to sneak in the weekend before, so if you really want to show off, you should bring something fabulous for those nights too.
In short, pack as much fancy dress as your suitcase can strain to – you never know when you might need it and repetition is generally frowned upon. The best thing is everyone will love you no matter what you're wearing, as long as it looks like you've made an effort. So go Star Wars, fairy tale, ironic political statement or all-over body paint – you can't go wrong, really.
Aside from this, make sure you have money for food and drink, your camera, a map and as few inhibitions as you can manage.
Before you go, check out: