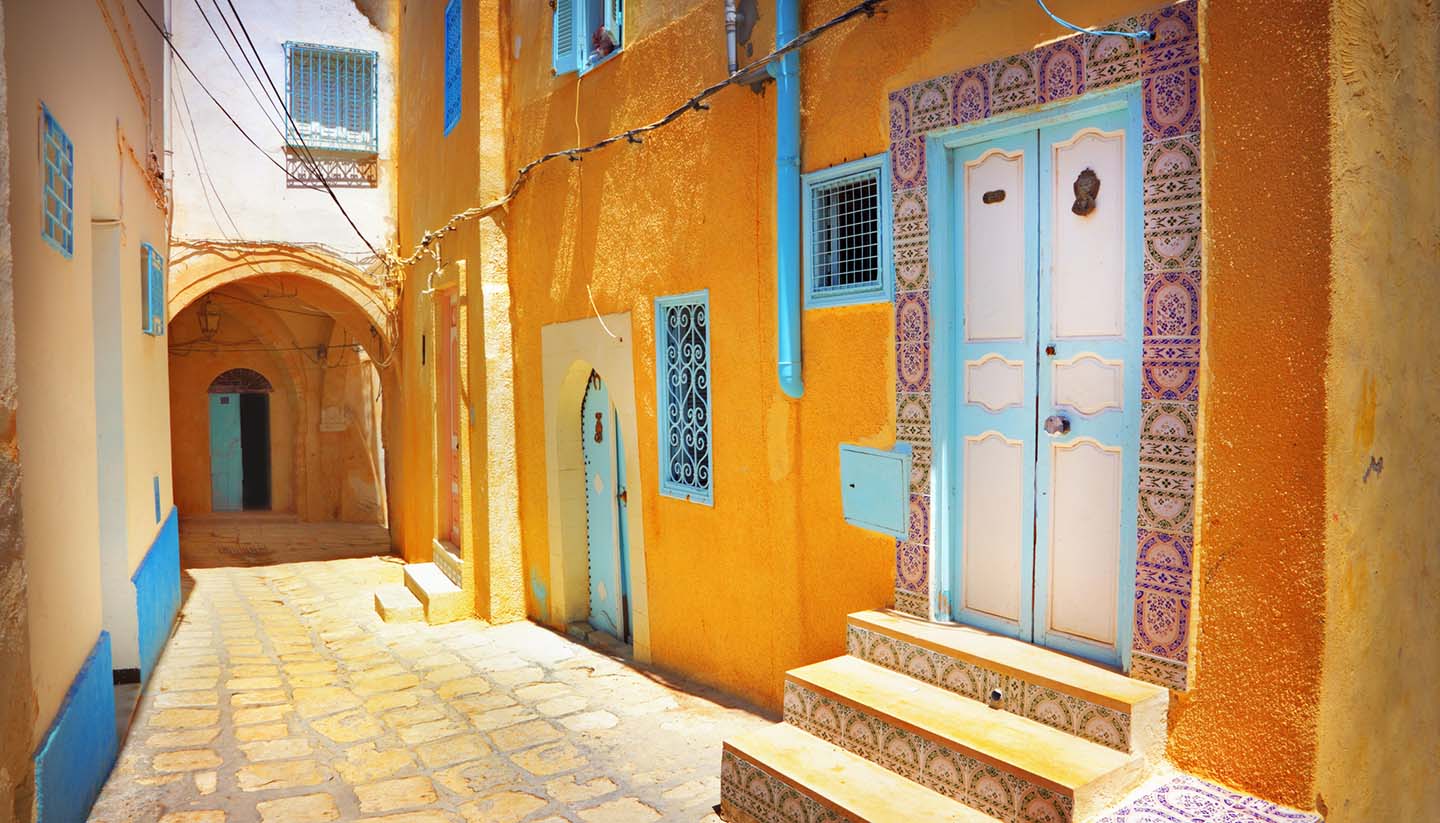 Tunisia: Doing business & staying in touch
Doing Business in Tunisia
Arabic and French are the most widely used languages in business circles and a knowledge of either is useful. Interpreter services are available. Appointments are required. General business is best conducted outside of the peak holiday periods, and visits can often be impractical over Ramadan.
Tunisians are relaxed about time-keeping, but it's wise to arrive on time for appointments even if the person you're meeting may well arrive late. Hospitality is both important and ritualised: an extended round of greetings welcomes any meeting.
After shaking hands it's customary to lightly press your right palm to your heart. Male acquaintances often kiss on the cheek on greeting. Coffee usually accompanies any meeting.
Suits are usually worn. Both sexes should avoid short sleeves and should keep their knees covered. Business relationships and negotiations tend to develop slowly and visitors should adopt the local pace. Conversations may be wide ranging, but politics should be avoided. If invited to a Tunisian's house, a small gift of sweets or flowers is appropriate.
Most large hotels in Tunisia have some conference facilities. Major conferences are usually held in Tunis or Hammamet.
Office Hours
Mon-Fri 0830-1300 and 1500-1745 (winter); Mon-Sat 0830-1300 (summer). Government office opening hours may vary by half an hour. Shops open later, while many business and offices close on Friday lunchtime, and the whole country works at half-efficiency during the month of Ramadan.
Economy
Tunisia's economy is based around agriculture (main products are wheat, barley, olive oil, wine and fruit), mining (phosphates, iron, lead, aluminium fluoride and zinc), tourism, and manufacturing (chemicals, textiles, machinery, paper and wood). After the revolution which ousted President Zine el Abidine Ben Ali in early 2011, Tunisia's economy headed into a tailspin and GDP growth in 2011 was -1.8%.
Historically the government has exerted strong control over the economy and the newly elected government's largest challenge is to stabilise the economy, reduce the disparity between the wealthy coastal areas and poverty stricken interior region, and encourage investment into the country. Tunisia also has a large unemployment problem (19% in 2011) especially among the young. Inflation was 3.5% in 2011.
Tunisia's most important trade links are with the EU whose members (principally France, Germany and Italy) account for three-quarters of all the country's trade
GDP
US$45.25 billion (2011).
Main exports
Clothing, textiles, mechanical goods, chemicals, and agricultural products.
Main imports
Textiles, machinery, equipment, chemicals and food.
Main trading partners
France, Germany, Italy, Spain, Libya.
Keeping in Touch in Tunisia
Telephone
Public phones are found widely, with some shops also offering the service. Using Skype in an internet café though, is usually the more cost-effective option.
Mobile Phone
Roaming agreements with international mobile phone companies exist. You can buy a local SIM card at Tunisie Telecom offices if you provide appropriate identification.
Internet
Tunisia has a high number of internet users, so email can be easily and cheaply accessed from Internet cafés in most towns and all resorts. Many hotels now also offer Wi-Fi for guest use. Connection is usually of a good standard.
Media
The government has historically retained a tight hold on local broadcasting and the press, despite freedom of information being enshrined in the constitution. Although the ousting of the regime in early 2011 was hailed as a new beginning for press freedom in Tunisia, the national media is still very much controlled by the state. Journalists who challenge the government are discouraged through bureaucratic pressure and harassment and, at worst, imprisonment.
Daily newspapers are printed in Arabic or French, the most popular Arabic newspapers being As-Sabah and Al-Horria. French newspapers include Le Quotidien, Nouvelles de Tunisie, La Presse de Tunisie and Le Temps. Overseas newspapers are generally available in major centres two or three days after publication, and magazines like Time and Newsweek can also be found.
ERTT is the state-run broadcaster, owning the stations Tunisienne 1 and Tunisienne 2 (also known as Al Watanya 1 and Al Watanya 2). The country's privately-run commercial station is Hannibal TV and there are many foreign satellite channels (particularly from Egypt, Morocco, France and Italy). Tunisian Radio is state-run but there are now also several privately run stations including Radio Mosaique.