Going underground: 22 of the world's best subterranean sites
Published on: Tuesday, October 29, 2019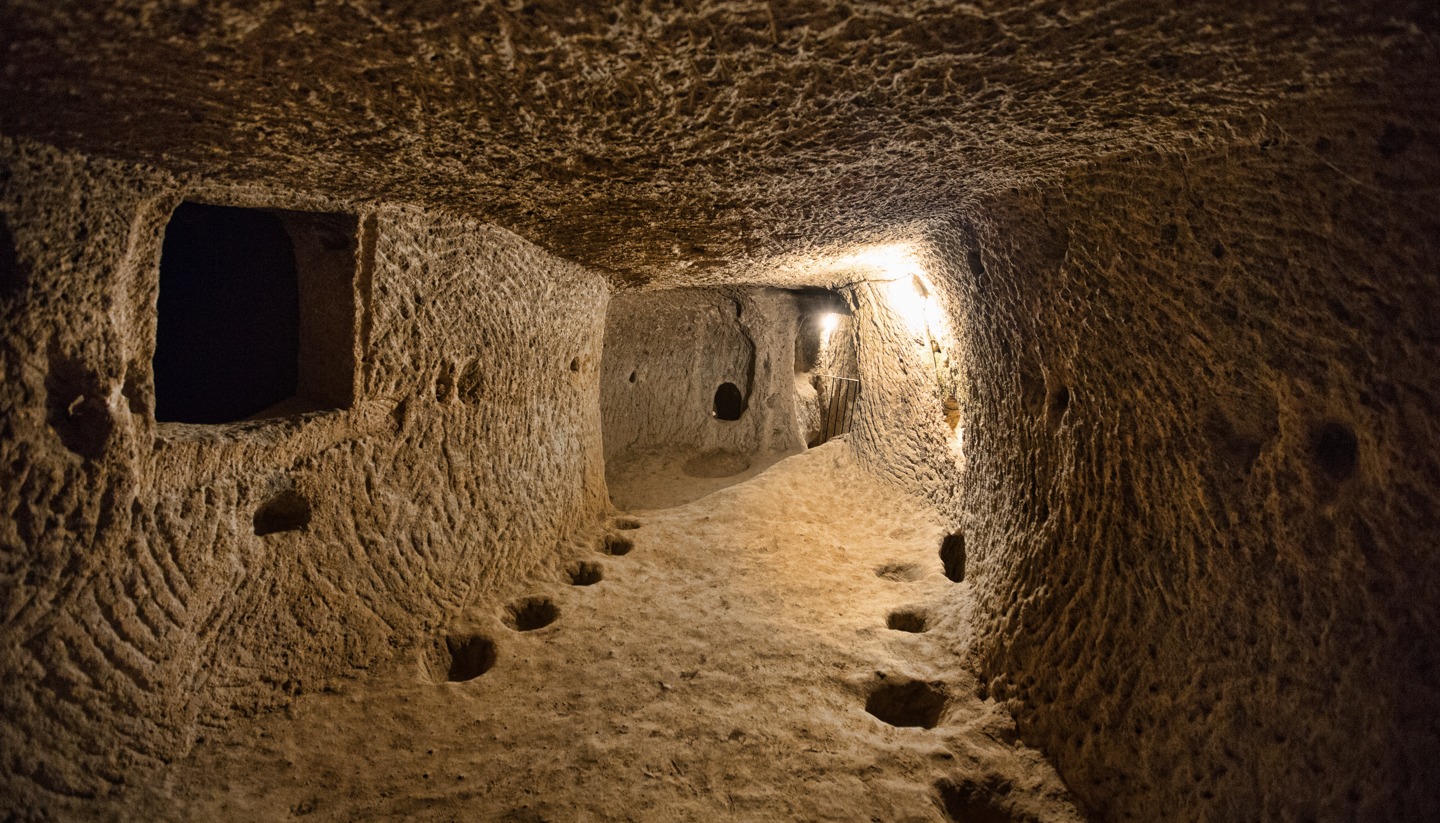 Venture beneath the surface to find a selection of sunken secrets, extraordinary experiences and buried boltholes across the globe
Best for adventure
1. Zip World Caverns & Bounce Below, Wales
Situated in the Snowdonia region in North Wales, Zip World Caverns promises a fantastic, adrenaline-inducing experience. Set within a former slate quarry which has been converted into a subterranean assault course, visitors can traverse underground across a series of zip wires, balance beams and rope bridges spanning the cavern's illuminated precipices – some of which are large enough to fit 75 double-decker buses. Zip World Bounce, an adventure playground with massive trampolines, slides, tunnels and bouncy nets, is also located inside the expansive quarry and allows you to slip, slide and leap your way across a thrilling trampoline course.
2. Hang Én Cave, Vietnam
Vietnam's Hang Én cave, the world's third-largest cave, is so mammoth in scale that it has shrubland and hidden idyllic beaches inside. Gnarled fossils jut out from the limestone walls, and every evening hundreds of chirping swifts dart between dripping stalactites. However, this slice of underground Eden does not come easy. Located in the heart of the Phong Nha-Ke Bang National Park in north-central Vietnam, intrepid adventurers must trek for four and a half hours from the nearest road, navigating through dense jungle and leech-infested rivers.
Before you go, use our Vietnam travel guide to help you plan your trip.
3. Sistema Sac Actun, Yucatán, Mexico
For centuries, the Maya believed that caves and "cenotes" (fresh-water filled limestone sinkholes) were sacred. In recent years, divers have found religious objects and human skeletons at the bottom of some sinkholes to support the theory that some of these sinkholes were once used for human sacrifice in ancient days. And in 2018, explorers confirmed that the Sistema Sac Actun (a 264km or 164-mile subterranean cave system) in the Yucatán Peninsula is actually connected with the shorter Sistema Dos Ojos, making the total length of the limestone cave system coming at 348km (216 miles) – roughly the distance between Boston to New York City. Some sinkholes along this massive cave system welcome divers and snorkelers to enjoy the breath-taking sights below the surface.
4. Mount Peca, Slovenia
Mountain biking takes a new slant with this 5km (3 miles) subterranean bike tour under Slovenia's Mount Peca, in the region of Koroška. At this former mining site, tunnels that were once used to transport the mineral ores and waste material now attract bikers kitted out with the necessary equipment – biking gloves, a helmet and headlamp. Cyclists will meet first at the Karavanke Geopark Info Centre in Glančnik in Mežica, cycle to the mine entrance and begin the two and a half-hour journey.
If you prefer to exercise your arms rather than your legs, opt for the underground kayak tour on a crystal clear lake 700m (2,297ft) below the surface instead. Booking is essential for both the biking and kayaking tours. Contact the museum for more information.
Before you go, check out our Slovenia travel guide.
5. Glowworm Grotto, Waitomo Caves, New Zealand
The glistening female glow-worms emit bioluminescence to communicate and attract a suitable mate, and in these inky black Waitomo Caves in New Zealand, they also illuminate the cave roof like a star-studded sky. Take a boat ride through the magical Glowworm Grotto, float down the subterranean river in an inner-tube, or join a three-hour guided walking tour – there are many ways to enjoy this natural phenomenon in New Zealand.
New Zealand really is one of the most breath-taking countries on the planet, so use our informative New Zealand travel guide to plan your trip.
6. Gjøvik Olympic Cavern Hall, Norway
Mystical Scandinavian folklore of cave residing trolls was the inspiration behind the world's largest subterranean auditorium carved into the depths of a mountain in Gjøvik, Norway. Initially built for the 1994 Winter Olympics, it is now home to the local Gjøvik Hockey team and is used as an events venue for sports and concerts. The Gjøvik complex also features a swimming pool, a cafeteria and a telecommunications facility.
7. Salina Turda Recreation, Romania
The ancient Salina Turda salt mine in Transylvania is now home to a mini theme park complete with an underground Ferris wheel, a mini-golf course, mini bowling, table tennis, billiard tables and a lake you can go boating on. Those with allergies and asthma can also visit the mine's spa facilities.
---
Best for culture
8. Derinkuyu underground city, Turkey
Hewn into the otherworldly landscapes of Cappadocia in Turkey, the subterranean city of Derinkuyu is thought to have 18 levels (but only eight are accessible), complete with schools, food storage areas, wineries, kitchens, bathrooms, chapels, animal stables and even isolated water wells that ensure its water supply remained free from contamination – it really had everything its population needed to survive an invasion.
9. The Real Mary King's Close, Scotland
Leave the crowds of Edinburgh's Royal Mile far behind and step into the subterranean world of Mary King's Close. Once the city's vibrant neighbourhoods in the 1600s, the authorities partially demolished the close in the 18th century to make way for the Royal Exchange, which was built on top of it. Today, visitors can walk around what remains of Mary King's Close with costumed guides who give an insight into the history of the city, complete with murderous tales and ghost stories.
10. Coober Pedy, Australia
The remarkable town of Coober Pedy, located in the harsh outback of South Australia, came into existence as a mining town after opals were discovered in the area in 1915. Due to the scorching summers, workers found it more preferable to live in houses built below ground level that helped to keep the temperature cool. Today, like some kind of post-apocalyptic cult, over 1,500 residents still live in this remote outpost, many in underground residences known as "dugouts". Accommodations for visitors include a below-ground Desert Cave Hotel and an underground campsite.
11. Salt Cathedral of Zipaquirá, Colombia
Located 180m (590ft) underground, this cathedral is carved entirely out of salt. Its original purpose was to give the miners somewhere to pray to the Virgin of the Rosary of Guasá, the patron saint of miners who protects them from mining-related accidents. In 1990 when the original sanctuary became unstable, 127 miners and a few sculptors were brought in to build a larger cathedral 61m (200ft) below the original cathedral. It was a challenging undertaking but the results are amazing. Today, the Salt Cathedral is an important pilgrimage site for Catholics in Colombia. Before you go, see our Colombia Travel Guide.
12. Lalibela, Ethiopia
The very sight that you witness as you approach the Bete Giyorgis (Church of St George) is absolutely stunning – a massive cross seems to have arisen from the ground and to get to the church, you need to take a staircase that leads you some 12m or 40ft below ground. The Church of St George is one of the 11 churches hewn out of rose-pink rock from the late 12th to early 13th century, and the layout of the massive complex is a symbolic representation of Jerusalem.
Ethiopia is endlessly fascinating. If you are looking to visit Ethiopia soon, use our informative Ethiopia travel guide to help plan your trip.
13. Catacombs of Paris, France
Deep underneath the neighbourhood of Montparnasse in Paris, lies a 320km (200-mile) network of old caves, tunnels and quarries turned macabre resting ground for the remains of some six million Parisians, including victims of the French Revolution. The eerily quiet subterranean labyrinth is filled with neatly stacked skulls and bones that were exhumed during the 18th century to relieve overcrowded city cemeteries – a fascinating, if rather morbid, sight.
Before you go, see our Paris travel guide for great travel tips.
14. Churchill War Rooms, London, England
This secret underground bunker, beneath the streets of Westminster in London, was the nerve centre of the British war effort during WWII. Today, you can visit the Churchill Museum, see the Cabinet War Rooms, and wander around the bunker where Prime Minister Winston Churchill and his inner circle plotted the route to allied victory and took shelter from the German bombing raids. Visitors can explore a series of historic rooms filled with preserved 1940s artefacts – from wall maps covered in pins indicating changing front lines to the very chair Churchill sat in while presiding over the War Cabinet.
Before you go, check out our London travel guide.
15. The Vaults, London, England
Below London's Waterloo station lies a network of disused railway arches that have been creatively transformed to a graffiti-splashed street (founded by Banksy), a kitchen and nine performance venues hosting a dazzling array of programs throughout the year. The Vaults also hosts the legendary Vault Festival, touted as "London's biggest, boldest and bravest arts and entertainment festival" every January.
Best for health
16. Miskolctapolca, Hungary
While most underground caves have cold flowing water, the Miskolctapolca cave in Hungary is filled with thermal waters which are said to have healing powers. There are five cave baths altogether and if the warm waters can't soothe your aches, you can also visit one of the saunas on-site.
If you like to have a deep soak in Hungary and its neighbouring countries, check out this article Central European historic spas and resorts.
17. Free Enterprise Radon Health Mine, Montana, USA
Originally a working silver and lead ore mine, this radon mine in Montana shot to prominence among pain sufferers in the summer of 1951 when a woman discovered her bursitis disappeared after she visited the underground site a few times. Today, the mine functions as a pain clinic and offers radon therapy where patients sit for an hour and inhale mildly radioactive radon gas.
While radon therapy remains controversial in the USA, taking radon baths to treat an assortment of illnesses are widely embraced by many European countries and Japan.
Best for indulgence
18. Cahoots cocktail bar, England
London has quite a few underground bars but Cahoots is by far our top favourite. In its former incarnation, this underground space beneath Soho in London was used to as an emergency air-raid shelter during the war, but today, it is a swanky cocktail bar taking punters back to the bittersweet days of post-war Britain. Tucked away in the disused Kingly Court Underground Station, Cahoots serves quirky cocktails and nibbles in train carriages. It is all 1940s themed down here (except the prices), with bartenders wearing period garb and old newspapers giving you the stories from 1946.
19. Operation Dagger, Singapore
This very sleek underground bar in Singapore serves creative cocktails that have helped to cement its ranking as one of the best bars in Asia. The interior is stunning – a massive cloud of lightbulbs floats above the polished wooden counter. The intriguing part is you won't know the spirits behind each cocktail – the idea is to get you focus on the taste and enjoy the drink.
Before you go, use our Singapore travel guide to plan your trip.
20. Troglodyte galleries, Saumur, France
This hidden gem beneath the peaceful Saumur is made for wine connoisseurs, particularly those who are partial to refreshing sparkling wines. Boutique wineries around the area store their bottles in the cool subterranean tunnels and a few of them are open to visitors who'd like to enjoy a tasting session below the surface. This massive site even has a restaurant (Blue Feet) and a bar (The club of the cellar in the monks), and get this – mushroom farms, cultivating delicious oyster and shiitake mushrooms – now that's genius in our book.
21. Intercontinental Shanghai Wonderland, China
When this remarkable hotel that sits inside a disused quarry finally opened in January 2019 after 12 years of challenging engineering feat, fans and critics from the around the world were stunned. The Intercontinental Shanghai Wonderland is massive (336 rooms) and luxurious, but somehow it still feels in harmony with its surroundings. The Underwater Duplex Suite deserves special mention – 6,000 fish swim in clear water just beyond your glass windows.
Before you go, check out our Shanghai travel guide.
22. The Manta Resort's Underwater Room, Zanzibar, Tanzania
If you have US$1,700 to spend, book yourself a night at this floating hideaway in the Indian Ocean – the top deck is for you to sunbathe or stargaze, and your bedroom is 4m (13ft) below the surface. This luxury underwater retreat also boasts an open-air freshwater shower, as well as an eco-friendly marine toilet system with a small hand-wash basin. Also, the service is discreet; your security guard will anchor to a buoy not far from the room, giving you enough privacy yet able to assist should you need it.
If you found this interesting, check out: