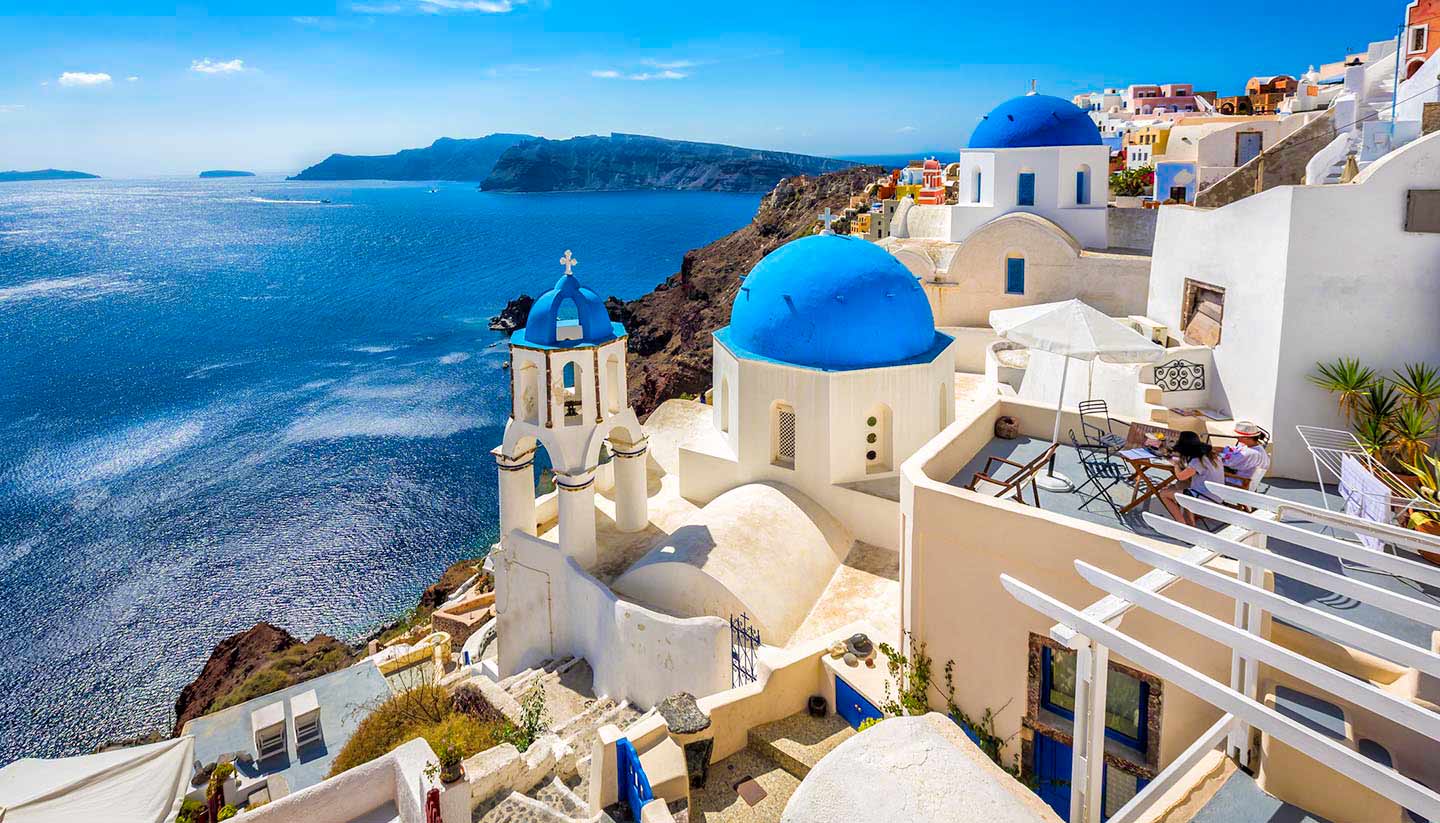 Tourist offices
Greek National Tourism Organisation (GNTO) in the UK
Address:
Tel:
Opening Hours:
Mon-Fri 1000-1600.
Website:
http://www.visitgreece.gr
Greek/Hellenic National Tourism Organisation (GNTO) in the USA
Address:
Tel:
Opening Hours:
Website:
http://www.visitgreece.gr
Things to see and do
Rhodes' Old Town
Rhodes' medieval old town is a UNESCO world heritage site – explore the car-free cobbled back alleys after dark for a truly unforgettable medieval experience. The Order of St John of Jerusalem occupied the city from 1309 to 1522, and bequeathed it with the 4km-long city walls, the Palace of the Grand Masters and the Street of the Knights. It subsequently fell to the Ottoman Turks – their traces include Islamic architecture such as the Mosque of Soliman and the Great Hamam.
Corfu's Old Town
Fortified by the Venetians, this charming medieval sea port is protected by two castles – the hilltop Old Citadel and the seaward New Fortress. The UNESCO-listed old town is packed with 19th-century neo-classical mansions, many housing quaint tavernas and souvenir shops at ground level. The Spianada, a vast green space designed by the French, with a music pavilion and a cricket field, is overlooked by the arcaded Liston, home to several elegant cafes.
Meteora
On the edge of a flat plain in Thessaly, Central Greece, the Meteora is Greece's second most important group of monasteries after Mount Athos. From the 11th century onwards, when the first hermits settled here, 24 Orthodox monasteries were built atop bizarre rocky pinnacles overlooking the plain. Today, six monasteries, several decorated with late-Byzantine frescoes, are open to the public.
Epidaurus
The Sanctuary of Asclepius at Epidaurus was once an important healing centre as well as a religious centre and spa. Built in the fourth century BC, the sanctuary was dedicated to the healer god, Asclepius, and boasts a well-preserved 1400-seat theatre, which was designed by Polycleitus, who built similar buildings at Olympia and Delphi. The theatre is the most famous of all the ancient theatres in Greece and comes alive every summer with theatrical performances. There is also a small excavation museum near Epidaurus, which was built between 1902 and 1909, and contains many remains from the sanctuary.
Lake Plastira
See the work of man of nature combined at Lake Plastira in Kardista. Surrounded by hills covered in oak and chestnut trees, a wander round the glistening waters and awe inspiring views are sure to leave your senses soothed.
Monemvasia
Slow down in the old fortified Byzantine town of Monemvasia. The town can only be reached by a single causeway after an earthquake in 375 AD caused it to split from the mainland. Cars are not allowed in the old town, but romantic boutique hotels, starry nights and fine food most certainly are.
Mount Athos
Stand tall on Mount Athos, also known as 'Holy Mountain', in the east of the Chalcidice peninsula. Home to 20 Orthodox monasteries, some 1000 monks and an invaluable collection of frescoes and religious art, it dates from 1045 and is now a UNESCO world heritage site. Although it is part of Greece, it has a special self-governing status. Women and children are banned, and men who wish to visit it need to make a complicated application for permission.
Olympia
Dedicated to the father of the gods, Olympian Zeus, Olympia is the birthplace of the Olympic Games, which were first held here in 776 BC. Situated on the Peloponnese, the site boasts many ancient buildings, including the Heraeum, the Stadium and the Hippodrome where ancient horse races were held. There was also a Palaestra, or wrestling school, and a Gymnasium where competitors were obliged to train for at least a month. Today, visitors to Olympia come to see the Temple of Zeus, which once contained a gold and ivory statue of Zeus, and the nearby Archaeological Museum, which contains many artefacts from Olympia, including a collection of marble statues and bronzes. It is a UNESCO world heritage site.
Mycenae
Visit the treasure trove that is Mycenae. This hilltop citadel, surrounded by Cyclopean Walls, was the powerful Mycenaeans' capital. Golden treasure, including the 'Mask of Agamemnon', was found here.
Samaria Gorge
See the flowers bloom at Samaria Gorge on Crete. A visual treat at any time of year, but a veritable explosion of colour during spring whether hiking through it or admiring from afar.
Birdwatching
There are 11 wetlands of international importance in Greece, and over 190 'important bird areas'. The most impressive include the Nestos Delta in Thrace and the Prespa Lakes in Macedonia. Expect to see herons, storks, pelicans and eagles.
Karst caves
Greece is home to some 6,000 karst caves, the majority in Crete. Over 20 show caves are open for guided tours, the largest and most impressive being Perama, which is filled with stalagmites and stalactites. Some were used in antiquity as sites of worship, then later housed churches and monasteries, or even became used as hideaways during Greece's struggles for independence.
Discover the Cyclades
Visit Santorini's whitewashed towns of Ia and Thira, built on a cliff overlooking the caldera, a circular depression in the sea created when a volcanic eruption blew the centre out of the island around 1600 BC. Expect stunning sunsets, black sand beaches, boutique hotels and gourmet cuisine. Mykonos, known for its glamorous, hedonistic nightlife, attracts celebrities and fashionistas in equal measure as well as a notable gay community.
Hellenic Festival
Do not miss the Hellenic Festival (www.greekfestival.gr), Jun-Sep, which sees music, dance and theatre performances held in the second-century AD Odeion of Herodes in Athens, as well as classical Greek dramas in the fourth-century BC amphitheatre in Epidaurus.
Hit the beach
The Greek Islands are home to countless stunning beaches. These range from the glamorous party beaches of Paradise and Psarou on Mykonos, to the more sedate family-orientated pine-scented golden sands of Koukounaries on Skiathos. Other joys include the white pebbles and turquoise waters of Myrtos, backed by plummeting cliffs on Kefalonia's dramatic west coast, and the isolated beach of Vai, sheltered by Europe's largest palm grove, on Crete.
Sailing
With its endless blue seas and countless islands, Greece is a sailor's paradise. The majority of charter companies are based in Athens – from here a one-week sailing trip might take you to the islands of Aegina and car-free Hydra, while a two-week tour could include Mykonos and the southernmost of the Cyclades, Santorini. Alternatively, set sail from bases on Corfu or Lefkada to explore the turquoise waters of the Ionian.
Watersports
The shallow, fast-flowing rivers of mainland Greece offer excellent facilities for water-based adventure sports such as rafting, kayaking and canoeing. Sea-kayaking and scuba diving are also becoming popular on the islands. Greece has numerous thermal springs, spas and hydrotherapy centres to help sooth any aches and pains.
Athens
Begin with the UNESCO-listed Acropolis rock, home to the magnificent fifth-century BC Parthenon, then stroll down to the Ancient Agora, once Athens' civic, political and commercial centre. Be sure to check out the ultra-modern New Acropolis Museum, displaying ancient finds from the Acropolis site, and opened in summer 2010. Don't miss the world-class National Archaeological Museum, packed with ancient marble statues, jewellery and ceramics.
Delphi
Discover Delphi, believed by the ancients to be the centre of the world. This fascinating pagan religious complex, set on a stunning hillside site, comprises classical temples, a theatre and a stadium. Numerous finds are displayed in the excellent Delphi Archaeological Museum.
Knossos
Explore the extensive ruins of Knossos, a 3,000-year-old frescoed Minoan Palace, home to Europe's earliest civilisation. Finds from the site are displayed in the Archaeological Museum in the nearby Venetian-style port town of Iraklio, on Crete.